Sitting on a rooftop on University Ave
7:33 pm, University Avenue
A lone saxophonist plays mournful jazz in the middle of University Avenue; drum beats spill from a speaker at his feet. People give him a wide berth but their feet unconsciously sway to the music. There's a tired top 40 playlist playing at Local Union; "Moves Like Jagger" drowns in the sound of the saxophone. The saxophonist starts playing Camilla Cabello's "Senorita," and whatever hold he had on me is broken.
A man who moves his hands like he's physically rearranging his stock portfolio stabs his salad. He's sitting across from a man who moves his hands like he's pointing at suits he wants to try on in a Neiman Marcus. Local Union starts playing Zayn Malik's "Pillowtalk" —it's not the clean version— the saxophone player has mysteriously stopped playing.
A man old enough to be my grandfather speeds down the center of Bryant street in an electric wheelchair. There are two Trader Joe's bags strapped to the back of the chair.
The Ramen Nagi line wraps around what used to be Walgreens but is now nothing. There are three guys together who are third in line right now, they're all wearing khaki bermudas and blue quarter-zips and baseball hats. In a few years maybe they will be the people five places behind them: khaki pants and blue hoodies over button-ups.
A car comes by blasting DaBaby with the windows down. Actually, I think the song also has Lil Yachty on it. The car parallel parks atrociously. I find out that the song is "Oprah's Bank Account." The driver idles in the car until the song is over. I didn't find the song good enough to wait for.
Local Union is now playing Kesha's "Timber," the saxophone player has started up again. Whatever he is playing sounds suspiciously like Rae Sremmurd's "Somebody Come Get Her." A toddler in pink crocs runs wildly across the street, perhaps running away from the mash-up. In the distance, another toddler screams. Local Union switches to "That's What I Like" by Bruno Mars.
A woman with green hair rides past on a bike and says "beep beep." A very small dog is whimpering louder than should be possible. The sun is set now. The saxophone player is playing some Dua Lipa song. I'm wondering if in the beginning he was perhaps not playing some improvisational jazz and instead playing some pop song I couldn't place.
A man rests his Salt & Straw on the trunk of his silver Mercedes sedan. His daughter's on his hip; he places her in the backseat. I watch him go back to the ice cream and scoop a small amount of it into an extra cup. He gives the smaller portion to his daughter in the backseat. I think he'll keep the rest for himself, but he walks away with the rest of what's in the cup. He comes back empty-handed. The Mercedes drives away.
Leave a Comment
About the Contributor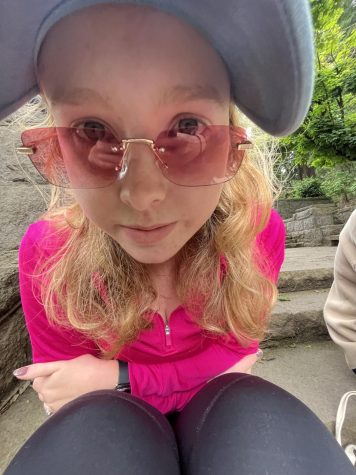 Sara Baudler, Editor of News
Sara Baudler '23 is the Editor of News and the Editor of Humor for Counterpoint. Sara's life goals include being 6'3" and winning the Masters Tournament;...