Memorable moments from the class of 2023
The class of 2023's many contributions will leave a lasting impact on Castilleja's students and teachers. They've navigated the many ups and downs that the last four years have presented them with; from a pandemic to college applications, they've truly been through it all. As we prepare to bid farewell to the class of 2023, it's important to take a moment to reflect on their experiences at Castilleja and their excitement for what lies ahead.
Katherine Byunn-Rieder, a seven-year Casti student, gave us an insight on her experiences. When asked to share her favorite memory, she was unable to pick just one. However, she selected a story "that always stands out" to her.
Byunn-Rieder and her friends were standing on the Circle talking with Ms. Lin Lao Shi when Anne Cameron, the Head of Middle School at the time, started walking toward them. Byunn-Rieder noted how she approached them laughing. She and her friends exchanged some confused looks until Cameron noted how she "thought Ms. Lin was a student and was about to give her a uniform violation." While at first glance this might appear as just another funny story, Byunn-Rieder notes how, to her, this event speaks "to the teacher and student relationships at Casti and how they are almost at a friend level" rather than your typical "power hierarchy."
Castilleja's teachers contributed to an environment where Byunn-Rieder felt comfortable asking for help. As a shy middle schooler, she thought it best to "sit back or text a friend and see what happens" when confused. She soon realized, "In a school setting, everyone is on your side" and it's "so, so helpful" to reach out to a teacher when you need assistance. Looking forward to the next chapter of her life, she said asking for help is one of the main things she's learned and will take with her in future school/workplace environments.
As to what she's looking forward to, Byunn-Rieder is "excited to get out of this [Bay Area] bubble" and is looking forward to "a diversity of perspectives out in the world." Additionally, she's enthusiastically anticipating more classes and an opportunity to hone in on her interests.
As an avid performer and lover of the arts, Ash Ehrenpreis noted that her favorite Casti memories were the many pre-show warmups before all-Casti theater productions. During these pre-show warmups, the entire cast gets together and "all the seniors give speeches about how meaningful the community is." Ehrenpreis reflected on how "it's an opportunity to communicate how grateful we are for one another." This activity cultivates a loving environment which "makes the show all the better." The greatest gift Ehrenpreis gained from Casti theater has been the chance "to understand yourself better and become more accepting of others."
Something Ehrenpreis hopes to take with her is a willingness to recognize and combat the inevitable flaws that appear in "institutions that we deeply love, like Casti." She believes that "criticizing an institution and being able to see its flaws ultimately allows us to build towards a better future." Ehrenpreis observed how "especially recently, there has been a lot of space made for student leaders and students to have a voice." Ehrenpreis finds Casti's receptiveness to change, problem solving, and growth to be "incredibly meaningful," and notes how "there aren't many places like Casti in that regard." Additionally, Ehrenpreis hopes to seek out environments where she "feels like she has a voice" that's being listened to, and where "others around [her] are empowered to make change"
Ehrenpreis is looking forward to many things beyond the Circle. Ehrenpreis finds solace in the strength of the connections and relationships she's built at Casti, and is "100% certain that they will extend far beyond" her time here. Ehrenpreis is excited to see what everyone around her goes on to do, and "for the futures of those in grades below" her. Lastly, Ehrenpreis has high hopes for the new campus and the future of Castilleja. Ehrenpreis states that, "while change can be pretty startling," she truly believes that "there is so much excitement and really meaningful change to come."
Ella Holsinger reflected on her time at Casti and concluded that Class Day was by far her favorite event/memory. Holsinger "loves sitting in the tent after we've all finished our finals," and thinks it's "such a beautiful moment for all of us to share." When asked which Class Day had been the most memorable so far, she said "it was definitely the most fun as a Junior" because she knew and was close with the seniors receiving the awards.
The stand out lesson/message she's learned from Casti and plans to take with her is simply "being accepting." Holsinger wants to make sure she and the people around her "value and learn how to be as respectful as I've learned to be at Castilleja."
In the years to come, Holsinger is "excited to learn more about [herself] in a different environment" and looks forward to "whatever the future holds." She hopes to get "all [her] unknowns answered," and is eager to see where life takes her.
These three very impressive seniors are among many that Castilleja has been lucky enough to teach and learn from. Younger students are eternally grateful to have grown so close to the amazing class of 2023, and while it will be sad to say goodbye, we look forward to the amazing things they will go on to do.
Leave a Comment
About the Contributor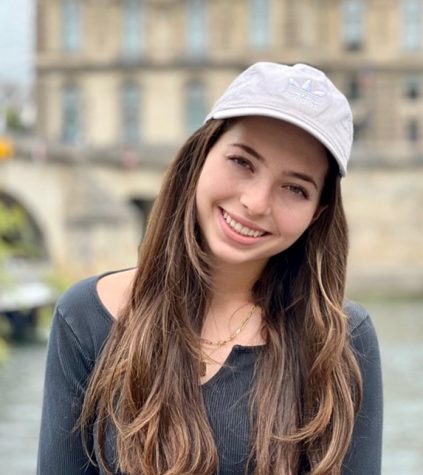 Vienna Farano, Staff Writer
Vienna Farano '26 is a staff writer for Counterpoint. Some of her favorite things include eating burrito bowls from Chipotle, going to Target, and binge-watching...