Finding solace in art: An SFMOMA retreat
SFMOMA is a beautiful escape where Wayne Thiebaud's cakes float around me as I taste test each one, where Louise Bourgeois' spiders pounce on me as I try to dodge them, and where Frida Kahlo calls to me through her painting, Frieda and Diego Rivera. As the COVID-19 pandemic has stopped in-person walkthroughs at many local museums, including the SFMOMA, I reflect on my favorite pieces I miss seeing.
Duane Hanson's "Man with Ladder," 1994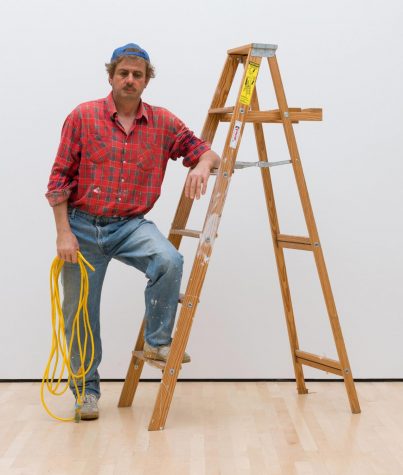 As he looks towards the floor, bored and unbothered, he seems like your average American pot-bellied handyman: his hair is thinning, and he appears like he could use a couple of extra hours of sleep. What I love about this piece is that it is not only a hyperrealistic sculpture made out of fiberglass, but also it carries a sentiment that the subject is bored and can't wait to get off the job; he is unimpressed by the elaborate works around him and makes viewers question how the simple and sometimes ignored individuals can become profound pieces of art. Hanson's work both challenges my pre-existing notion of what art could be and makes me wonder how a unique piece like this one would fit into the traditional art history canon.
Wayne Thiebaud's "Dessert Tray," 1922-1994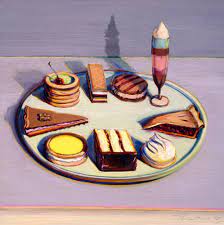 Thiebaud paints the most delectable displays of sweets. From lollipops to ice cream sundaes, he does not fail to satisfy my artistic sweet tooth. In Dessert Tray, Thiebaud paints an array of desserts, including cherry pie, cake, and meringue. He uses harsh lighting to illuminate the dessert and uses the rainbow to highlight shadows and light. The pastel paradise brings me back to eating strawberry shortcakes at my favorite bakery with my mom, grabbing ice cream after school with friends at Tinpot, and diving into my friends' homemade cupcakes. Dessert Tray fills its audience with nostalgia for childhood sweet treats and a longing for simpler times. (Fun Fact! I love the piece so much that I bought a puzzle of the work.)
Robert Bechtle's "Watsonville Olympia," 1977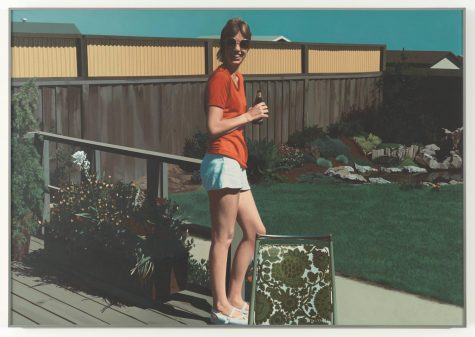 You might remember my love of Bechtle from my last article, so I had to include one of his pieces in my SFMOMA reflection. "Watsonville Olympia," 1977, always stuns me to silence. The painting is huge, standing at 48" x 69" and is a testament to Bechtle's attention to detail (the inclusion of the patterned chair). It always surprises me that the piece is not a photograph but rather a photorealistic oil painting. The painting depicts such an ordinary scene and reminds me of my own family barbecues. It is a frozen moment in the 1970s and creates a feeling of longing for long warm afternoons like the one pictured as if the image is a memory that we all somehow share.
Kehinde Wiley's "Alexander the Great," 2005
I always forget how large Kehinde Wiley's works are until I stand in front of them, suddenly eclipsed by the immense canvas. After painting the official presidential portrait of former President Obama, Wiley has become increasingly popular. The painting above, "Alexander the Great," places a contemporary Black man in a traditional European setting. From the elaborate background to the creases on the subject's San Diego Padres jacket, Wiley demonstrates his attention to detail while alluding to pieces that are a part of the traditional art history canon from old European masters. For example, the inclusion of Alexander the Great's sword, which the subject is holding in his left hand as well as the ornate gold background. This piece perfectly combines the contemporary with the traditional while Wiley combats preconceived notions of the historical idea of power and who is in powerful positions (typically rich white and male).
Although I missed these pieces at the SFMOMA, the pandemic has allowed me to discover other pieces and new museums. If you are interested in learning more about local history, I highly recommend visiting the Los Altos History Museum. They recently opened an exhibit called "Beauty and the Beast: California Wildflowers and Climate Change." Additionally, I have been enjoying Hieronymus Bosch's Garden of Earthly Delights, 1503–1515, and trying to analyze little details in the large triptych work. If you are interested in exploring this interactive online exhibit, visit this link. Art has been a dear friend of mine while trying to navigate the COVID-19 pandemic, and I hope that you can find solace in it too.
Leave a Comment
About the Contributor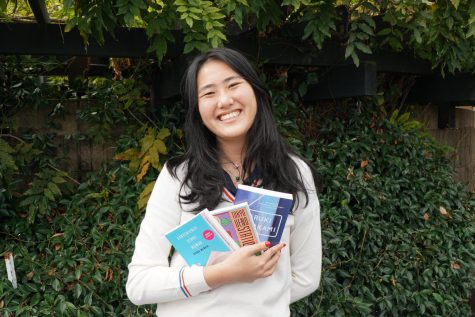 Emily Chan, Editor of Arts and Entertainment
Emily Chan '22 is the Editor of Arts and Entertainment of Counterpoint. In her spare time, she loves petting alpacas, wandering grocery stores aisles,...