Soundtrack of my COVID year: Quarantine favorites
Through this insanely isolating and seemingly never-ending year, I myself have been searching for creative ways to stay sane. Along with all of the free hours that the pandemic has gifted me, I've discovered a new hobby: spending large amounts of time on Spotify, discovering new music, and creating oddly specific playlists in an attempt to illustrate the oh-so-complicated emotions of the human experience. I've found that music's presence has a beautiful way of filling the silence in our once loud and busy world.
To me, music is a comfort. It's always in the back of my mind. I think my favorite part about music is how we each individually interpret it, and how those interpretations change over time. So in that way, lyrics and music can represent growth and evolution. Another favorite part of music is sharing it with people who love it too, and hearing them rave about their favorite songs. On that note, here are some of my favorite quarantine releases!
"Dreamland" – COIN (indie pop)
COIN's previous album, "How Will You Know If You Never Try," produced some of my favorite songs ever ("Malibu 1992," "Hannah"), so naturally, I was very excited about the release of "Dreamland." I think that the name suits it perfectly, as every song feels as if you're in a smooth, mesmerizing dream. The band refrained from using recording studios and much preferred organic settings, as they felt it'd capture the music's authenticity. It feels almost unpolished, allowing for an intimate experience with the lyrics and sounds. COIN's music as a whole feels very personal, as their fanbase is heavily connected to all the content that they put out. In fact, "Crash My Car," another favorite, was inspired by a fan who showed up to a show directly after nearly totaling her car. Despite the total loss, she was happy to be there. The song describes that even without cars or money, each other's company is all that we could ever really need.
Favorite track: "Cemetery"
"The New Abnormal" – The Strokes (indie/alternative rock)
Honestly, I barely even knew who The Strokes were before this album, but I'm glad that their first release in 7 years brought new listeners. There's something about the nostalgic rock sound that draws one in and never seems to get old. The title being "The New Abnormal" could not have been more perfectly timed, considering its release in April 2020. It's almost annoyingly ironic, a slight punch in the face and a reminder of how abnormal our normal has become. But anyway, this album has prompted me to listen to much of The Strokes' discography, and I have to say that there's nothing else like it.
Favorite track: "Brooklyn Bridge To Chorus"
"Remote" – Wallows (alternative/indie/dance/electronic)
I know that the Remote EP has been quite a controversial one within the Wallows fandom, with many concerned about the new sound compared to their last album. Personally, I'm into the more electronic sound shown on the EP. Produced entirely in quarantine through voice memos and FaceTime, "remotely," the 16-minute body of work is upbeat and lively. The songs flow into and complement each other, begging to be listened to from front to back (I would highly recommend this listening strategy). The stories told are easy to follow and enjoy without thinking too hard. A girl at a party who seems to understand everything despite having just met the band? Mindless enjoyment! What could be better?
Favorite track: "Dig What You Dug"
"Dreamland" – Glass Animals (psychedelic pop/art pop)
Glass Animals' last 2 albums focused solely on stories of other people, and for the first time, we're receiving an autobiographical piece of work. "Dreamland" is a "full reflection of life," according to lead Dave Bayley. Filled throughout with home videos, the album feels painfully personal. It's definitely not a one-time-listen thing, and I found myself following along with Genius Lyrics to fully capture each song's meaning. The storyline revolved around Bayley's Texas childhood, diving into topics such as toxic masculinity, formative relationships, and overall a coming of age story. It discusses the fluidity of life and encourages vulnerability. The album is upbeat despite the heavy topics and takes inspiration from hip-hop while still being completely psychedelic. Each song is unique, and it's difficult to pick a favorite.
Favorite track: "Tangerine"
"folklore" – Taylor Swift (indie/folk/pop)
I would definitely go so far as to say that "folklore" defined my 2020. As a huge fan of Taylor, I was shocked and overjoyed when she announced it just a day before the release. Usually, when a new album comes out, I frantically flip through songs attempting to understand the collection as a whole in as little time as possible. But if the pandemic taught me anything, it's to slow down from time to time and attempt to simply enjoy the moment. When "folklore" came out, I just sat and listened to the whole hour front to back. It was exhilarating, and from the first listen, it was clear the impact "folklore" already had on our time in isolation and musical storytelling as a whole. "Folklore" is truly an album of its time, produced in isolation and consumed by an audience grappling with feeling alone. It takes place reminiscing on the past and dreaming about the future. Mourning the lost time and what could have been, "folklore" is painful, yet hopefully optimistic for what's to come.
Favorite track: "the last great american dynasty"
"Good News" – Megan Thee Stallion (hip-hop/rap)
Megan Thee Stallion has had an extremely eventful year, with complete chart-toppers such as "Savage" and "WAP." Her album "Good News" has been long-awaited, and for a good reason: Her confidence and attitude truly set her apart. There are a number of people who question her bold prose and sexuality, but she handles it maturely. On the album, Stallion calls out her ex Tony Lanez who shot her in the foot, as well as questions the lack of protection for Black women. The album is infectiously upbeat and addictive, a true soundtrack to a confident lifestyle. It screams to be blasted on some kind of dance floor, and hopefully soon, we can do just that.
Favorite track: "What's New"
"Punisher" – Phoebe Bridgers (indie rock/emo folk)
The lyricism present in "Punisher" draws you in and demands attention. The album has the feeling of existential dread from front to back, and Bridgers' soft yet powerful voice accompanies it beautifully. Listening feels like you're stuck in an ominous, frightening dream, then waking up to ponder what you just encountered. In "I Know The End," Bridgers uses an apocalyptic setting to come to terms with the uncertainty of life and death. The album is self-critical, self-aware, and in all, a perfect oddly-specific collection of lyrical genius. While Bridgers wrote the album before quarantine, the recurring themes of loneliness and isolation bring new meanings to each lyric.
Favorite track: "I Know The End"
"Zeros" – Declan McKenna (indie rock)
"Zeros" is most definitely one of my top picks and something I could listen to for hours on end. It resembles a David Bowie-esque space theme, touching on relevant topics like celebrity culture and climate change. It's a true concept album, following a boy named Daniel and other survivors as they navigate the end of the world. The characters search for meaning in their deteriorating lives, forced to give up all they once knew. They question the point of life at all, if not to be left with all of their now meaningless expectations. In short, each song brings a new sound and story to the table. "Zeros" is very much reminiscent of a "Black Mirror"-type adventure, and its ambiguous characters and setting leave it open to individual interpretation.
Favorite track: "Be An Astronaut"
"Plastic Hearts" – Miley Cyrus (rock/pop)
As a long-time Miley Cyrus supporter, it was exciting to see her evolution into a more rock-based sound this year. I think that for the first time, we're seeing her authentic voice that was always meant to be. The picture-perfect pop star image she attempted to exhibit is no longer present, and we are now seeing the true Miley. Her incomparable rasp sets the sounds apart and feels as if it was always destined to appear in this way. Her confident attitude is infectious and manifests itself into the undeniably danceable songs. As well as upbeat anthems, Cyrus delivers heartfelt tracks as well. In addition, "Plastic Hearts" delivers many duets, with "The Midnight Sky"/"Edge Of Seventeen" mashup featuring Stevie Nicks as an essential listen.
Favorite track: "Angels Like You"
"evermore" – Taylor Swift (alternative/folk/pop)
"Folklore" and "evermore" are often grouped when talking about Taylor Swift's 2020, but I find that despite their sonic similarity, the two albums exist in their respective times. "Evermore" arrived in mid-December, when the days were short, and motivation was low. Despite being released a mere 5 months after "folklore," those 5 months were filled with fear, stress, and overall, complete monotony. "Evermore" feels like the soothing warmth of winter, laced with hot tea and snowstorms (which California doesn't have, of course, but would probably be my ideal winter situation). While based on personal emotions, "evermore" describes stories detached from Taylor's life. The characters show up in many different places, and at times, the narrator is left ambiguous. My favorite part about this album though, is that each listener quickly develops their own favorite songs/biases. While most albums have universally agreed on skips, "evermore" has left fans in heated arguments over preferences.
Favorite track: "dorothea"
Leave a Comment
About the Contributors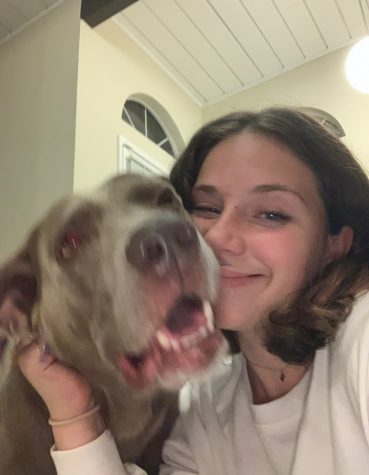 Jesse Gross, Staff Writer
When she's not making irrelevant playlists on Spotify, Jesse Gross '23 is probably forcing her dog to hang out with her. But most likely, she's simply...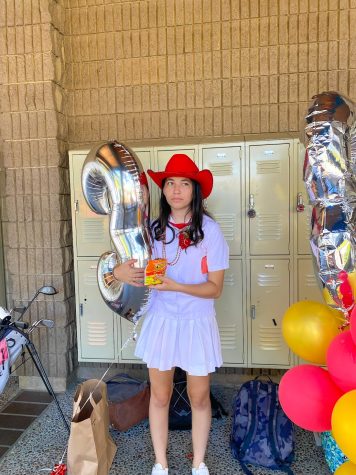 Parisa Braun, Editor-in-Chief
Parisa Braun '23 is the Co-Editor-in-Chief of Counterpoint, and this is her fourth year of being a part of the Counterpoint team! When she isn't trying...