"Keeping equity at the forefront": Inequalities in vaccine distribution
It's no secret that we've all been praying for an effective vaccine to come out to solve all of our COVID-19 problems. However, now that the vaccines are out, our problems haven't magically vanished, and the vaccine rollout has led many of us to question what was done in preparation for the anticipated arrival of the vaccines.
Throughout this process, I've been able to closely observe the vaccine distribution, and all the challenges COVID-19 has brought on for one of the most highly affected groups: the 75 and up.
I have two grandparents who live near me in the Bay Area, both of whom are above 75, and additionally, my grandpa is a recently retired health care worker at UCSF. My other grandma, who is also well above the age of 75 (89 to be exact), lives in the small town of Tiffin, Ohio, in an assisted living facility. And while there haven't been many cases in her county, it's still imperative that she be vaccinated, as she is more at risk than most of the Tiffin residents who are often seen not sporting masks due to the belief that the virus is a hoax, as their county wasn't plagued with major outbreaks.
As a retired health care worker, my grandpa was vaccinated through UCSF on January 6th, 2021. He received an email from UCSF, stating that he was qualified to work in San Mateo County as a health admin, which meant that once he was vaccinated, he could distribute COVID vaccines. While in comparison, my grandma received her vaccine on February 4th, 2021 through Sutter Health.
The speed at which both my grandparents in the Bay Area (with a population of 7.753 million) were able to get an appointment for a vaccine was almost incomparable to that of my grandma in Tiffin, Ohio (population 17,577). The state of Ohio's initial dosage of vaccines arrived during the winter holidays when most health care workers were off, just the beginning of problems for my grandma. Let's begin with the major forefront issue, rural communities aren't being prioritized when compared to larger cities.
While making calls around Tiffin, I understood that the population difference is quite sizable, but that was just the tip of the iceberg. To start, only 60% of nursing home workers in Ohio opted to get the vaccine. As my grandma lives in an assisted living home, she's especially at a disadvantage, as nursing home workers are her building's main source of care. Seneca County General Health District began distributing vaccinations on January 23, however, my grandma wasn't able to get her vaccine for another three weeks. This leads to the main issue—organization. Before Tiffin's vaccines had even arrived, over 1,000 elderly residents had registered for the vaccine. But being registered was different than having an appointment on the books. There were 200 doses sent out; 100 to Mercy Health and 100 to Fostoria Kroger pharmacies. There was a lack of organized communication in which residents were given a clear direction as to where to call. Additionally, Tiffin had to find people who were 100% committed and willing to receive both doses, as there is absolutely no room for waste.
These obstacles provided a pretty hefty challenge for my grandma to receive her vaccine, so my aunts and cousins called every day for two and a half weeks, and during each call, they had to confirm that a shipment of vaccines was at the hospital, their availability, and then reconfirm in a follow-up call her commitment to receiving both doses. Nurses work long hours to schedule appointments, from 8 am to 5 pm every day, which explains that if somehow you're able to get an appointment, it's just luck. There are so many obstacles that prevent a viable resident in Tiffin from receiving their vaccine, so you just have to hope that you're calling at the right time, that there's a large enough shipment at the hospital in Tiffin, and that it's within the first hour they've received it, so you can make an appointment.
The last obstacle, which is a large factor, is the climate. If you're not familiar with the weather outside of sunny Palo Alto, Ohio often faces brutal winter weather. It was -2℉ recently, so as you could imagine it's very icy out, which makes it difficult for elderly people to get out of the house—much less drive to get their vaccine. Thankfully, my family lives very close to my grandma, so they're readily available to help, but my grandma's friend Mary Elle, who lives across the hall, isn't as lucky. Her family hasn't been able to come to Ohio, so it took her even longer to receive the vaccine, as her family had to hire an aid to take her to her appointment. Luckily, both my grandma and Mary Elle were able to get their first vaccinations, and my grandma is scheduled to receive her second on March 11, at 1:50 ET, which, while exciting and relieving, only makes me feel more for those less fortunate elderly people.
For those who don't have family nearby like Mary Elle, or family who can call every day for two and a half weeks like mine, vaccines are hard enough to come by; why do there need to be additional barriers?
As vaccine rollouts are in full swing, I think it's easy to get caught up in the excitement of it all, that we forget to look into who these rollouts benefit and prioritize, and hold our officials accountable to their commitment to equity. So, let's not only celebrate the fact that we're vaccinating our country, but continue to recognize and educate ourselves on the hidden barriers that so many face when simply trying to get vaccinated.
Leave a Comment
About the Contributor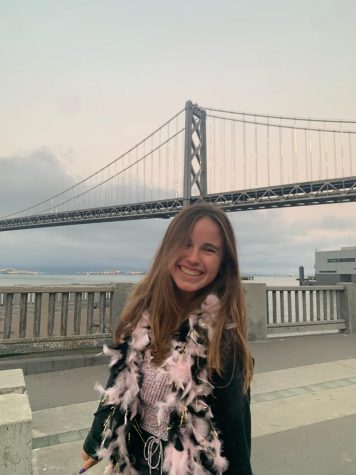 Loralei Rohrbach, Staff Writer
Loralei Rohrbach '24 is a staff writer for Counterpoint. In her free time, you'll always find her having a good time, cracking jokes, and chatting with...