An introduction to the Class of '27
This year has been weird for so many reasons—we've been unable to talk to our friends in person, and we've been stuck in the house with only parents and siblings for company. One of my siblings, Annabelle, is at Castilleja as a sixth-grader, and for her class, this year has been especially disorienting. It's not every day you start a new school online without knowing anyone!
Unfortunately for the rest of the school, cohorts and quarantine have prevented us from getting to know the sixies properly, unless they're taking over the chat or kicking Upper School's butt at spirit week.
I sent out a survey to the entire class of 2027 to get a feel for what the sixth graders are like and how their experiences are different from ours in Upper School.
The sixth graders are altogether very excited about going back to school in person, with very few anxieties about being in person every day. When asked what they were most excited about, half of the responses listed seeing their friends every day as one of their reasons to be excited.
Four girls listed food as their primary reason, which is a very Casti answer. These girls were very excited to start to eat normal Castilleja lunches and were ready to start eating froyo every day, like true Castilleja girls.
One person simply put "COOKIES!!!!" as her favorite part of sixth grade so far. She also put her least favorite part of sixth grade as "NOT COOKIES!!!!" (Nice one, Annabelle).
The sixth grade struggled a bit to adjust to going to school on Zoom, much like the rest of Castilleja, with some concerns like staring at the screen all day and wifi making it difficult to understand the teacher at times.
However, they also had to deal with concerns that the majority of the Upper School didn't have to think about because the majority of us have been at this school before Covid hit. One girl said: "It just feels like there's no way to REALLY get to know each other as classmates,"
Even with Zooms and online chats, it was very difficult to make friends when they had never met each other in person. Another girl commented on the difficulty of navigating Schoology and Zoom, as her elementary school used a different system.
I spoke to an anonymous sixth grader (who happens to be related to me) about the struggles that she faced, and she said "I don't know, you put me on the spot."
The sixth graders all had varied responses when it came to their favorite parts of Castilleja and their favorite classes. A few students listed the arts as their favorite classes, many more liking History or English the best.
One person said their favorite class is "Theatre because we always do very fun activities whether we are online or in person, and of course, the added plus of (almost) no homework… yet."
Another student said her favorite class is "Chinese because our teacher, Ms. Lin, is really kind and energetic. Chinese class is also really fun because we get to play games." (Good choice! Ms. Lin is awesome!)
A third girl said, "My favorite class is English because the teacher is very enthusiastic and makes learning fun."
There were many parts of sixth grade that the class of '27 mentioned as their favorite. Among them were the teachers, spirit week, making friends, and the Castilleja community.
Most of the things mentioned above are things that Upper School students would also list as their favorite parts. The Castilleja community is so amazing, and I'm so glad to be a part of it.
I'm so excited to finally meet the sixth-grade class, and I know everyone reading this is too. To any sixies who are reading this, welcome to the Castilleja community, and we're so excited to finally have you on campus every day.
Leave a Comment
About the Contributor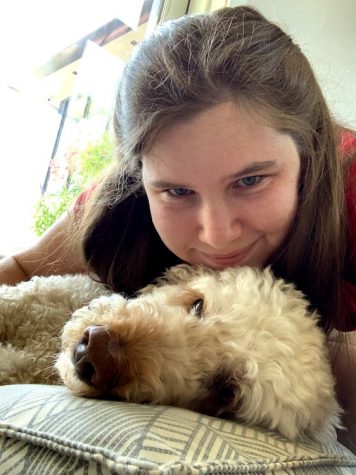 Emily Bock, Staff Writer
Emily Bock '23 is a staff writer and a junior at Castilleja. Outside of Counterpoint, Emily loves singing, acting, writing, and playing volleyball. She...