The ball rolls again: Reflections on the return of Castilleja athletics
March 13, 2020
The amount of uncertainty that filled the air was suffocating. The entire globe seemed to freeze along with everyone's little worlds. Among those, a bigger world, the sports world, stopped more abruptly than anyone was ready for.
In May 2020, depression and anxiety among adolescent athletes spiked. 74.1% of team sport athletes and 64.9% of individual athletes, reporting to a National Athletic Trainers Association (NATA) survey, reported symptoms of depression. This trend only continued as the months wore on.
A research study spearheaded by the University of Wisconsin compared a group of teenage athletes in Wisconsin who returned to sports to a group that did not return to sports in the fall of 2020. The study found that athletes unable to return to participating in their sports were over six times more likely to report moderate-to-severe anxiety and more than twice as likely to report moderate-to-severe depression than athletes who returned to sports.
The COVID-19 pandemic stripped athletes of countless hours spent on training to build strength, refine technique, and achieve goals. Every day previously filled to the brim with practices faded into one seemingly endless block of time. Not only did the break from sports feel like an eternity to numerous athletes, but it was also.
Castilleja sophomore and water polo player Annika Burks counted each and every day that she could not play her sport. "I went a hundred straight days without being in a pool," she remarked, "I don't think I've gone that long, ever. My parents both played water polo, so since I was born, I [have been] in the pool. [Being out of the water] was really really hard."
Even so, more than any amount of time, money, and grueling work, athletes lost a piece of themselves. For many, "athlete" is a meaningful identifier. Sports are not only a fun pastime but a crucial outlet and source of happiness. Annika said, "You don't always realize it, but [as water polo players], being in the pool is such a big part of our lives."
Athletes at the collegiate level share this same sentiment. On a Positive Coaching Alliance panel on April 6, Columbia University basketball player Sienna Durr reflected on her experience as a student-athlete during the pandemic: "For a long time I felt very guilty in how I was feeling, that I didn't want to get out of bed, I didn't want to play basketball because I find a lot of my identity as an athlete as a basketball player and when I had that mindset of 'I don't want to do this today, I don't know how much longer I can keep doing this without competing, without seeing my teammates,' that brought on a lot of guilt."
Studies from the National Center for Biotechnology Information (NCBI) demonstrate the significant positive effects exercise has on mental health. The NCBI reported that "[p]hysical activity and exercise used as a primary, or secondary, processing method have significant positive effects in preventing or alleviating depressive symptoms" and aid in coping with stress, strengthening self-esteem, and enhancing the overall quality of life. Exercise also helps make sure brains are firing on all cylinders, playing a notable role in increasing brain function and efficiency. Along with lessening anxiety in those diagnosed, training improves everything, from memory, to learning vocabulary, to creative thinking (NCBI).
May 2021
Laughter echoes across the circle as whistles pierce the fresh air. The rays of warm sun summon bottles of sunscreen and dig up ball pumps from the bottoms of bags. Over a year later, sports are back in full swing, and hints of the joyful pre-pandemic Casti campus start to appear.
The return to sports competitions brings a greatly missed electricity and sense of life to Casti and athletes across the country. The same study conducted by the University of Wisconsin that compared athletes able to return to sports to those unable to return discovered that "adolescents who played a high school sport during the fall had much higher physical activity levels and quality of life scores." With the returning element of sports, these scores were even similar to those reported pre-pandemic.
Do not get it twisted; the first plunge back into sports practices was no easy surface to break, but after months of Zoom workouts, seeing teammates in person was higher atop most athletes' minds. "Even during the early days when everyone had to be in their own [swim] lane and had to be on opposite sides of the pool, just seeing everyone–that's where I got to socialize," said Annika. "I would be so Zoomed out from a day of online classes, I would be ready to fall asleep, and then I would get on the pool deck, and everyone would be there with this energy," she smiled.
Castilleja junior and volleyball player Riley Carolan felt similarly about a strengthening of team bonding. "Getting to see my teammates is always my favorite part about volleyball," Riley said, "I felt like I was finally getting to connect with people again, and it was really fun just to see everyone."
Sophomore Georgia Hutchinson added, "Swimming and water polo are the only times people aren't wearing masks because we're in the pool. It's one of the only times I get to see my friends smile, and that just makes my life feel so much more normal."
Castilleja athletes have been training since the fall and winter of 2020. Although COVID limited those initial practices in the colder months, many teams marked that as the beginning of their physical and mental preparation for the competition season. The pandemic delay of official season start dates condensed sports seasons left and right, leaving several teams with few games or lots in a short span of time.
"We started the full season when we hadn't been inside [since COVID], we were practicing outdoors, and we literally hadn't even been sharing balls," Riley shared, "Everyone was a little shook that we were starting up again, but also excited."
While overall, competition seasons may be shorter, in many ways the entire season feels much longer. Riley explained, "[The competition season] was kind of surprising because we had this super long preseason." As the coaches put it best, this is truly the "never-ending season."
Even with all of the back and forth, many athletes would not change the work they put in over the past year. Annika would tell her quarantine 2020 self to "Just keep with it because eventually, all that dryland is going to pay off, you're going to get back in the pool, and it's going to feel so amazing." Packed with disappointment, anticipation, Zoom team lunches, draining practices, sweat, tears, incredible friendships, ear-to-ear smiles, and finally, competitions, this endless season will be a difficult one for the sports universe to forget.
Leave a Comment
About the Contributor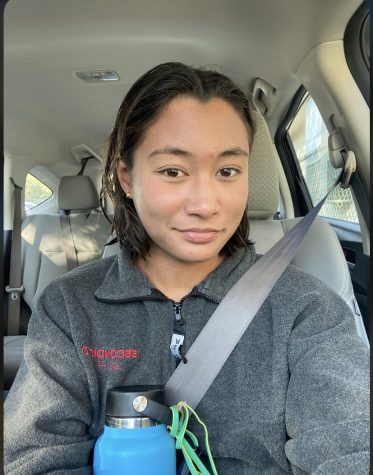 Serafina Cortez, Editor of Opinions
Serafina Cortez '23 is the Editor of Opinions for Counterpoint. When she's not writing, you can find her reading, playing water polo, or Duolingo-ing.