I made a full meal using only Castilleja recipes: Here's what happened
I can speak for the majority when I say that I'm glad to be back on campus. There's a lot of things we missed: lying on the circle, roaming the fitness center, consuming large amounts of ice. But nothing compares to the return to hot lunches on May 10th.
Although the kitchen staff has done an amazing job at adapting to new Covid restrictions during lunchtime, for years, food has been a staple of Castilleja culture. I missed the little things, like how excited teachers got when there was guac at lunch, and how they even let us out early to get some. In order to celebrate our step into normalcy, the combination of too much time on Buzzfeed and my overwhelming nostalgia convinced me to try and make some Casti recipes myself. Here's how it went.
Firstly, I would like to thank Ms. Graysmark for allowing me to borrow her Casti cookbook. This would not have been possible without her help.
Before I began to cook, I decided to spice up my selection process. I knew I wanted to make a full meal (appetizer, main course, and dessert), but because of the endless options, I put it all in a randomizer. For an appetizer, I got deviled eggs. At first, I thought this would be fairly simple since I had just received a seven-egg boiler as a gift. Sadly, the recipe only called for six eggs, so there was one lonely spot. I poured the water into the appropriate container and waited for them to boil. Well, to put it plainly, it was not straightforward. I didn't know that I had to set a specific time for the eggs, and because I didn't change the default, they boiled for the longest time possible. When I first took them out and peeled them, the yolk was grey-ish on the outside and *very* well-cooked. I felt guilty about using so many eggs, so I decided to just troop on. I then proceeded to cut open all the eggs, scrape out the yolks, and season them. For the presentation aspect of this task, I would give myself a 4/10. I only used a spoon for scraping/mixing/placing, so nothing was overly fancy, but I didn't make a big mess either. In terms of flavor, I would give it a 7/10. The yolk definitely was chalky (in the way overboiled eggs are) but overall the combination of spices was nice.
After the deviled eggs, it was then time for the main course. The randomizer had spoken: Tortilla Soup it was. Although many would find soup as a main course controversial, I actually found it quite filling, especially since the recipe called for plenty of chicken/vegetables. Before it came to that, however, I had to prepare the tortilla chips. This was fairly simple and done quickly. All I had to do was cut the tortillas into 1-inch strips and fry them until crispy. I then set these aside and wrapped them in a kitchen towel so they wouldn't get soggy (I wasn't going to take any chances.) I then fried some onions and garlic and seasoned them with cumin. After the onions turned into a nice golden brown, I added chicken broth and tomatoes. However, it wasn't until after I read the recipe that I realized it called for 16oz of diced tomatoes, and not 16 diced tomatoes. It was too late to try and assume how many ounces were in a tomato, so I shoveled about a third of the tomatoes into the soup. Now, the next step was something I'd never done before, so I was a bit skeptical about how it was going to turn out. I was supposed to drop 3 chicken breasts in the soup and let it boil to cook. I've only ever fried chicken (on a skillet) so after an internal debate about tradition vs. adventure, I went for it. After boiling the chicken for 25 minutes, I removed it from the pot and set it aside. I ripped part of it open, and it seemed cooked, but looked more like rotisserie chicken than regular seared chicken. The final step was to add lime juice, salt/pepper, canned corn, and cilantro. Because of my failed presentation in the appetizer "round," I played the soup with the shredded chicken on top, along with cheese, avocado, and most importantly, my homemade tortilla strips. Surprisingly, the chicken was really tender and flavorful, and I ended up guessing the right amount of tomatoes. I'd rate my presentation an 8/10, and the taste also an 8/10.
It was now time for the most anticipated portion of the day: the dessert. Although the randomizer had selected blueberry cheesecake bars, I overrode its decision once I remembered that the s'mores bars recipe was in the book. S'mores bars were also fairly easy, and after my effort with the soup, I decided I could give myself a small break. All I had to do was melt chocolate chips, butter, and marshmallows on a pan, and add a splash of vanilla. The recipe also called for ¼ cup of corn syrup, but because my family wouldn't use the rest of it if we were to buy it, I omitted that part. I then crushed up a lot of graham crackers, cut the heat on the mixture, and poured them in. I also included the rest of the marshmallows for extra sticky-ness. After everything was well incorporated, I spread it onto a baking pan and cooled it until firm. Since I had found that the bars were easy (and fairly relaxing) to make, I decided to cut them into fun shapes, like stars and hearts. Overall, (naturally,) I rated this section a 10/10 for presentation and taste.
My biggest takeaways from this experiment go as follows:
Don't use an electric egg cooker for deviled eggs. Even though it's annoying, boiling them in hot water is best
16 ounces of tomatoes IS NOT the same as 16 tomatoes. Boiling chicken isn't that bad, but I probably wouldn't do it again. S'mores bars are the best
If you want to try any of the recipes listed above, here they are:
Deviled Eggs
Ingredients:
6 eggs ¼ teaspoon salt
¼ cup mayonnaise ¼ teaspoon white pepper
1 teaspoon yellow mustard smoked paprika for garnish
Directions:
1. Place eggs in a single layer in a saucepan and cover with enough water to cover 1 ½ inch above the eggs.
2. Heat on high, until water begins to boil, then cover.
3. Reduce heat to low, and cook for 1 minute.
4. Remove from heat and leave covered for 14 minutes.
5. Rinse the eggs under cold water continuously for 1 minute. Set aside to cool.
6. Crack eggshells and carefully peel under cool running water. Gently dry with paper towels. Slice the eggs in half lengthwise.
7. Remove yolks and place them in a medium bowl. Place the whites on a serving platter.
8. Mash the yolks into a fine crumble using a fork or mixer. Add mayonnaise, mustard, salt, and pepper and mix well.
9. Evenly disperse heaping teaspoons of the yolk mixture into the egg whites. Sprinkle with paprika and serve.
Tortilla Soup
Ingredients:
4 tbsp vegetable oil 2 juiced limes + 1 lime cut into wedges
4 corn tortillas 1 cup of frozen corn
1 small onion, diced 1 cup roughly chopped cilantro
2 tablespoons minced garlic 1 cup shredded jack cheese
1 teaspoon dried cumin Salt and pepper to taste.
6 cups low-sodium chicken broth
14.5 ounces diced tomatoes
3 chicken breasts, boneless and skinless
Directions:
1. Make tortillas strips: Cut the tortillas into 1-inch strips. Fry the strips in 2 tbsp of olive oil until crisp, drain on paper towels, and set aside.
2. In a large saucepan heat the remaining 2 tbsp of vegetable oil. Add the onions and cook for 2 minutes. Once the onions have softened add the garlic and cumin and cook for another minute.
3. Pour the chicken broth and tomatoes into the pot and bring to a boil. Once at a boil, lower heat to simmer and add the chicken breasts. Cook the chicken for 20 to 25 minutes. Once the chicken is cooked remove it from the pot. When cool enough to handle shred it and set it aside.
4. Add salt and pepper, lime juice, corn, and fresh cilantro to the pot and cook until warmed up.
5. In individual serving, bowls add an amount of shredded chicken. Ladle soup over chicken and top with a lime wedge, grilled tortilla strips, avocado slices, and cheese.
S'mores No-Bake Bars
Ingredients:
1 (10 ounces) bag mini marshmallows ¼ cup light corn syrup
1 ½ cups milk chocolate chips 1 tsp vanilla extract
5 tbsp butter cut into pieces 1 box broken graham crackers
Direction:
1. Grease "9×13" inch baking pan
2. Reserve 1 cup of marshmallows. Into a large saucepan, melt the chocolate chips, butter, corn syrup, and remaining marshmallows over low heat. Stir until completely melted. Remove from heat; stir in vanilla.
3. Add cereal into the chocolate/marshmallows mixture in the saucepan and stir until it is coated. Stir in the remaining 1 cup marshmallows.
4. With a buttered back of a spoon, press the mixture into the prepared pan.
5. Cool for at least 1 hour or until firm. Store loosely covered at room temperature. Cut into bars.
Leave a Comment
About the Contributor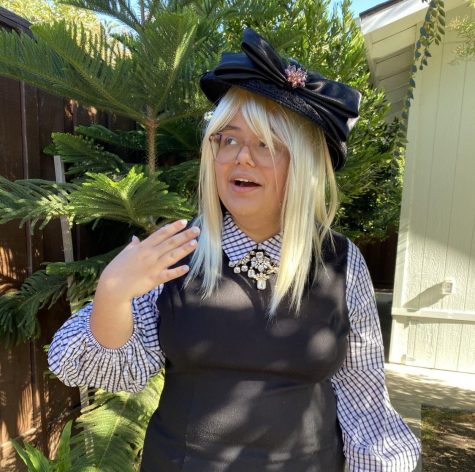 Aizza Rocha, Managing Editor
Aizza Rocha '22, otherwise known as "Zoey's sister," plays yellow in Among Us and is a terrible impostor. However, she's no impostor when it comes to writing...