Is Prom worth the hype?
Prom is a big deal. The quintessential American high school experience. The night for which teenagers spend months in advance preparing, booking limos, buying dresses, and crafting perfect promposals.
Although this tradition has been known to be typical of the American high school experience, it is atypical to students at Castilleja. When asking Masako Yang '22 to describe prom, she says "it is where high schoolers mingle and there are a lot of teacher chaperons." Caitlyn Chau '22 says "prom is just another dance that is a little bit fancier.[..] it doesn't have any significance to me."
It quickly became evident that interviewing Castilleja students would not help me figure out the hype behind prom. Instead, I turned to the Junior class president of Los Gatos High School, Katherine Brezoczky '22, to ask about this tradition and what LGHS is doing this year for junior prom. According to Brezockzy, prom "is something that everyone is looking forward to and is important to a lot of people." When asked why LGHS continued to plan it, Brezockzy told me that "we couldn't say we were not planning it. I know a lot of schools were not planning it and we didn't think it was morally right to say no without trying."
The planning for this year "has been definitely tougher than it normally is…but it is coming to a close and it looks like it is going to work out." Los Gatos High School's goal "was to make it an event people could dress up for," and they are not hosting a traditional dance floor with a DJ. To accommodate for COVID-19 precautions, LGHS had to spend $8,000 instead of the usual $3,000, and they capped the event at 350 students even though they have 550 students in the 11th grade. Additionally, planning prom had been a process full of uncertainties. Brezockzy tells me, "we have been planning all year and didn't get the go-ahead until three weeks before the event. We had to prepare everything far in advance, but couldn't say for sure it was going to happen." The LGHS junior government "only got permission from Los Gatos High School a couple of days before [they] started ticket sales."
Although it is evident that prom takes a lot of work, when asking Brezockzy if it is worth it, she says "student-wise and society-wise, we had a lot [that did] not work out, and I think that having something that is a tradition is important. It is not right to not try to make it happen. Even if it was one student that is happy they got prom, it is one person happy."
Finally, the past prom attendees I spoke with commented on the replaceable nature of Castilleja's prom. Risako Yang '17 even mentioned that "it felt like an extension of Fa Di Da." When I asked Minhee Chung '20 if she would go to Prom again, she told me, "I think I would definitely go again even though it is not a life-changing experience…I remember having a fun time with my friends. Also, the food was bomb […] Prom at Casti was pretty expensive…it could have taken place anywhere, and I would still have fun introducing people to other people and combining my social spheres…it was a bit overpriced in my opinion." Yang '17 commented on how "people talk about [prom] as a quintessential high school experience but no one in my family has gone to prom."
So, are Casti students missing out? Yes…but no. Castilleja doesn't have prom in a traditional sense where promposals are the topic of gossip, but instead, Casti traditions like Founder's Day or FaDiDa take charge. Yang '17 summed up my feelings regarding prom the best: "For some people it is a no brainer to go or not, but not for me. […] I didn't feel like I missed out."
View Comments (1)
About the Contributor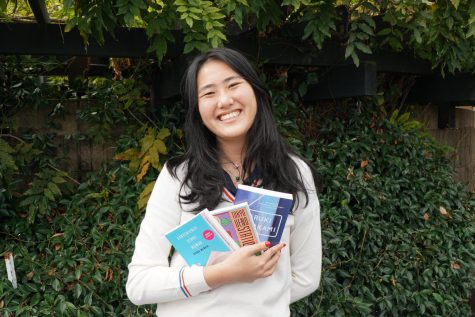 Emily Chan, Editor of Arts and Entertainment
Emily Chan '22 is the Editor of Arts and Entertainment of Counterpoint. In her spare time, she loves petting alpacas, wandering grocery stores aisles,...