My first high school football game
My first high school football game
Football is overrated.
Casti is an all-girls school that doesn't have football, and I don't think we are missing out. If we did have football at Casti, the spirit and energy would be amazing and so lively, but I feel we could get the same experience from events like Spirit Week. I also asked students whether they would come to Castilleja football games if Casti had a hypothetical football team. Emily Chan '22 replied, "Yeah because I want to see my friends play!" On the other hand, another senior, Amanda Cheng '22, replied, "No." The reason behind her response was the fact that she is not a fan of big, social events.
I learned how overrated football is after attending my first ever football game with my sister. The game was a home game at Archbishop Mitty High School (AMHS), and the challenger was Bellarmine College Preparatory (BCP). As a freshman in high school, one of the reasons I wanted to go to the event was to have a quintessential high school experience. My knowledge of these typical high school events comes mainly from movies and TV shows I've watched, so I imagine loud, spirited events.
On October 8th, we arrived at Mitty's campus and were greeted by two long lines for tickets and crowds of students, some wearing white to represent Bellarmine, others wearing black to represent Mitty. After purchasing our tickets, we saw two large staircases, one on the left and the other on the right, both leading up to the stadium on Mitty's side. We walked towards Bellarmine's side, stood, and watched the beginning of the football game near the Bell bleachers.
We were so confused.
The players and ball were quite far away, making it hard to keep track of the ball and see what was going on. While it was hard for us to understand the game, we did realize that football is quite violent and competitive—players tackled each other, and students shined phone flashlights at the opposing school. Additionally, we found that football games were incredibly long, which made them even more tedious for the both of us.
But, there were also some upsides to football: school spirit, socializing, the band and dance performance, and of course, food. Almost all the bleachers were filled with students wearing school merch and face paint streaks to show their support. During halftime, Mitty's dance team went onto the field and performed a synchronized and entertaining dance. Afterwards, the band took their place and started playing songs, with students lined up and making different shapes, like the letter "M" for Mitty.
Towards the end of the game, we passed by the food stand and decided to buy a hot dog. At first, I was skeptical, but after my sister took a bite and argued that it was good, I decided to take a bite. Wow! It was surprisingly delicious. The warm, juicy sausage and the soft, chewy bun made a flawless combination: this hot dog had to be one of the best I have ever eaten.
For me, the game was boring and chaotic, so I honestly felt the highlight was the hot dog we ate at the end of the game. My sister, Emily Chan '22, also a student at Castilleja, felt the same. She found the game to be "underwhelming and incredibly overrated." When I asked her whether she would attend another football game, she responded with an immediate "no."
Football is not for everyone, and while I see myself enjoying the fun, positive school spirit at Casti, I don't, and probably never will understand the boring, violent sport of football.
View Comments (1)
About the Contributor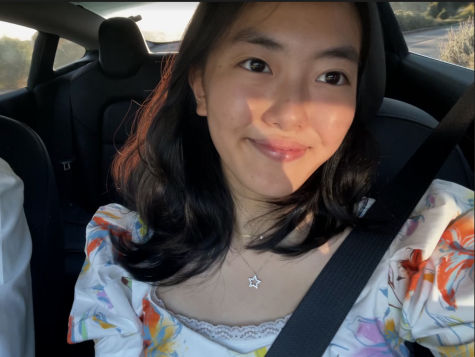 Priscilla Chan, Staff Writer
Priscilla Chan '25 is a staff writer for Counterpoint! She loves blasting Taylor Swift songs (especially the Fearless album) and eating (instant) ramen...