FaDiDa = Met Gala???
I'm assuming most of the readers of this article know that this year, the Met Gala was postponed to September 13, coincidentally just two weeks and six days before Castilleja's annual Fabulous Dinner Dance (FaDiDa, FDD, etc.). Now, I'm not really sure how many people besides me were excited about this, but allow me to share my joy. New York Fashion Week, the Met Gala, and everything fashion related in America, was held around the middle to end of September. Naturally, because FDD was near that time, I felt like Casti was a part of America's elite in fashion, and FDD was a total high end party, held exclusively for select individuals. Obviously, the party wasn't going to be in New York like all the others because the crème de la crème of society—that's us—wasn't going to stay in one place for all the parties, duh. (Besides, all the famous celebrities live in Cali anyway. Just look at our good ol' pal Slavik.)
Because of this newfound excitement—and also because it was everyone's first FDD in a year— I, and many other people, put in that extra 2% to make our hand-me-down dresses into something enchanted, evermore.
So now that I've explained the obvious connection between our FDD and, you know, the less significant Met Gala, allow me to introduce my opinion on which 9 outfits worn by us Castillejans this year look suspiciously similar to (or at least inspired by) celebrity looks from the Met Gala 2021.
So beginning with myself:
Abigail Kim '25 and Kaia Gerber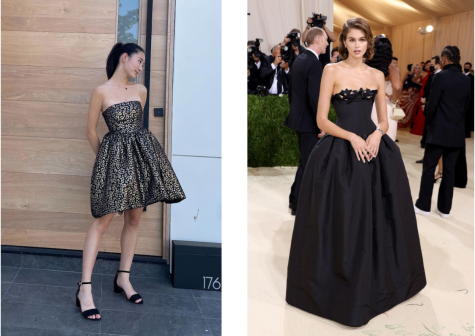 Clearly, we are not one and the same, but I did the best I could. It's mostly in the sleeveless and black aspects of our dresses that really highlight how I modeled my outfit after hers, but also, if you look closely, my skirt, had it been extended to the floor, would be the exact same shape as Kaia's. You'll also notice my dress is covered in leopard print, and Kaia's top is made of butterflies, so an animal connection? Yes. I rest my case.
Priscilla Chan '25 (right) and Lili Reinhart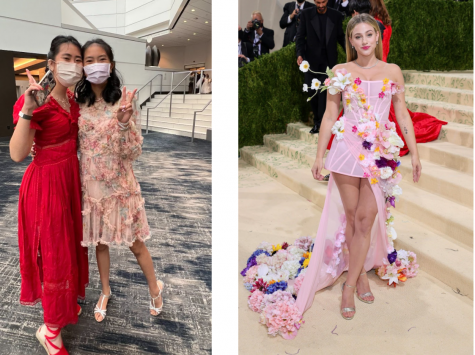 My proof for this one is that Priscilla told me herself that she loved Lili's dress. Lili's dress = Priscilla's love. Priscilla's love = what Priscilla wanted to look like. So obviously, by transitive property, Lili's dress = what Priscilla wanted to look like. It's also pretty evident once you look at the dresses—pink, florals—these dresses are the same.
Hannah Onderdonk '23 (right) and Nicola Peltz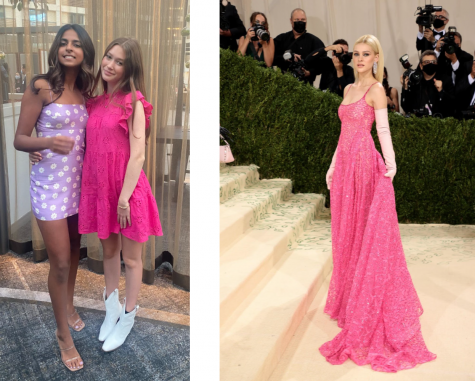 Look at the two dresses. Are they not the exact same color? And do you think it really could've been a coincidence that Hannah and Nicola both wore lace in that color? Obviously there was some inspo Hannah got from Nicola. Not only do the dress colors match each other, but Hannah's boots match Nicola's gloves as well. Very cute. A match made in bubblegum heaven.
Tvisha Prasad '27 (left) and Helen Lasichanh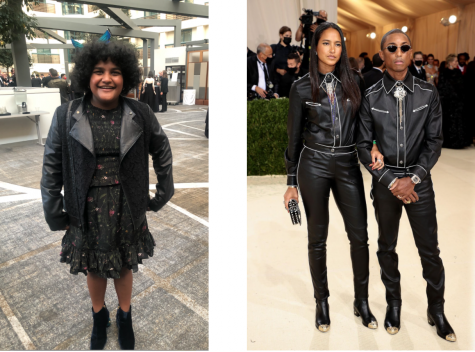 This one is all in the leather jackets. The boots, the jacket, those are two obvious places where the two outfits are similar, but also, if you look at Tvisha's dress, it's black with small, colorful flowers. And would you look at that—Helen's pants are black and her jewelry is colorful! Coincidence? I think not. (It probably was, but for the sake of this article, we can't say such a perfect match was an unconscious decision.)
Dineo Molotsi '25 and Kate Hudson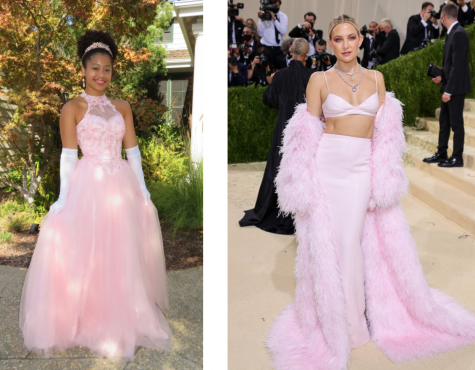 I think the resemblance in this one is quite clear. Pink, soft. Dineo's dress has a sweetheart neckline, which is similar to the v-neck of Kate Hudson's, and the lace on the neck of Dineo's dress has a similar shape to Kate's necklace, which adds to the overall similarity.
Dani Molotsi '24 and Taylor Hill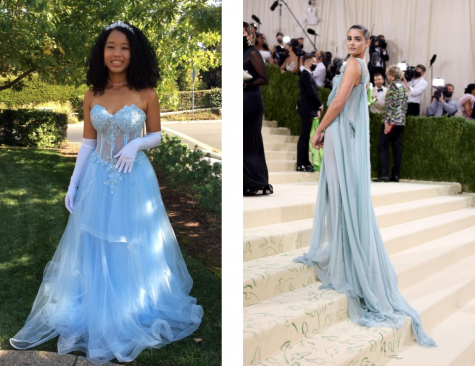 Just look at those layers you guys… Both of these dresses are A) so gorgeous, and B) so blue. So I'm just gonna go ahead and say that Dani was clearly inspired by the beautiful Taylor Hill. I cannot get over how gorgeous both of these dresses are.
Emma Foster '24 (left) and Billie Eilish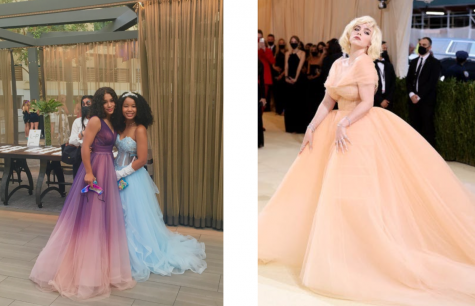 Okay… so again, two really amazing, dazzling dresses. Some obvious factors here: the long, layered skirts (though I think Emma's is chiffon and Billie's is tulle), the peachy color (ignoring the fact that only ⅓ of Emma's dress is peach colored), and, just in general, the wow factor both of these dresses have. They simply give off an energy that makes everyone's head turn toward them. Fun fact: Emma says the designer of her dress is Mac Duggal, so if anyone wants a pretty dress, look there.
Olivia Stinson '24 and Gemma Chan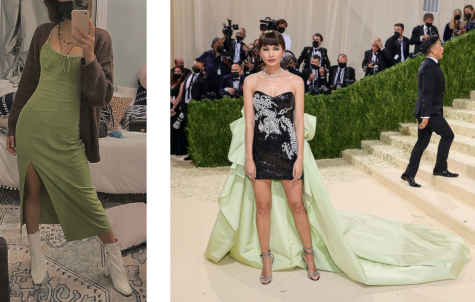 Have I ever told anyone that I love Gemma Chan? Yes. I have. Gemma is the coolest, and Olivia is also the coolest too. (I mean, have you seen her Halloween costumes?) Exhibit A, check. Exhibit B: the elegant shade of green both of them flaunt, and Exhibit C: The white of Olivia's boots match the white of the dragon in Gemma's dress. (am I stretching this just to make something from FaDiDa match Gemma Chan's outfit? No, of course not.) My work here is done. Oh, and also on the topic of stretching it, we can say that Olivia's brown cardigan represents the black of Gemma's dress. #twinningiswinning
Hadley Nunn '22 (left) and Emily Ratajkowski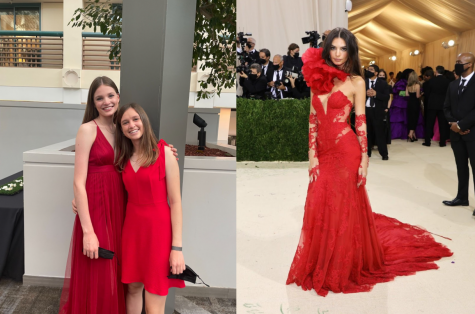 So… hear me out you guys. Besides the obvious redness of both dresses (go seniors!), you may say "well there's nothing similar here at all." But take a deeper look everyone, because I'm convinced Hadley was at least a little bit inspired by Emily Ratajkowski. First of all, the necklines are very very similar: they are both relatively deep plunge necklines. In addition to this, the skirt structures are almost identical. It looks to me that there are soft layers of nice red tulle on both skirts, totally backing up my claim that Emily was the very aspiration of what Hadley wanted to look like.
So there you have it, the complete list of stunning FDD outfits inspired by the Met Gala- according to me, Abigail Kim. Thank you, and stay fashion-fabulous.
View Comments (2)
About the Contributor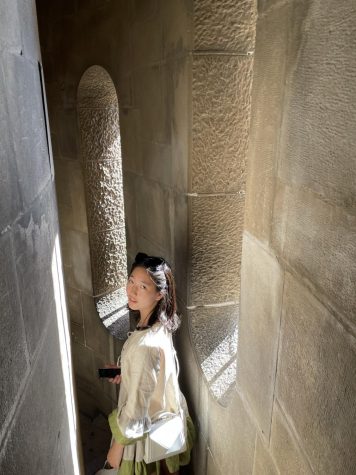 Abigail Kim, Editor of Features
Abigail Kim '25 is the Editor of Features for Counterpoint. In addition to writing, Abigail loves to read, dance, paint, and watch k-dramas when she should...