FALLing for these books
Imagine this: It's a perfect cozy day—cold, cloudy, and maybe even rainy. Bundled up in your room, you decide to let go of your burdens as a student. Instead of doing homework, you elect to take a moment for yourself. The problem set can wait. But the first season of "Squid Game" is over, and the sad reality of a Netflix-less night sets in. Then, inspiration strikes—you realize that TV isn't the only way to procrastinate. Reading is just as, if not more, fun. What screams Casti student louder than reading recreationally? Your emotional-rollercoaster of a night isn't over yet, though, because tragedy strikes once again. You don't know what to read.
Well, I have labored over this compilation of perfect fall reads, just so you wouldn't have to be book-less and sad. All I had to do was spend hours reading and then select the few books worthy of this list.
We All Looked Up by Tommy Wallach
This heart-wrenching novel follows four teenagers—Peter, Anita, Eliza, and Andy—as they grapple with the imminent destruction of Earth. An asteroid is on track to hit earth and eliminate all human life. We All Looked Up is a story about love, life, and what it means to make the most of the time you have left.
We All Looked Up is available in paper, ebook, and audio formats at the Castilleja Library!
After Dark by Haruki Murakami
Haruki Murakami's writing never fails to disorient me. To put it simply, his novels are weird. After Dark is not an exception. Set in the course of one night, we follow Mari as we watch the worlds of Tokyo residents collide in an intricate plot. Meanwhile, her sister, Eri, seems to be in a state of unconsciousness for no particular reason.
On the surface, After Dark seems to be a book about loneliness. Look deeper, though, and you will find a dark critique on society's two-sided nature. A seemingly "normal" novel, yet strange and eerie beneath the surface, After Dark is certainly a read you will never forget.
After Dark is available in paper, ebook, and audio formats at the Castilleja Library!
Truly Devious by Maureen Johnson
A boarding school whose purpose is to "make learning a game," and more famously known as the setting of a decades-old cold case, Ellingham Academy is more dangerous than it seems.
Ellingham Academy first-year Stevie Bell is a true-crime aficionado and has had her eye on the Ellingham case for quite some time. What better way to solve a crime than to do some on-site investigation yourself? Right after Stevie finally feels settled into her new life (and when she finally gets to know her housemates), a dead body shows up on campus. Someone has gotten away with murder. The cases seem to be connected. Can Stevie unravel these two mysteries before more people die without getting caught in the crossfire herself?
Truly Devious is available in paper, ebook, and audio formats at the Castilleja Library!
The Eighth Detective by Alex Pavesi
Puzzle enthusiasts and math-lovers rejoice for The Eighth Detective by Alex Pavesi is filled with cases to solve. Written by a mathematician, The Eight Detective is an atmospheric mystery set in the 20th century. We follow Julia, an editor, as she ventures to a remote Mediterranean island, where the author of seven detective stories resides. She wants to republish his books but soon finds inconsistencies in the novels. Julia soon realizes the "mistakes" that she finds could be more than silly plot holes. In fact, they could be clues to a mystery that Julia may need to solve herself. This novel is intricately plotted and is packed with twists and turns that even crime experts won't see coming.
The Eighth Detective is available in paper and ebook formats at the Castilleja Library!
The Girls I've Been by Tess Sharpe
Have you ever been trapped in a bank robbery with your ex-boyfriend and current girlfriend and had to rely on the skills you learned from your mom, a con artist, to escape? No? Not many would answer yes, but Nora is in this exact situation. In this fast-paced novel, we alternate between present-day and Nora's past identities to try and piece together her plan of escape. Will she be able to use the skills she'd rather forget to out-smart and over-power the bank robbers before it's too late?
The Girls I've Been is available in paper, ebook, and audio formats at the Castilleja Library!
Not Here to Be Liked by Michelle Quach
I read Not Here to Be Liked in one day. It's not like I had time for the 4 hour deviation in my schedule, either. There was most certainly some college thing that was due the next day that I just didn't do. Sorry, Ms. McColgan!
In my defense, the whole ordeal wasn't planned. If I were to blame anything or anyone for being behind in my college work that day, I would blame Michelle Quach's beautiful writing, and her ability to provide the perfect balance between lighthearted rom-com and more serious coming of age moments. Plus, Eliza Quan is immediately lovable because she is a fierce female character who wears a gray cardigan to school every day. She is also a part of the school paper.
Originally uncontested, Eliza learns that ex-jock Len also wants the position as Editor in Chief of their school newspaper. He is clearly under-qualified for the position, yet his charming persona and the power of sexism might be more influential than Eliza anticipated. She's no stranger to battling the patriarchy, and she will not go down without a fight.
Not Here to Be Liked is available in paper and ebook formats at the Castilleja Library!
Happy reading 🙂
View Comments (4)
About the Contributors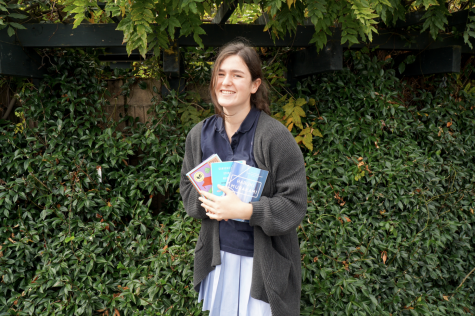 Emma Speiser, Staff Writer
Emma Speiser '22 is a staff writer for Counterpoint. When she's not skiing, she enjoys reading excessively confusing books and being paparazzi for the...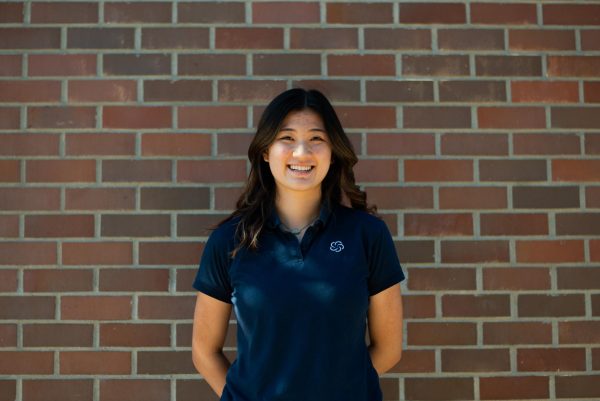 Thea Dai, Editor-in-Chief
Thea Louise Dai '24 is an Editor-in-Chief of Counterpoint. For her fourth year writing for the paper, she hopes to impact the Castilleja community by telling...