What tunes have Castilleja students been listening to over the summer?
As COVID restrictions became more lenient, Castilleja students began experiencing a lot of firsts—the first time back in-person, first time hanging out with friends post-lockdown, and even first time on campus for some—and with all the newness has come a fresh assortment of music. Over distance learning, students found new favorite artists, songs, and genres. Music tastes have started to shift this past summer as we started transitioning back to in-person learning, with trends and favorite artists now easily spreading across the Casti student body.
This summer, the charts were dominated primarily by versatile rappers and TikTok stars. Artists, such as Olivia Rodrigo, Ashnikko and Bella Poarch, have taken bold steps into the spotlight; meanwhile, frequent Billboard-topping artists, like Drake, Doja Cat, BTS, The Weeknd, and Megan Thee Stallion, have maintained steady popularity. High on the charts this summer were "Stay" by The Kid LAROI & Justin Bieber, "Kiss Me More" by Doja Cat feat. SZA, and "good 4 u" by Olivia Rodrigo.
Recently, Casti students have begun to follow new sets of musical artists. The general trends have mirrored the charts in some places and deviated greatly in others. Here, we'll dive into three of the many artists that have taken the Circle by storm this past summer.
1. Doja Cat
Although she has been making music for years, Doja Cat, a SoundCloud musician since she was a teenager and an unintentionally viral meme-song creator, rose to superstardom in 2019 with "Say So," shattering records and topping the Billboard charts. By now, she is a household name and a Grammy nominee, and her music output has not at all been slowed by the pandemic.
Castilleja students appreciate her music, too. "She's a naturally gifted songwriter and her lyricism is unmatched," said Dani Molotsi '24, an avid Doja fan. "She does rap primarily, but she's also dabbled in alternative, pop and rock. She's bringing a new meaning to rap and introducing a lot of genres we didn't know were compatible with it. It's why her music is so catchy and why so many people like listening to her."
Doja's music is often played at major Castilleja events, such as the FaDiDa and the Pep Rally, where DJs spin the most popular danceable tracks and Billboard hits, but it's clear that her music goes beyond that. "It's very different from the music I usually listen to, which is why sometimes it's nice as a palette cleanser," another student said. They aren't a fan, but they have an appreciation for Doja's music and its popularity both on and off the Circle.
"'Won't Bite' is one of my favorite songs of hers," said Molotsi. "And my friends and I love everything from the 'Hot Pink' album."
Recently released from Doja has been her third studio album, "Planet Her," a chart-topper and Castilleja fan favorite praised for its captivating visual appeal and a diverse genre set. Her song "Kiss Me More" topped Billboard charts for nineteen consecutive weeks, receiving critical acclaim. She will be touring the US from late November throughout December, and it is unquestionable that Casti listeners await her next chart-topping track.
2. BTS (and other K-pop artists)
While a sizable number of Casti students were listening to BTS pre-quarantine, COVID lockdown has brought the group into the Casti spotlight along with a slew of other Korean musicians.
"It's just so easy to get into them," Aaminah Memon '26 said, a fan of an extensive and growing list of K-pop artists. "I love their reality shows and the whole idea of choreography and comebacks."
K-pop is structured differently than most western music industries. Incorporated are elaborate music videos, storylines, various forms of fan engagement, and boatloads of entertaining content. Many students worldwide took quarantine as an opportunity to dive deep into the genre, learning about groups and sharing the music with their friends, resulting in a diverse selection of K-pop artists now followed by music-lovers in the US.
Castilleja students are no exception. When asked about the appeal of K-pop, Diana Gutierrez '24 explained, "The music and entertainment aspects of K-pop appeal to me the most. I don't see any western artist having their own variety shows like most K-pop groups do. And K-pop comeback season is something else. It's always filled with good stress and anticipation. The music, in my opinion, is also better than most western pop songs I have heard." Another student chimed in, "I like the melodies I can find in K-pop songs—I feel like there's a lot more genre-mixing and bending in kpop than I've seen in pop from western artists."
"Comeback" is the term used for the return to activity of K-pop artists, often the release of a new song. This past summer was chock-full of comebacks. Some notable releases were "Alcohol Free" by TWICE, a refreshing summer single, "Drunk-Dazed" by ENHYPEN, an eerie coming-of-age song, and, of course, "Permission to Dance" by BTS, a Billboard record-breaker.
"Over the summer, I got into OnlyOneOf, P1Harmony and EPEX," said Gutierrez. Another K-pop fan said that they got into STAYC, TXT and J.UNA. Other popular groups on campus include Stray Kids, ATEEZ and SEVENTEEN.
While BTS has undeniably taken over the charts this past summer, it is evident that K-pop as a whole has become a staple genre for many Castilleja students. The diverse amalgamation of popular artists, and the number of fans on campus, only keeps growing.
3. Taylor Swift
One resurgence on Casti campus has been that of an artist who has been in the global public eye for quite awhile—none other than Taylor Swift.
It's increasingly common to hear Taylor Swift around campus (due in part, perhaps, to her song "22" being the current Casti senior anthem), but her classics reemerging in popularity goes deeper than her being one of the most accomplished and well-known artists in the US.
"I feel like she totally changed the music game," said Loralei Rohrbach '24, one of the most vocal Taylor Swift fans on campus. "Everyone writes their sappy love songs, but I don't think I've ever seen an artist create an album entirely based on fables and folklore. I love how she's tapping into audiences that I feel like aren't tapped into often, especially from such a large platform."
When asked why Swift's music has appealed to her and her friends, she said, "This past year, she's been rerecording [her old music], which we love. It's why so many Swifties are getting into her old albums."
Said rerecordings have been a primary factor contributing to the recent Taylor Swift revival both in Castilleja and the broader community. In April of this year, Swift released a rerecorded version of "Fearless," an album she first released in 2008—the new album is called "Fearless: Taylor's Version," and it gives fans some of her first classics with her modern style and maturity, spruced up with six previously unreleased tracks and updated lyrics.
Currently in the works is a reworked version of her album "Red," a rework similar in fashion to "Fearless: Taylor's Version," which is scheduled to be released on November 19th. The many new (and old) Swifties at Castilleja look forward to it.
What Next?
It's clear that as Castilleja students have been returning to campus, music tastes have begun to collectively expand and evolve. As we progress further into the year, and as the charts and popular trends continue to change, we can certainly look forward to hearing more new music and interesting artists around the Circle.
View Comments (3)
About the Contributor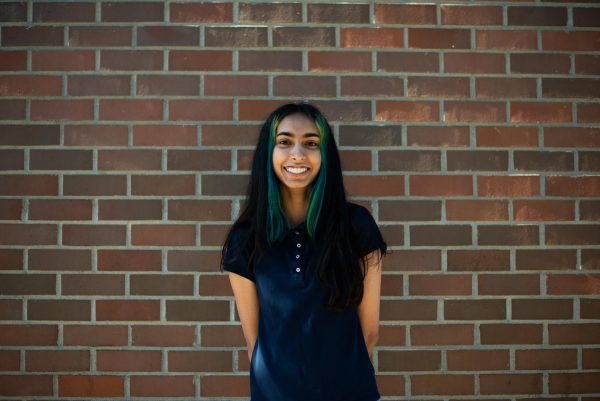 Aasiya Memon, Staff Writer
Aasiya Memon '24 is a staff writer for Counterpoint who enjoys statistics, funky sounds and fire extinguishers.