What does it take to be a student-athlete at Castilleja?
"Sweat," "pain," "tears" are all words that come to mind for student-athletes at Castilleja. Juggling both athletics and academics is no easy feat at any school, and it is especially challenging at Castilleja.
According to the 2016 Castilleja School Conditional Use Permit and Master Plan Narrative, organizations such as The Wall Street Journal and ranking site Niche have recognized Castilleja for its quality education. In fact, Niche named Castilleja as one of the top three schools on its "2022 Best All-Girls High Schools in America" list. Any Casti student knows from hours spent on homework and on passionate leading and learning that Castilleja's reputation of rigorous academics holds true.
Along with being an academic powerhouse, Castilleja has been athletically successful with league titles won, state championships made and athletes going on to compete at the collegiate level. Not to mention, this fall, all five sports earned CCS Scholastic Championships or the top five highest GPAs in their sport.
But, behind all of these accolades lies a hidden truth that is seldom acknowledged aloud: the intense, overwhelming and perfectionist student-athlete culture at Castilleja. A culture best summed up by afternoon meets under the sun and late-night games under the lights, by burning muscles and sweaty faces, by mountains of homework and eraser shavings and by sleep deprivation and frustration and joy. Sweat, erase, revise and repeat until every step, throw and kick taken is just right.
This perfectionism is not limited to student-athletes. Every student in and outside of the classroom is uniquely motivated to do everything well. Fueled by Castilleja's rigor and perceived expectations, pressure builds among students to not only be better, or the best they can be, but the best, period. As the years go on, being "the best" only gets more difficult as the workload gets heavier.
Many student-athletes dread this shift in workload. For some, the additional work forces them to take a break from their sport or stop playing altogether to avoid being overwhelmed with school in-season. This decision is a difficult one to make, as former tennis players Sonia Cherian '23 and Monica Sidana '23 can tell you. From squeezing in homework during lunches, study halls and bus rides to matches, these two are no strangers to the Castilleja student-athlete lifestyle.
Sports and school already take up enough time, so with added extracurriculars, the workload can become unreasonable. Sidana remembers getting home at 11:00 pm after a long day of tennis and Mock Trial and still having homework to do.
Even with the outrageous amount of work that sometimes accumulates, being a student-athlete at Castilleja comes with its benefits. From teamwork to strength-building, there are many reasons why playing sports is worth it.
"Being on a team, you learn how to work with other people and how to communicate effectively. I'd say that's helped me in the classroom whether it's working on a group project or in a discussion, being mindful of group dynamics, and being mindful to include everyone," said Cherian.
For some, Castilleja sports make up a significant part of their experience. Another student-athlete said, "I don't know if I would have stayed at Casti if I didn't meet the amazing people here playing [sports]. I honestly think that having fun at [practice] every day and seeing teammates—that was a really big part."
That said, balancing sports and school can be intimidating, especially for new Castilleja students. New nine and water polo player Diya Verma '25, admitted, "I was really worried at first when I saw the calendar for water polo." This season, the team practiced every day for up to three hours. "But I'm also so glad that I did water polo because it's [now] my favorite part of [each] day."
Noelle Madden '25, another new nine and water polo player, shares similar sentiments. She said, "I would recommend being a student-athlete to anybody. It may seem [at first] that it's really hard and that you might lose your life, but you'll come out of the season with skills you never thought you'd have, like how to remove a lane line!"
Sports are also rewarding to returning nines and those in other grades. Volleyball player Lila Cole '25 remarked, "I think especially because this was my first year of high school [playing volleyball] was really important for the social aspect, getting to connect with people, both new ninth-graders who joined [my] grade, as well as upperclassmen."
Along with building inter-grade relationships, sports provide a much-needed break from the work-heavy student life. Verma said, "I think when I'm not doing school work, if I didn't have water polo I would just do more of [my] other work or just not use the time well, but [with water polo], at least I get a good break from schoolwork, it's really fun and I know I can have that every day."
Between tiring school days and exhausting practices, being a Castilleja student-athlete takes perseverance, strength and drive. Though not all student-athletes know exactly where their hard work will lead them, they push on, day after day, enjoying the journey.
Leave a Comment
About the Contributor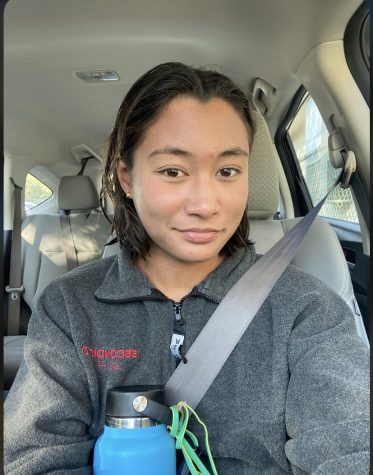 Serafina Cortez, Editor of Opinions
Serafina Cortez '23 is the Editor of Opinions for Counterpoint. When she's not writing, you can find her reading, playing water polo, or Duolingo-ing.