A rookie quarterback review with Castilleja's maintenance team
As we enter into week thirteen of the NFL season, I can't help but reflect on this year's rookie quarterbacks. Without a doubt, the 2021 NFL Draft had arguably the most hyped-up quarterback selection. Quarterbacks, Trevor Lawrence, and Zach Wilson were taken right out of the gate with the number one and two overall picks, while our home team, the San Francisco 49ers, aggressively traded up with the Miami Dolphins to select Trey Lance. Ohio State's Justin Fields was selected as the eleventh overall pick to the Chicago Bears, who traded up just following the Niners' selection of Trey Lance. Lastly, Alabama's Mac Jones was the fifteenth overall pick for the New England Patriots, led by Bill Bellicheck. This year's draft was deemed "the year of the quarterback" and for a good reason. All five of these players are either QB1 or sharing playing time with the other QB1's.
But this is all draft talk. We're thirteen weeks into the 2021-22 NFL season, and I think it's time we evaluate the five rookie quarterbacks who were selected within the first fifteen picks of the NFL Draft. Did they live up to their hype, or are they undeveloped? I sat down with Casti's very own maintenance crew/football aficionados: Mike Harrison, Kenny Cox, Brandon Chapman, and Vince Dailey to break down each quarterback. So, without further ado, I give you the 2021 rookie QB review:
Trevor Lawrence, easily the most touted quarterback Gen Z has ever witnessed, was taken by the Jacksonville Jaguars, who are led by newly appointed head coach Urban Meyer. Whether you love or hate Trevor Lawrence, everyone is talking about him and his rocket of an arm. Harrison and I met to discuss Trevor's potential: "Quarterbacks in college and pros have no comparison. Both offense and defense don't share the caliber of players," Harrison noted.
NFL players are seemingly quicker at every position. Their plays are developed to catch each player overreacting to a movement. When I questioned Harrison as to whether he believes that Lawrence is overhyped, as his play continues to look sharper and more confident week after week, albeit he struggled with accuracy and decision-making. Harrison remarked that "Trevor Lawrence is a good QB, but not overly hyped. He has to let the game slow down for him… In one or two more years he'll probably be one of the best."
Harrison believes that while Lawrence won't be a running quarterback, "he'll have all the different angles required to keep his completion percentages among the best." Especially since, as a rookie, he's already leading the entire offensive line by calling plays at the line of scrimmage. Quite a lot of pressure for a 22-year-old, but if anyone could rise to the challenge, it would be Trevor Lawrence.
Zach Wilson, the second overall draft pick, a quarterback from BYU, went to the New York Jets, led by newly appointed head coach Robert Saleh, former defensive coordinator for the San Francisco 49ers. Ken Cox, a native of New York and faithful Jets fan, believes that Zach Wilson was the right choice for the organization, and Sam Darnold's poor performance with the Panthers has further proved they made the right choice trading him. When I asked if Cox thought the Jets expected too much out of a young quarterback from BYU, he explained that "[he] doesn't think Wilson was overrated because BYU is a very good team, and they're still good now." Wilson has come into a very weak Jets organization, and yet Cox said that "here's what people have forgotten; the Jets' offensive coach, who would've mentored Wilson, passed away unexpectedly. That was right at the beginning of the season, so they're pivoting right now."
Wilson's current struggle with his game is that he lacks offensive maturity within the pocket, and the transition to the pros is really difficult on a lot of different quarterbacks. Looking forward, the coach, Robert Saleh, has to call the game based on Zach's ability and develop a running game. Cox and I agree that a running play will always open up the opportunity for a pass. Once there is an opportunity to pass, Cox is confident in "Zach's style of play, especially as he gets more experience, which can only come with time." In the next three years, if everything goes right, Cox and the rest of the Jets fanbase "can only hope for the next Aaron Rodgers in Zach Wilson."
The San Francisco 49ers, a Bay Area favorite, were led to the Super Bowl in 2020 by Jimmy Garoppolo, but unfortunately couldn't come up with a win. Their 2021 draft proved that the Niners are serious about finishing what they started last season. Kyle Shanahan and the team made what was arguably the most aggressive trade in franchise history, trading for the third pick with the Miami Dolphins just to take Trey Lance, someone they easily could've waited to get. Brandon Chapman, a forever Niners fan, disagreed with the decision made: "You can't go straight into perspective here, which is why I changed it right before this comment. I personally don't like putting all my eggs in one basket when it comes to players. Despite that, the organization was looking for a future quarterback, so I understand getting a quarterback was a top priority for next season. It's difficult to gauge whether a player was the 'right' draft pick based on one season, especially their rookie year. Most quarterbacks sit on the bench for two developmental years before being named QB1, most notably Tom Brady and Patrick Mahomes."
Chapman also believed that "if the choice came down solely to the performance of this season, Mac Jones would have been a better choice." I agree. Between Garoppolo and Lance, I believe Garoppolo should have remained the starter, as the Niners are still contenders for the playoffs (perhaps as wildcards) with a favorable schedule for the remainder of their regular season. Given that the team has struggled to pull together a winning record, this season should be seen as a developmental year for Lance, as Chapman remarked, he "need[s] more time to become comfortable being under pressure."
Justin Fields, transfer from the University of Georgia (when sidelined over Jake Fromm) to The Ohio State University, made a name for himself in the short two years he played for the Buckeyes. Although rumors swirled around Fields' possible selection to the San Francisco 49ers, viewers were shocked when the Chicago Bears picked him as the eleventh overall pick.
I believe that Fields outranked Trey Lance as a dual-threat quarterback, versus a quarterback from North Dakota State, who was said to have struggled with play-making maturity. Fields quickly took over Andy Dalton's QB1 spot after proving his maturity in the pre-season. That's not to say he hasn't had his fair share of struggles. Against the Cleveland Browns, he was sacked four times, and against the Bengals threw an interception after difficulty reading the blitz.
As the Bears head into week thirteen with a 4-7 record, it's easy to point fingers at Justin Fields for being responsible for the Bears' poor season. In my eyes, his struggles have overshadowed the discipline he has shown as the season has progressed. He makes corrections after each game, clearly studying his film, as he rarely makes the same mistakes two games in a row. Fields is living up to his average rookie expectations, but as the season stretches on, I expect to see him rise to the occasion and become the playmaker the Bears franchise hopes he'll be.
Quarterback Mac Jones, from the University of Alabama, started for the first time after Tua Tagovailoa's late-season injury in 2019 and led them to a National Championship in 2021. The New England Patriots, led by Bill Bellicheck, selected Jones as the fifteenth overall pick, the last quarterback taken in the first round. Vince Dailey, long-time football lover, and Fantasy Football prodigy took on the task of reviewing Mac Jones. Dailey believed that the Patriots are pretty happy with Mac Jones: "They had their eye on him early on before the draft, and so far it's looking promising for both. I do think Mac Jones is a good fit for Bill Belichick's style of football, and it was the right decision for the Patriots organization."
We agreed that realistically, at the beginning of the season, none of the rookies had a high chance of going to the Super Bowl in their rookie season, so when you start a rookie, you're preparing yourself for a developmental season. Yet, as Mac Jones leads the Patriots to another win against the Tennessee Titans, their playoff chances have skyrocketed to 94%, according to the New York Times.
Mac Jones has adapted to the coaching style of Bill Bellicheck's team and his style of play pretty well, as per their current three-game win streak. Dailey voiced that "typically you want to build the team chemistry around your QB. First and foremost you need to protect him with a good offensive line and develop a running game. Mac Jones could very well be a great NFL quarterback", not solely because of his abilities, but because of the Patriot organization's continuous dedication to excellence.
The rookie quarterback class this year is nothing short of stellar, and each fan base alike is hoping for the next big franchise quarterback. For now, though, we're seeing excellence out of Justin Fields, Trevor Lawrence, and Mac Jones, proving the maturity within each of these young men. You can only hope for the game to move forward in a positive direction, and with these five quarterbacks, if all goes according to plan, the future for the league looks bright.
Leave a Comment
About the Contributor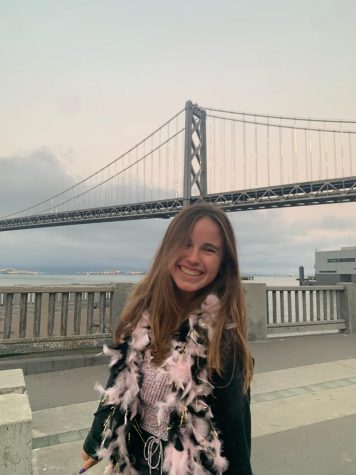 Loralei Rohrbach, Staff Writer
Loralei Rohrbach '24 is a staff writer for Counterpoint. In her free time, you'll always find her having a good time, cracking jokes, and chatting with...