A love letter to the Class of 2022
To the Class of 2022,
In August, we gathered together to watch the sunrise on the first day of senior year. Few by few, we arrived at the secluded, grassy space behind an apartment complex in Palo Alto. We laid our blankets on the dirt and brittle grass and huddled together to shield each other from the light breeze. With coffee and donut holes, we chatted quietly while watching the sun peek above the clouds and the smoke, briefly lining them with a hazy orange light.
We've spent so many memorable moments together as a grade. We went all out for Spirit Week, we danced the night away at FDD and we cheered for each other during sports events and senior speeches.
Along with the hallmarks of senior year, the smaller moments have been a blast as well. I look back on ridiculous polls on the whiteboard in the stent, sleep-deprived giggles during late night FaceTimes, and afternoons spent sitting together on the Circle under the sun fondly.
Class of 2022, I love you. I love you for laughing with me, and I love you for crying with me. I love you for your strengths and weaknesses (ahem, parking…), for supporting each other through wins and losses, and for embracing each other's passions and quirks. I love you for your resilience and your determination. Most of all, I love you for being unabashedly yourselves.
Thank you for giving me memories that I will cherish for a lifetime. I am beyond excited to spend the rest of senior year with you all, and I look forward to seeing where your road takes you.
I love you the most,
Emma
Leave a Comment
About the Contributor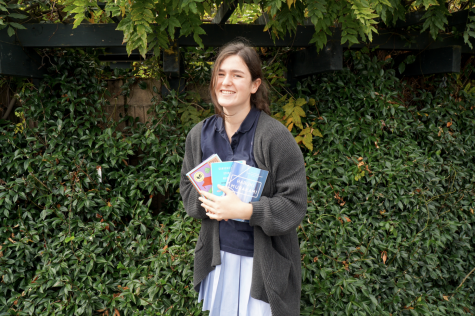 Emma Speiser, Staff Writer
Emma Speiser '22 is a staff writer for Counterpoint. When she's not skiing, she enjoys reading excessively confusing books and being paparazzi for the...