Love in the time of COVID
Romance has long been a staple part in high-school movies. From Mean Girls to To All the Boys I've Loved Before, every movie that takes place in a high school seems to have at least one couple. I'm sure you can think of at least one off the top of your head. However, in the spring of 2020, everything changed: COVID-19 has made dating in high school a completely different experience. After all, dating isn't quite the same when you have to wear a mask all the time.
High schoolers inside and outside of Castilleja have had to grapple with how to find and maintain love in a world where spending time together is restricted.
Over the past few weeks, I spoke to two Castilleja juniors, Ella Holsinger '23 and Ellis Brehme '23, who had partners during the pandemic.
Brehme dated a fellow Castilleja student for about a year. They said that their relationship was mostly online until the school moved into hybrid learning, and even then they were still only seeing each other every other week: "It really messes with the traditional teen romance."
Brehme said a friend of theirs even joked, "COVID is homophobic because I can't kiss my partner." Additionally, even once the school moved in person, and they were seeing each other more regularly, it was hard for the two of them to go on dates together. "I couldn't imagine dating someone outside of Casti," said Brehme. They mentioned that they were "so busy" that even normally they wouldn't have had much time to date someone, let alone with the additional restrictions of COVID.
Ella Holsinger also dated, but her partner didn't go to Casti. She was in a year-long long-distance relationship. Holsinger said that "a part of a relationship is seeing each other in person," meaning that dating during a pandemic was a difficult experience. She said that dating during a pandemic, although hard, had its perks. Holsinger mentioned that the time that they were forced to spend apart made "every moment [they] spent together very valuable."
Brehme said some of their biggest struggles as a couple was the transition from online to in-person again. Brehme and their partner "got to a place where [they] were seeing each other every day, which changed the dynamic." Brehme spoke of struggling with figuring out the physical boundaries in their relationship. "Coming back to school I didn't know how to act around her because all of the time that I had been myself around her was over text." Breheme added, "Everything was very public, so we weren't able to have that 1:1 time that most couples have" because students weren't allowed inside by themselves and due to the small campus size.
However, dating during a pandemic wasn't all bad. In fact, Holsinger and Brehme both made a point to mention some positives.
Holsinger said that during the quarantine, she "had so much more time to talk to him because I was home all the time."
Brehme mentioned similar ideas. They said that "[their relationship] was lacking in your traditional love story," but it was really on text that their relationship flourished.
Overall, COVID changed many aspects of our lives, including our romantic relationships. Even through all of the changes, high schoolers are still finding ways to date even with all of the craziness around us. As Holsinger put it, "If you do decide to date during a pandemic, then it's a testament to the strength of your bond, so, be proud."
Leave a Comment
About the Contributor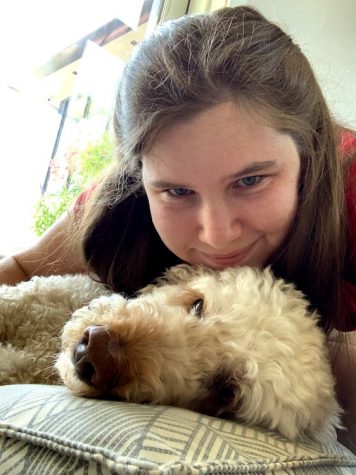 Emily Bock, Staff Writer
Emily Bock '23 is a staff writer and a junior at Castilleja. Outside of Counterpoint, Emily loves singing, acting, writing, and playing volleyball. She...