Gatorbotics gears up
Forty teams. Three days. For eight years now, FIRST Robotics Competition (FRC) teams from around the world have traveled to the annual Chezy Champs invitational. Or, if you're Bellarmine College Preparatory—also known as Team 254, "The Cheesy Poofs," and 2022 FRC national champions—you host the competition in your own backyard.
Chezy Champs is an elite preseason competition consisting of strong teams chosen by the hosts with the goal of determining the "best in the west." Some notable participants for the 2022 competition include Teams 1619 and 3175, The Cheesy Poofs' alliance members in the world championships, three-time Chezy participant Team 1960, "Orbit," from Israel and, of course, Castilleja School's very own Team 1700, "Gatorbotics."
Over the course of one weekend in late September, Bellarmine's campus overflowed with high school students dressed in a vibrant rainbow of team colors ranging from Design Tech High School's crimson (team name "B.R.E.A.D," robot name "Brioche") to Highlander Robotics' royal purple. Team flags were displayed in the robot pits and colorful carts wheeled robots to and from the playing field in the gym. The entire event was live streamed on Twitch by RoboSports Network, with an onsite panel debriefing after each match.
It's evident from simply watching them compete that Team 1700 is, no robot pun intended, a well-oiled machine. Teams only compete around once an hour during the qualification rounds, but no one on Gatorbotics ever seems to stop working. In the stands, Poppy Lye '25, Christine Ryu '25 and Mika Cham '25 lead scouting operations for the team by assigning six members (usually including themselves) each match to take notes on a competing team. Almost everyone on the team present for the competition participates, and the dedication of the members is truly admirable.
Another strong point for Gatorbotics is their incredibly coordinated drive team. Sara Baudler '23 works two joysticks at once to direct 1700's robot, "Bublé" (yes, like the singer Michael Bublé), around the field while team captain Katherine Byunn-Rieder '23 uses a third joystick to work the intake and shooting mechanisms. Together with drive coach Samantha Solomon '24, the three send Bublé speeding gracefully around the map picking up oversized blue and red tennis balls and shooting them into the upper hub (think a basketball net for robots) with impressive aim.
This heavy emphasis on teamwork extended to Gatorbotics' playing style as well. At Chezy Champs, the team showcased their defensive capabilities with strategies designed to prevent opposing teams from scoring. "A lot of other teams [there] were used to being the best… versus we were very much like 'no, we're trying to work with you,' and so that meant that oftentimes, even if we could do the same thing as someone else, we would do our defensive [strategy] because it benefited the whole team," explained Byunn-Rieder when asked about how strategy decisions were made at the competition.
Gatorbotics unfortunately went winless in the qualifier round, ranking 38th overall. The team was not selected for an alliance, rendering them unable to compete in the playoff matches. However, a team's performance cannot simply be defined by a win-loss ratio or in comparison to others—especially at such an elite competition. "For us, it was a win getting there," commented Byunn-Rieder, "[and] it was definitely a privilege to get to see all the other incredible robots that are literally world champions that we could learn from."
Both on and off the field, Gatorbotics epitomize team spirit— the tight-knit community they've fostered proves time and time again to be their biggest asset. "One of my favorite parts of the team is that there's this shared excitement about what we're building, and that passion is something that I really think benefits the team culture and the experience people have on the team," Baudler shared.
With their eye for strategy, strong leadership and dedicated members, it is clear that Team 1700 is one to watch out for in the upcoming 2023 FRC season.
Leave a Comment
About the Contributor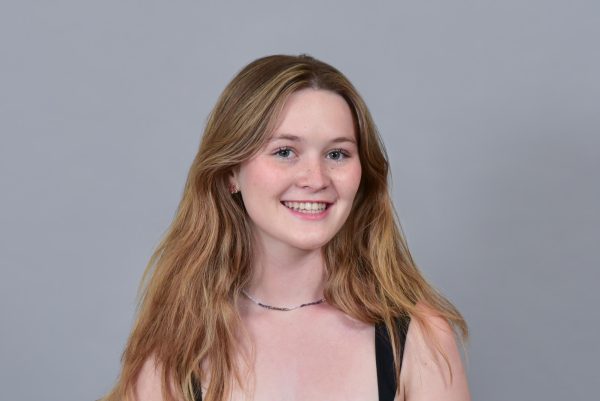 Ruby Dowling, Editor-in-Chief
Ruby Wright Dowling '24 is an Editor-in-Chief of Counterpoint. She attended the Medill-Northwestern Journalism Institute in 2023 and is now an editorial...