GoGo SqueeZ enthusiasts, nostalgia
For those who don't know, GoGo SqueeZ is a brand that sells "squeeZable snacks." They are essentially baby food pouches filled with applesauce, yogurt, and other healthy foods marketed mainly toward parents of preschoolers and early-elementary-school children. Materne, the company behind GoGo SqueeZ, started in Boué, a small town in the North of France. In 1988 they created Pom'Potes (cheerleaders in French), the original pouched fruit. GoGo SqueeZ began with applesauce—AppleApple and AppleStrawberry were the original flavors—and has since expanded to include other products in pouches.
According to their website, GoGo SqueeZ is best served at room temperature. However, the majority of people that I interviewed at Casti preferred it chilled. Katy Zhen '26 says that "room temp is like drinking warm moldy apples." While this is not the highest praise for the applesauce, she says that she loves them chilled. Some of the favorite flavors were AppleApple, ApplePeach, and AppleStrawberry —all part of the applesauce line.
Even though GoGo SqueeZ is mainly for young children, there is something about it that attracts everyone. Moira King '23 is very dedicated to the product. She said "I emailed them [GoGo SqueeZ], and tweeted at them, and Instagram dmed them several times in hopes to become an ambassador. I don't even know if they have an ambassador program. They never responded."
According to the company, "thirty percent of GoGo squeeZ is consumed by adults eighteen years of age and older.'' The cute fruit and veggie characters playing sports on the packaging look very sweet and the packaging itself is very user friendly. The top can be snapped back on (though all true enthusiasts know it used to have a helicopter cap), which allows for easy transportation and temporary preservation. Also, as I know from personal experience, the resealable top is really nice for a five-year-old who says they are full and then ten minutes later wants another snack.
Eating a GoGo SqueeZ is nostalgic. It triggers memories of blowing up an empty pouch to "trick" friends or parents into thinking it was full and proudly saying "I got you!" when they believed that it was. Memories of reading the so-bad-they're-funny jokes on the bottom of the pouch. Sara Flexer '26 says "I used to love eating a GoGo SqueeZ almost every day after preschool. My dog also loved them, spinning around in circles with excitement whenever I was having one for a snack." For many people, GoGo SqueeZ was a large part of their childhood. They would eat it on the way to sports practice, after school, as their morning snack. Countless happy childhood memories involve GoGo SqueeZ, so eating it brings back these memories and connects the people who share them.
I personally have always had GoGo SqueeZ around. It has been a constant in my life— a snack that I would have after school or before practice. I don't know why I love it so much or even if I do. I could not eat one every day but maybe that adds to my love of it as a rare delicacy. GoGo SqueeZ is a relatively unique food since not many others come in pouch form. It is really light and refreshing (especially when chilled) which is perfect for a small afternoon snack. I love putting one in my backpack, forgetting about it for a week or two, and then being really happy when I find it. I think the target audience of younger kids along with the little drawings and overall format give it a nostalgic feel. It is like seeing Dino Nuggets at the grocery store. They immediately transport me to when I was five and my biggest problem was not finishing a chapter of Rainbow Magic (my favorite was TK) before my mom left from dropping me off at school. For me, GoGo SqueeZ will always be a symbol of the happiness of my elementary school self, a nice thing to turn to when I am sad or just spontaneously want to eat applesauce out of a pouch.
View Comments (6)
About the Contributor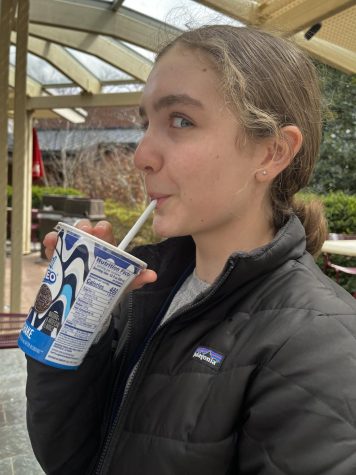 Nola Doorley, Staff Writer
Nola Doorley '26 is a staff writer for Counterpoint. She loves GoGo squeeZ and watching Gilmore Girls and Grey's Anatomy. In her free time, she color-codes...