Casti alumni: Where are they now?
Castilleja's list of alumni is long and impressive with its students attending top universities, competing in the Olympics, and contributing to the world in enriching ways. In the midst of this greatness, I often find myself wondering,"What do I want to do? Where will I be?" While it may be a bit early to be overly concerned with such questions, I think it's natural (and common) for Castilleja kids to ponder such weighty issues.
I had the opportunity to interview some recent alums and found it both fascinating and comforting to learn about Castilleja's impact on them, and their lives beyond the Circle.
Tina Yu – Class of 2006
Tina Yu '06 has many fond memories of her time at Castilleja. Notably, she enjoyed organizing the "Save the Children" dance recital. Additionally, she reminisced about the opportunity she had to represent Castilleja on the Ethiopia/Uganda trip. While she describes these experiences as amazing, she also said she couldn't possibly forget about the delicious lunches she looked forward to every day at Castilleja. When asked how her Castilleja experiences prepared her for life after graduation, Yu responded with what she described as her three core takeaways from her Casti experience: (1) "Critical thinking skills; (2) global and open-mindedness; and (3) deep intellectual curiosity." She applied these skills throughout her education at the University of Pennsylvania. Today, Yu works as a private equity investor at KSL Capital which invests globally in travel and leisure. She is based in London and she helped open the firm's London and Singapore offices.
Claire Patterson – Class of 2012
Claire Patterson '12 couldn't pinpoint one specific fond memory about Castilleja. Instead, she said her Castilleja experience was filled with "a compilation of small, sweet moments spent with my friends on the Circle." She and her friends could be found "gossiping, people-watching, snacking (Famous Amos were the best) and enjoying the sun." Patterson noted how she felt incredibly academically prepared for her life after graduation. She felt confident in her abilities to "study, learn, and ask for help." While she experienced a slight adjustment socially in college going to a co-ed university, everything felt normal and comfortable by the end of her freshman year. Coming from Castilleja, she said that "female friendships were, for me, the most important things to nurture in my new environment." She insightfully noted "that having good friends and a good community would carry me far." Patterson graduated from Stanford University with a BA in American Studies. Currently, she lives in LA and works in casting at Warner Bros. Television. If you're not already fangirling, she helped cast Ted Lasso and Abbott Elementary! Some of her hobbies include watching television, going to concerts, and photography.
Stephanie Leung – Class of 2009
Reflecting back on her time at Castilleja, Stephanie Leung '09 said that the Castilleja centennial party during her junior year was one of her most cherished memories. She explained how the party "was such an epic celebration of Casti's history." Her comment made me think about how many of us are about to embark on a first of our kind: next year's campus renovation. Leung talked about her experiences at a large public university and how Casti taught her the importance of "finding the right group of friends to navigate through college." She studied Environmental Studies at UC Santa Barbara and is now a Program Manager at Meta. Prior to this, she worked at Square, a financial services platform. Leung is currently living in San Francisco with her husband. At the moment, she is training for a half marathon noting that it "has been painful but rewarding."
Mia Taper – Class of 2011
When I asked Mia Taper '11 to identify her fondest Castilleja memory, she settled on two: ringing and senior prom. Taper attended NYU and noted how "Castilleja helped me with my confidence in college classrooms and in the workplace." She still lives in New York City and has held many jobs in production and sound design for a variety of popular TV shows (Say Yes to the Dress, Impractical Jokers, etc.). Currently, she is working in the writers' room for Nickelodeon's Transformers: Earthspark, which is set to debut on November 11, 2022. In addition to her insanely cool career, she is on a synchronized figure skating team!
Hearing from these remarkable alumni opened my eyes to the fascinating, unique experiences we will go on to have, both professionally and otherwise. I hope you enjoyed reading about these alumni, and if you ever find yourself thinking about your future, know you will be well prepared for wherever your life takes you.
View Comments(1)
About the Contributor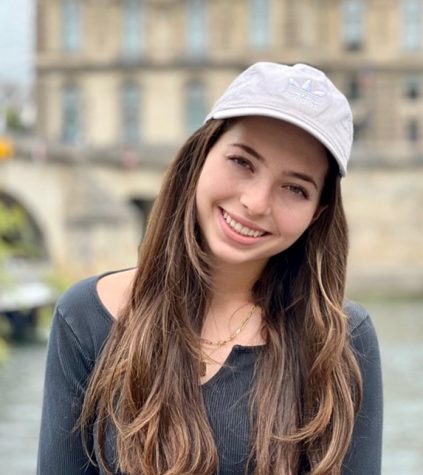 Vienna Farano, Staff Writer
Vienna Farano '26 is a staff writer for Counterpoint. Some of her favorite things include eating burrito bowls from Chipotle, going to Target, and binge-watching...