A closer look at the Haunted Carnival
From a spooky video to an after-school celebration, the annual Castilleja haunted house has been through many iterations in recent years. This year's take on the beloved Castilleja tradition—"The Haunted Carnival"—is the first in-person version in three years.
Through community time and lunch on Monday, the gym staircase was filled with a line of giddy students, including upperclassmen who didn't have a chance to host a haunted house of their own. In lieu of a physical haunted house during shelter-in-place restrictions, the Class of 2023 filmed a scary video in their advisory groups.
Reflecting on their own sophomore experience, Nia Thompson '23 said, "I'm excited. I mean, anything is better than our video that we had to do our sophomore year. The bar is—it's pretty low."
Olivia Nickel '24 echoed the same anticipation, saying, "As a new nine, I still haven't been to the haunted house yet. I'm not quite sure what to expect, but I'm very excited."

Meet the clowns of "Spookilleja."
Once students reached the start of the line, they were split into groups of five or six and chauffeured into the Lower Gym by a lantern-clad tour guide. The Haunted Carnival is rumored to be inhabited by dead ghosts, but per the tour guide's script, "There's only one way to find out."
According to Claire Pettit '25, the leader of the haunted house production committee, the sophomores were originally planning to project a video detailing the Haunted Carnival's history before students entered. In the video, Maitlen Suvari '25 explained that "since the founding of Palo Alto, California in 1852, a Halloween Carnival came around each fall. Stories of its clowns and acrobats could be heard from thousands of miles away—that was, until tragedy struck."
A rampant fire broke out on the fairground in 1924, leading the main tent to go up in flames and killing all spectators and performers. "There was no known cause of what started the fire, only that it was unforgiving, and spread quickly… Not a single soul lives to tell this tale," Suvari concluded before glitching into a clown.

The tragic history of the Haunted Carnival.
As participants move through the Haunted Carnival, they are funneled toward the padded room while sophomores yell from the climbing wall and grab at ankles. Participants must maneuver through obstacles against disjointed carnival music and sophomores with clown masks. "I think the scariest part was when you know that they're in front of you, and they're surrounding you, but you're going toward them because you have to go towards them," reflected Katelyn Wan '29.
Students agreed that the Haunted Carnival was gratifying,especially for the middle schoolers, for whom the experience was primarily designed. "It was so fun," said Anu Soriano-Bilal '29, who likened her participation to type II fun. "I liked it afterward. It was like when you go on a roller coaster but more scary."
In addition to being a memorable school event, the annual haunted house is also an opportunity for teamwork and leadership across the sophomore class. "It was really great bonding for our grade, as we had lots of opportunities to collaborate and come together," said Mallika Patel '25. Just as Pettit wrote in her email announcing the Haunted Carnival to the school, it's clear that the sophomores weren't "clowning around" with the haunted house this year.
View Comments(1)
About the Contributor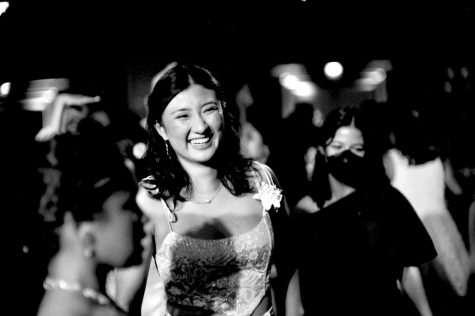 Thea Dai, Managing Editor
Thea Dai '24 is a Managing Editor and the Editor of Photography for Counterpoint. She is an avid podcast listener, avocado toast enthusiast, and one of...