What will happen to AwaH?
When a school program predates the majority of those who participate, it stops being just a program—it becomes an institution. Arts with a Heart (AwaH), Castilleja's annual dance show for charity, is one of the most popular extracurriculars offered by the school, attracting devoted dancers from across all grades each year. Up until the 2022-23 school year, upper school students could even fulfill their arts credits by taking the Dance Production Workshop (DPW) course where they dedicated themselves to the production of the show in all aspects, from fundraising to choreographing. The show centers on a theme each year such as "Operation Gratitude" and "Head Heart Humanity." DPW has announced that this year's theme will be "Resilience."
AwaH's earlier shows raised around $5,000 annually; by 2015 they began to consistently hit $20,000 or higher. But as the show grew, evolved and changed, one factor stayed the same: Georgianna Shea. The former Castilleja dance teacher produced the first AwaH performance in 2005, and oversaw the program for the following 17 years. After Shea's abrupt departure from Castilleja in the fall of 2021, AwaH and DPW found themselves in an unprecedented era of uncertainty—but nevertheless, the show must go on.
One of the most noticeable changes to the program has been DPW's transition from a class to an interest club. While some might see this as a setback, the five senior DPW executives have a positive outlook on the situation. "Since DPW was a class, there was a cap on the number of people," explained Miraya Rehman '23, DPW's Operations Director, "so one of the really good things about the interest club is that we were able to open it up to whoever wanted to be a part of the production… We have a larger production team this year, which has been super helpful."
Yaiza Fernandez Munoz '23, who manages PR and ticketing efforts for the production, echoed Rehman's sentiments: "We've also been able to include the freshmen… they're always so great and want to learn, and it's been really fun."
DPW has worked closely with Castilleja administration to ensure that the production will run smoothly despite not being able to spend class time working on it. Fernandez Munoz commented that "Ms. Rubin has been the most incredible person on this campus to help us through this. She has brought us together for conversation, and has really worked with us on compromises." She also reported that Rubin helped "put in a good word" for the senior executives so they could all get the same free period this year.
Weekend rehearsals are an AwaH staple, but scheduling them has been a challenge. "The idea of finding supervisors for every Saturday rehearsal was proving to be very difficult and tiresome for the other administrators," explained Ella Holsinger '23, Director of Finances for AwaH. Going forward, AwaH rehearsals will be held after school instead of on Saturdays. "We knew that the absence of Saturday rehearsals was gonna make it hard for some of our dancers to turn out," Holsinger admitted. As it turns out, AwaH has around 50 dancers this year, slightly fewer than their usual turnout of around 80 participants.
But arguably the biggest change to the program is the presence of a new dance teacher. Karl Kuehn comes to Castilleja from The Harker School where he previously taught dance for 16 years. "I was made familiar with the [AwaH] situation when I was interviewing for the position, to be honest, but I really didn't know the scope and scale of it all," expressed Kuehn. "I'm still learning a lot about AwaH and the traditions of the past."
Kuehn describes his role in AwaH this year as "really that of a consultant. I am not hands-on at all." According to Kuehn, this decision was made prior to his arrival at Castilleja: "The students were just so passionate and dedicated to what they wanted their senior year to be [like] in these leadership roles, and so compromise was important." As a creative director, having to step back is an unfamiliar experience; "It's been somewhat of a challenge for me," he joked. It is clear, however, that Kuehn has a deep respect for the DPW senior executives and their dedication to AwaH's long-standing traditions.
While the show will be almost completely student-directed this year, Kuehn reports that AwaH "will look and feel much different than it has in the past… I'm really excited looking ahead to next school year." He would not share any specific plans for future shows; he believes he has more to learn about the program and about the Castilleja community before making any decisions.
"It's been great to work with Mr. Kuehn and have someone new to collaborate with," expressed Sofia Kelleher '23, Head of Choreography and Costuming. "Since he's a dancer, he's given a lot of helpful insight on how we can better our dances and the quality of our performance."
Periods of transition and change are never easy, especially when it comes to a program like AwaH, but neither Kuehn nor DPW are deterred by any obstacles that may stand in their way. "One of the reasons we picked 'Resilience' as our theme is because of the obstacles we've faced with AwaH," stated Rehman. So as the lights dim on one era of Arts with a Heart, the curtain opens to the future of the program.
View Comments (2)
About the Contributor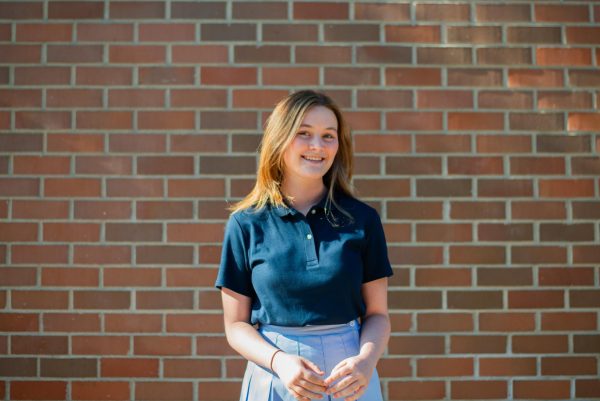 Ruby Dowling, Editor-in-Chief
Ruby Wright Dowling '24 is an Editor-in-Chief of Counterpoint. She attended the Medill-Northwestern Journalism Institute in 2023 and is now an editorial...