Recipes for Athletes
For the longest time, I never made anything for myself to eat because my mom would always make the most scrumpdillyicious meals for me, so I didn't worry about it at all. Plus, when I was younger, I wasn't really an athlete; I was more of a "lay on the sofa and read comic books" kind of gal. As I grew up and became more interested in sports, I found myself making little "meals" (more like snacks) that I knew I would need when going in and out of practice. For me, I always need to make my breakfast the night before because I barely have time to shower, let alone make a yogurt bowl in the morning. Most of all, I despise boiled eggs. Well, unless it's perfectly cooked and dipped in salt. So I cannot take it when that's all I have for breakfast.
Anyway, that's beside the point. In this article, I'll be presenting my top overnight oats recipe and my favorite chia seed pudding recipe that I use frequently for breakfast! I'll also include an additional meal and snack recipe from two other athletes at Castilleja, Samira Kennedy '23 and Ali Bollyky '26.
CHOCOLATE CHIP COOKIE DOUGH OVERNIGHT OATS
INGREDIENTS
½ cup oats
1 tablespoon peanut butter
¾ cup of milk
½ tablespoon maple syrup
¼ teaspoon vanilla extract
Chocolate chips (semi-sweet)
1 tablespoon maple syrup
¼ teaspoon cinnamon
Mason jar
PROCEDURE
Pour oats, peanut butter, and cinnamon into a mason jar.
Add milk, maple syrup, and vanilla extract.
Stir really well and combine all ingredients.
Add in your chocolate chips and stir one last time.
Leave in the fridge overnight!
For toppings, I super recommend adding greek yogurt on top with some jam, as well as some berries and granola. Trust me, it makes it so much better.
LEMON AND RASPBERRY CHIA SEED PUDDING
INGREDIENTS
3 tablespoons chia seeds
1 cup of milk
1 tablespoon maple syrup
Juice of half a lemon
Handful of raspberries
Mason jar
PROCEDURE
Add your chia seeds into your mason jar.
Add milk.
Add maple syrup.
Add lemon juice.
Mix them all together!
Add in raspberries and mix.
Leave in the fridge for 15 minutes, then mix it again.
Leave in the fridge overnight.
You have to mix it periodically because if you don't, lots of chia seeds will get stuck at the bottom and that isn't cute. For toppings, I just like to put some berries or granola on top and sometimes some yogurt. .
If you're not really a breakfast person, I also asked Samira Kennedy, 23′, top cross country runner, for her favorite baked pasta recipe packed with fiber, protein, and carbs that gets her through the rest of the night after a hard afternoon of practice.
"Anything pasta, any pasta recipe. I normally like creamy pasta before [practice], pesto pasta, classic. And. let's see…recipes. Oh I have this really great pasta bake that I do," Kennedy remarked.
BAKED PASTA
The recipe that Samira uses: https://mealpreponfleek.com/one-pan-baked-pasta-primavera/
She uses cauliflower, broccoli, and carrots as her vegetables and always puts extra cheese on top. Sometimes, she uses regular or oat milk instead of almond milk.
If you're looking for more of a snack, I've got you covered. I asked Ali Bollyky 26' for what she likes to eat when she's in and out of rowing practice:
"After practice, especially on weekends, I always make smoothies. Protein smoothies are really good after you work out so you can get those gains. Also, a fresh juice smoothie is just such a refreshing drink after just dying on the water."
"SUPA MANGO PROTEIN TROPICAL DELISH"
INGREDIENTS
Frozen mango
Frozen pineapple
Frozen peaches
Vanilla protein powder
Yogurt (Greek, not the "nasty strawberry Yoplait")
Orange juice (Specifically, Trader Joe's Mango Orange Peach Juice)
PROCEDURE
Blend together all the ingredients! (For measurements, if you want a thicker smoothie, use less liquid, or if you want a thinner one, use more.) If it becomes hard to blend, use the stick that is provided (If you have a Vitamix blender).
If you're making a smoothie bowl, Ali recommends toppings such as granola, fruit, and coconut shavings.
I hope that all of the snacks and meals that were shown to us by incredible athletes at Castilleja can help you out when you're craving something delicious after a hard workout.
Leave a Comment
About the Contributor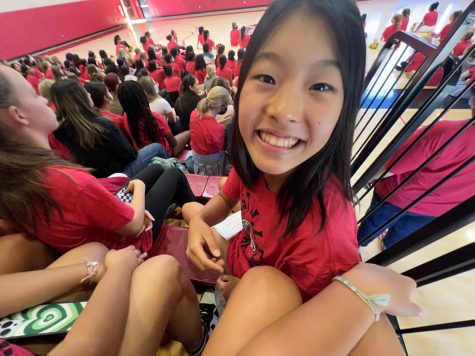 Jiwoo Oh, Staff Writer
Jiwoo Oh '26 is a staff writer for Counterpoint. Some of her hobbies include talking about rowing (it's her only personality trait), eating pumpkin pie,...