Taylor Swift's Midnights album
On October 21, 2022, Taylor Swift released her long-awaited album, Midnights. Before listening to this highly anticipated album, I ranked her songs solely based on the titles and the persona they projected. Promptly finishing all 44:02 minutes of Midnights, I did yet another ranking but this time through a two-factor system: one being how good the song was and two being how often I would listen to it. Quick plug: my opinions are probably going to be controversial, but please don't come after me.
Before listening to the album
Karma
Snow On The Beach (feat. Lana Del Ray)
Mastermind
Lavender Haze
You're On Your Own, Kid
Midnight Rain
Bejeweled
Anti-Hero
Sweet Nothing
Maroon
Vigilante Sh*t
Labyrinth
Question…?
After Listening
Lavender Haze
Bejeweled
Question…?
Maroon
You're On Your Own, Kid
Snow On The Beach (feat. Lana Del Ray)
Mastermind
Anti-Hero
Midnight Rain
Labyrinth
Vigilante Sh*t
Karma
Sweet Nothing
Why, you may ask, are these songs ranked in this particular order? Here are my explanations:
"I Think He Knows" is one of my favorites from Taylor's Lover album, so perhaps it's no surprise that I really like "Lavender Haze." I'm damned if I do give a damn what people say…
"Bejeweled" is super catchy—the lyrics are super empowering, and it's a great song to strut to.
The storytelling aspect makes "Question…?" intriguing. Swiftie Claire Sun '25 puts it perfectly, saying, "Question…? is very rhythmic."
I actually didn't like "Maroon" that much during the first listen, but it's definitely grown on me, especially because of the slow buildups to the chorus.
In "You're on Your Own, Kid," the buildup to the bridge is so well-executed. I love how bittersweet and emotional it is.
I'm not gonna lie, I was a bit disappointed with "Snow on the Beach"; I wish Lana had more singing parts, but it's still a good song.
I really like the concept of "Mastermind" and how it describes the beginning of her relationship with Joe Alwyn.
The thing about "Anti-Hero" is that while I loved the song at first, I just know it's going to become super overplayed (especially on the radio). That being said, the lyrics touch on her insecurities, making the song more personal and entertaining.
"Midnight Rain" is catchy, but I feel like it could be a lot better (and higher on the list) if it didn't have the distorted voice. I'm also not the only one who thinks this. Araika Ramchandran '25, who isn't ordinarily a Taylor Swift fan, states, "Midnight Rain sounds underwater-y."
I really like "Labyrinth," but its slower beats and repetition of the lines Oh no, I'm falling in love make the song feel boring.
"Vigilante Sh*t" is super girlboss of Tay and is just iconic overall, so I feel bad that I'm ranking it 11. My reasoning for this is simply because I wouldn't be listening to this song 24/7; it feels a lot more like a monologue rather than a song, so it's more like a good listen every once in a while.
I also feel bad about this one. I really enjoyed "Karma" the first time. The lyrics are playful and fun. However, if I were to keep streaming this song, I feel like it would get too repetitive after a while, making the song hard to listen to.
I like the lyrics of "Sweet Nothing," but the Folklore-esque melody makes the song sound too peppy, especially because it contrasts with her softer sounding voice.
Leave a Comment
About the Contributor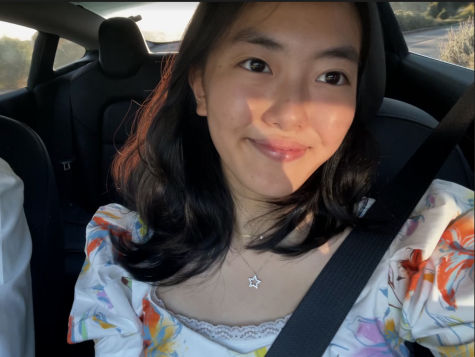 Priscilla Chan, Staff Writer
Priscilla Chan '25 is a staff writer for Counterpoint! She loves blasting Taylor Swift songs (especially the Fearless album) and eating (instant) ramen...