Emily Winston on bagels and business
Women learning, women leading: as a female entrepreneur running one of the most well-known bagel shops in the Bay Area, Emily Winston epitomizes the Castilleja motto. Ms. Winston recently opened a second location of her store, Boichik Bagels, at Town & Country Village in Palo Alto. The shop is open from 7:00-3:00pm Monday through Sunday, and often sports out-the-door lines.
In November, Ms. Winston sat down with Counterpoint to discuss her experience starting her own business as a queer woman in the Bay Area and advice she has for Castilleja students interested in business and entrepreneurship. "My background is actually in mechanical engineering," Winston said over Zoom, "and I don't have any culinary background whatsoever." Ms. Winston grew up in New Jersey and moved to California in 2010, where she found herself disappointed with the Bay Area bagel scene. She was finally spurred to start experimenting with baking after hearing the news that her favorite New York bagel shop, H&H Bagels, had been shut down for tax fraud later that year.
"It was just this obsessive hobby that I launched into," she explained, recalling the lengthy process of trial and error that went into developing her recipe, "and five years later I had an awesome bagel." After being encouraged by her friends to start selling her bagels, Ms. Winston took food entrepreneurship classes and applied for a cottage food license so she could participate in Oakland's annual Eat Real Festival.
Many claim that the secret to New York bagels is the water, but when asked how she recreates this key ingredient on the West Coast, Ms. Winston's answer was both touching and surprising: "The secret is in the love," she exclaimed passionately. "It's not in the water!" She even went so far as to reveal that the water used in her bagels is "just straight tap water." "It's more [about] caring what you want it to taste like, what you want for the flavor, the smell of it." Additionally, Ms. Winston compared her meticulous recipe development procedure—which includes sniffing and licking the outside of the bagel—to wine tasting, a testament to her love of the baked good.
While the shift from engineer to baker might sound like a drastic change, Ms. Winston has been able to connect the two professions while building her business. She noted that her engineering background taught her crucial problem solving skills and has allowed her to be more involved and informed around machinery and architecture decisions. "My first job out of college was at General Motors in their engineering program," she remarked, "and I do way more engineering with this than I ever did at General Motors."
When you meet Emily Winston, it is clear that she considers her identity and her brand to be almost synonymous. "I put a lot of personality into my business," she said. "And I think people respond to it… it's not just a corporate marketing machine that's behind the brand… It's just me. And people dig it." She also expressed appreciation for the accepting and supportive culture of the Bay Area.
Opening a business, of course, does not come without its challenges. "It's shockingly hard," Ms. Winston expressed. She identified that one notable challenge she faced was learning to be a more assertive leader. "I think men are just normally trained much more to do that," she stated, reflecting that women are often taught to be less decisive so as to appear more agreeable. She noted that, with practice, she has gotten better at allowing herself to voice what she wants for her business.
Ms. Winston also expressed the value of having a close support circle to rely on. "This is hard; what I'm doing is hard, and it's a lot," she acknowledged. "Certainly as an engineer, I feel like… everything is for me to figure out on my own and [I] have to problem-solve everything myself. But with business… this is a team activity." She also noted that as her business has grown, there are more resources available to her. These resources include connections to other successful business owners, and to this point she excitedly referenced a phone conversation she had with the founder of Blue Bottle Coffee. "People have a wealth of experience that they are often very happy to share."
Ms. Winston offered this advice to Castilleja students who aim to open their own businesses some day: go for it, especially if it scares you. She encourages students to anticipate challenges and understand that they are an inevitable part of the process. "Courage is not the absence of fear," she recited. "Courage is being afraid and doing it anyway. And that I have to repeat to myself very regularly."
Leave a Comment
About the Contributor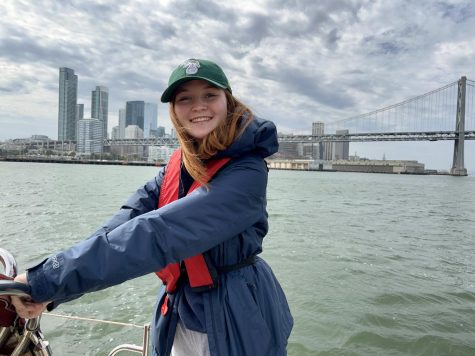 Ruby Dowling, Managing Editor
Ruby Wright Dowling '24 is a Managing Editor for Counterpoint. In addition to writing, Ruby enjoys playing cello for the Golden State Youth Orchestra...