Adidas and Gap cut ties with Ye: Should Castilleja do the same?
It's not unusual to see Castilleja sweatshirts paying tribute to well-known artists or brands—take the class of 2020's Abbey Road themed senior sweatshirt, for example—but what happens when the design has unpleasant associations?
At first look, the 2022 Castilleja lacrosse team sweatshirt design appears to be a whimsical collage of text and symbols adorning the front, back and both sleeves of the garment. The chaos is, however, purposeful: the hoodie is a reference to American rapper and fashion designer Kanye West's "Lucky me I see Ghosts" merchandise line, which promotes the 2018 music project KIDS SEE GHOSTS, a collaboration between West (who now goes by Ye) and American rapper Kid Cudi. The design is also associated with Ye's self-titled album, ye (2018).
Ye came under fire this fall for a string of antisemitic tweets in which he swore "I'm going death con 3 [sic] On JEWISH PEOPLE." The artist was also criticized for wearing a shirt reading "White Lives Matter," a phrase labeled by the Anti-Defamation League (ADL) as white supremacist hate speech, during Paris Fashion Week. The offensive outbursts continued through the winter even after brands terminated partnerships with him, and the artist has made multiple comments in support of Hilter and Nazism.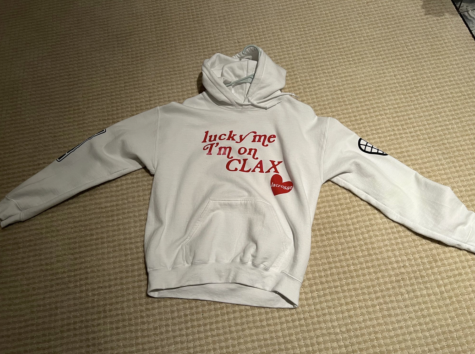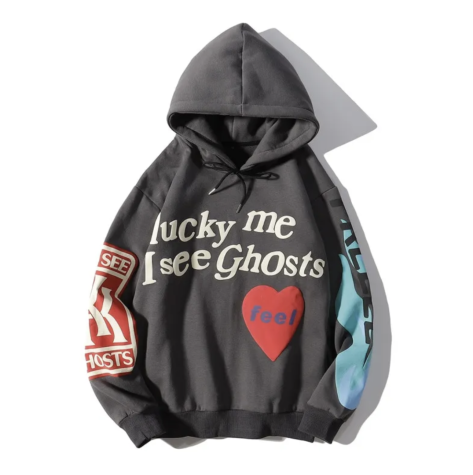 The lacrosse sweatshirts were designed in the spring of 2022 by a then-senior on the team. "We would listen to Ye a lot during practice or before games. I don't think any of us really admired him as a person, obviously, but we all just loved his music—it's a 'hype' type [of] music," recalled Naveli Singh '25, another member of the 2022 team. Several members of the team denied this statement, claiming that the team had no connection to Ye, while others confirmed that the seniors on the team were fans. The senior who designed the sweatshirt declined Counterpoint's invitation to comment.
While the design was not controversial at the time, Ye's recent actions have caused some uncertainty amongst the team. In an interview with Counterpoint, Singh expressed her conflicted feelings on the matter: "It represents a lot of the memories I have with the team, so obviously I don't look at that sweatshirt with any type of disdain or hate, but it does make me think about whether or not I should be wearing it."
Singh believes that Ye's fall from popularity is a prime example of "cancel culture," and she stated that "it's interesting to see how things in our culture can change so quickly and how something that we viewed as a very fond memory can turn into something that's more… not scary, but controversial." These days, she is not wearing the sweatshirt to school, though she plans to re-evaluate her decision after things "die down."
However, Singh clarified that she believes there is nothing wrong with wearing the sweatshirt; for her, enjoying an artist's work is not the same as endorsing their beliefs and actions. To this point, she stated "I think a lot of us on the team… support [Ye] based on his music rather than his personality or his statements or his brand. It's kind of a similar parallel to J.K. Rowling and the whole Harry Potter franchise. J.K. Rowling has said a lot of questionable things or done questionable things on social media, but people are obviously going to still support the franchise."
Another member of the team, who asked to remain anonymous, disagrees with this sentiment. "Even listening to his music, you kind of have to take a step back and realize how you're supporting him," she stated. "It's not art: it's really dangerous, and it's hate speech." The student also commented that she would disapprove of teammates choosing to continue wearing the sweatshirt, as Ye's behavior has been talked about too much for students to not realize the impact of promoting his brand."I would honestly associate wearing the sweatshirt now with condoning his actions because it reminds people of him," she told Counterpoint. "Even if it's a subconscious thing… it's keeping his brand in popularity."
The team members' varying opinions illustrate how it can be complicated to separate art from its artist. Singh's example of Rowling, who has been criticized for transphobic tweets in the past, and the beloved Harry Potter franchise is a common example of the argument for this separation. Is enjoying the magic of Rowling's world the same as aligning oneself with her transphobic statements? Many would say no. However, it's also important to bear in mind how Ye's music reflects his brand, identity and beliefs.
Olivia "Liv" Nickel '24 told Counterpoint that she does not consume media created by artists who promote values that do not align with hers. "Even if it's my favorite song," Nickel told Counterpoint, "I don't want to give them my money because they stand for things that I don't believe in." However, while she has made the decision to not wear the sweatshirt to school, she doesn't believe that wearing it would necessarily indicate support for Ye's actions: "This merch isn't his main form of art. I think his music, arguably, is the way he portrays his art form," Nickel stated.
Similarly, for Annika Heinemann '24, who was also on the 2022 team, an important factor in deciding whether or not it's appropriate to consume media created by a controversial creator is whether or not the artist is directly making money off of it. Because musicians make money every time someone plays their song on Spotify, she stated that streaming Ye's music would be supporting him, but listening to his music via a CD bought before the controversy would not. "[The] sweatshirt's already been done; [the] sweatshirt's already been made. If we were making it now, that would be a completely different story," she commented.
In her interview with Counterpoint, Heinemann described herself as a "Swiftie," a colloquial name for an avid Taylor Swift fan and the apparent antithesis of a Ye fan. To this point, Heinemann commented, "While I'm wearing [the sweatshirt], I'm very aware of the association, but, at the same time, for me, because I never really had a strong association—connection—to Ye… when I'm wearing it I'm thinking more about the team versus me being proud of this artist." Heinemann was the only interviewed member of the team who continues to wear the sweatshirt. She noted that she is still evaluating the situation as it unfolds, commenting, "I'm balancing that line between 'can I wear it and have it just associated with our team' or 'when I'm wearing it, are people noticing that connection to Ye and feeling hurt by it."
The general consensus among the team seems to be one of acknowledgment and sensitivity. All those that were interviewed stated definitively that, if approached by a concerned member of the Castilleja community, they would stop wearing the sweatshirt and encourage their teammates to do so as well.
Leave a Comment
About the Contributor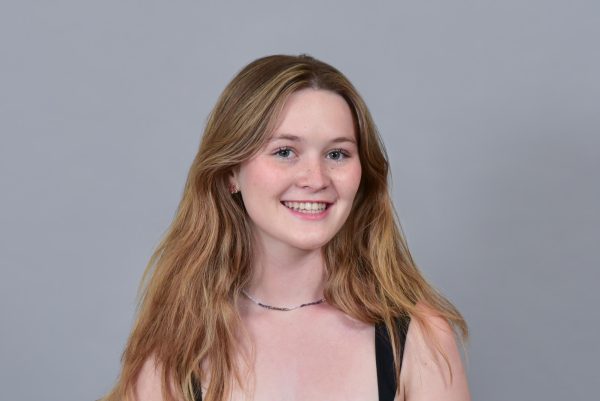 Ruby Dowling, Editor-in-Chief
Ruby Wright Dowling '24 is an Editor-in-Chief of Counterpoint. She attended the Medill-Northwestern Journalism Institute in 2023 and is now an editorial...