The Edible Book Festival: Its history, evolution and impact
The October Edible Book Festival is a pretty well known tradition at Castilleja. It is one of the few days we can eat in the library, as it is an event where contestants— students and faculty— can bring in desserts or food that represent a book. At the end of the school day, a celebration takes place where games are played, the entries are voted on and the entries are eaten. The Edible Book Festival is also the only opportunity where we get to scream in the library—whether it is a scream of amazement, excitement, or rage after suffering a crushing defeat of trivia— without being judged or shushed.
While the history of the Edible Book Festival may not date as far back as some other Casti traditions, it does still have a very interesting origin. This festival is not actually exclusive to Casti, and its history involves a lot of people with fancy names. It was created in the year 2000 by Judith A. Hoffberg and Béatrice Coron to honor the birthday of gastronome (food connoisseur) and author Jean Anthelme Brillat-Savarin, who is considered the founder of the genre of food writing. While Casti typically hosts this festival in October, Brillat-Savarin's birthday is actually on April 1st, the perfect day to "eat your words and play with them." This festival has become internationally widespread, reaching our school and becoming a Casti tradition.
At Casti, the Edible Book Festival has been a tradition since 2013. Our Library Director, Jole Seroff, describes the first year of the festival as something surprising and memorable. Because it was the first time introducing the Edible Book Festival to the Casti community, the librarians were worried that the idea would be "crazy" or difficult to understand. However, while the librarians only expected a max of 20 entries, they ended up with around 60, and it was incredible to see the creativity, spirit, and passion that Casti had for books.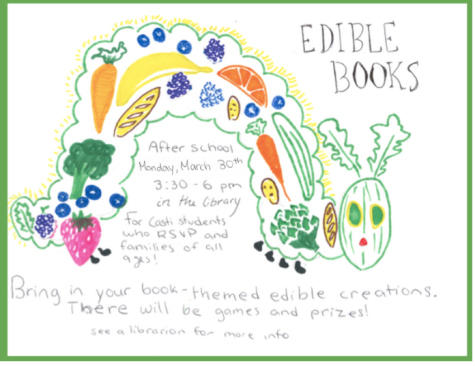 Edible Book Festival flier 2013-2014
This successful first year led to a 9 year Casti tradition. However, the way the Edible Book Festival is celebrated at Casti has also evolved throughout the years. In the earlier years, the Edible Book Festival worked more with the English department to get students engaged. For example, there used to be a Shakespeare category, which was associated with Othello, a part of the Casti curriculum. During those years, teachers would give extra credit to students who participated. Another part of the Edible Book Festival that would change every year was the activities and games played during the event. Some noteworthy activities from past years include: Horcrux hunting, butterbeer making (there seemed to be a recurring theme of Harry Potter), trivia, musical chairs and cheese states (where one would form a piece of cheese into the shape of a given state).
The Edible Book Festival is important to Casti for many reasons. First, it creates a sense of community, as everyone— both students and employees— has the opportunity to compete, and families are able to attend. The festival also allows middle and upper schoolers to compete on a level playing field. It is a joyful, energizing celebration that brings together books, students, and adults across campus. It creates an outlet for different kinds of talents to be recognized, and it creates public recognition for students to get visibility for certain talents that may otherwise be overlooked, such as being a good baker, being creative, being good at puns, etc. While explaining the significance of this event, Seroff explains that "One of our key goals at Casti is to help create community around books and reading. Reading can often be a solo or isolated activity, but it's important that we can connect, have fun, and talk about books and literature. The Edible Book Festival is an opportunity to celebrate our love of reading, and it helps us live our mission of building community."
Leave a Comment