From Hong Kong to Casti in the 1960s
The Casti experience is timeless, encompassing everything from the joys of close friendships to iconic traditions. In early March, amid relentless rain showers, I sat down with Margaret Kwok, my great aunt who happens to also be a '71 alum, to learn more about her experience as a boarding student at Castilleja.
Kwok grew up in Kowloon, located in the northern region of Hong Kong. "No one liked the local school in Hong Kong because it was very hard," she remarked. "They seriously gave us a lot of homework and expected us to know things that the teachers hadn't taught." As the youngest of five sisters, she was used to going along with how things were done. Most of the families that she knew at the time went to boarding schools in either the United Kingdom or the U.S. "It was a tradition thing," she explained. "Everybody sent their children there at age seven or eight. It was kind of cruel, considering how young they were."
At the age of 12, Kwok left her hometown for an English boarding school, giving her three years to train for the O-level and A-level exams. She recalled the school's strict environment, the bad UK weather, and, most importantly, the lack of food. "So, coming over to Castilleja was like being in heaven," she humorously confided. "There was sun every day; the food was fantastic; and I was very happy." The Casti cuisine evidently made a lasting impression on her, as she noted, "It was amazing that you had a choice between hot food, cold food, and sandwiches. In the UK, you just sat down and ate whatever you were given."
Between 1968 and 1971, Kwok was a boarder at Castilleja, living in the dorms located above the classrooms in the Arrillaga building. "You practically knew everyone in your dormitory," she remarked, reflecting on the close-knit community. The boarding school environment was "not that competitive," attesting to the camaraderie and support of the people around her. While she experienced a lot of homesickness in the UK since her parents could only come to visit on long holidays, she always looked forward to seeing her oldest sister, who lived in Los Altos, on weekends while studying at Casti.
Recalling the most memorable Casti tradition, she described how "Miss Espinosa taught us how we should act and about the proper table setting at mealtimes." The home economics class, despite nowadays seeming un-feminist and incredibly old-fashioned, was "actually a lot of fun." Students practiced serving entire trays of food under the ambience of candlelights at dinner, and they also enjoyed eating buffet-style lunches similar to those nowadays. "Every few years at different schools, I got different experiences," she added, comparing both the social and cultural distinctions between schools in Hong Kong, the United Kingdom, and America.
In the English boarding school that she attended for middle school, Kwok was the only Asian student there. She recalled once even getting asked, "Do you live up in a tree?" by one of her classmates. The locals were rather surprised that people were coming to the UK from China, so she was accustomed to implicit discrimination by the time she came to Castilleja. "At least Americans were informed enough to know that there was an Asia," she said, laughing.
Kwok was one of only three Chinese students in the entire school, but they were in different classes and dorms at Casti, so she wasn't really close to them. She highlighted the contrast between feeling like she was accepted by her white peers and feeling like she genuinely belonged at Casti. "The girls were very friendly," she further noted. "They were well-traveled and tried to accept foreigners, much more than in the English boarding school, so I didn't really have a problem adjusting."
Reflecting on her overall experience at Castilleja, she expressed, "The most important lesson that I learned was teamwork. We were taught that you had to take care of each other and help each other out." She offered some advice to current students: "Try to enjoy these couple years of your life. I think when you're going through it, you feel like you have lots of work to do and lots of things to aim for. But it passes, and you look back. It's just part of your life, so try to do your very best."
To this day, Kwok still keeps in touch with some of her classmates. Upon leaving Castilleja, she knew that she definitely wanted to go to an all-girls college. "I didn't wish to go to a bigger university, but that's because of my character since I'm quite reserved," she said, explaining her decision to attend Mills College, a liberal arts school in Oakland. Kwok currently divides her time between Hong Kong and the Bay Area, working as a manager at Hong Kong Book Centre.
Over the past 50 years, home ec has transformed into chemistry, lifelong friendships have been cultivated on the circle, and amazing lunches have continued to define the Casti experience. Despite Castilleja not being a boarding school today, the traditions and experiences rooted at the heart of our school remain much the same.
Leave a Comment
About the Contributor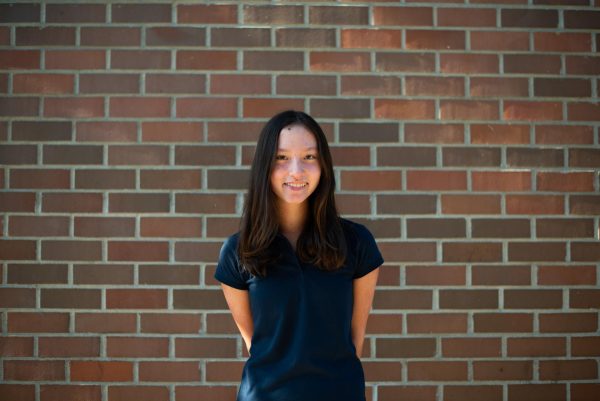 Sara Flexer, Editor of Features
Sara Flexer '26 is the Editor of Features for Counterpoint. This is her second year in journalism, and she enjoys playing tennis, forcing people to read...