Behind the lenses of the 2023 GIT photo contest winners
Over February break, Castilleja students and their cameras traveled across the world for their Global Investigator Trips (GIT). Juniors and seniors captured beautiful views, new experiences, and hilarious memories in Guatemala, Bolivia, Indonesia, and Santa Fe. A committee of Counterpoint underclassmen selected winning photos after analyzing 45 total submissions for the ten categories below. These photographs—and the stories behind them—offer a unique look into the defining moments of GIT.
Best in portraits: Riley Sterling '24 (Indonesia)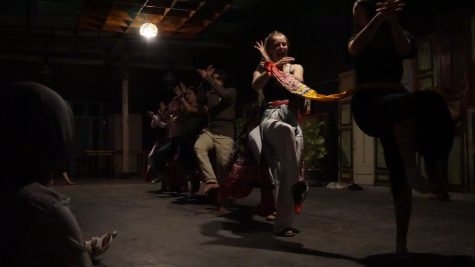 According to Sterling, the opportunity for a photo arose when the juniors in Indonesia were learning a traditional dance. "I was going last, so I just had my camera out, and I was taking pictures, but the lighting was absolutely terrible, so I just focused on this one light," she said.
"I was like, 'Okay, if I can't get a picture of everyone, I can at least get a picture of whoever's standing there. So I took a bunch of pictures and hoped that the lighting would work out on some of them.'"
Although Sterling took many photos of the dance, she liked the one above the most "because it has the pop of color, and you can see how much fun Violet is having."
Best in landscape: Reece Sharp '24 (Bolivia)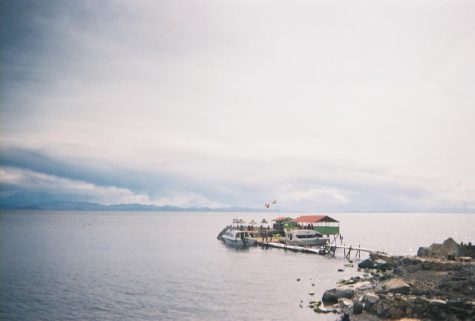 While boating around Lake Titicaca, Sharp recalled that the juniors in Bolivia "had lunch on the lake, but [she] had to go up to the island to use the bathroom."
Sharp reminisced, "At this point, I had 12 photos left on my disposable camera and said, 'No way am I going back to California with any left.' As I walked back to the floating restaurant where we had lunch, I thought the view was pretty and took the photo.".
Best in disposables/film: Reece Sharp '24 (Bolivia)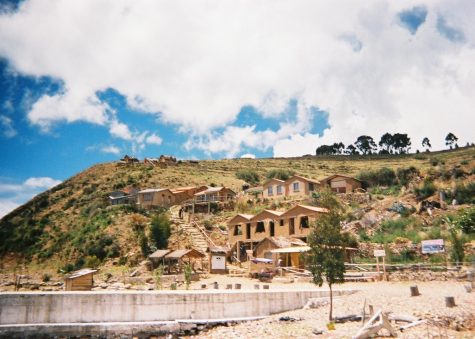 "It was our last day doing activities, and we were in Copacabana, which is on Lake Titicaca," Sharp said. "We were on the sacred lake, and we visited two islands on a boat trip."
"The boat trip was gloomy and rainy and wet, but when we got to the first island, [Isla de la Luna], it was a lot brighter." The composition of the stairs stood out to Sharp; she "wanted to remember what it looked like from the boat." She also remarked that "at the bottom, there were people selling a fried lake fish called ispi."
Best in food/culture: Baylee Ha '23 (Guatemala)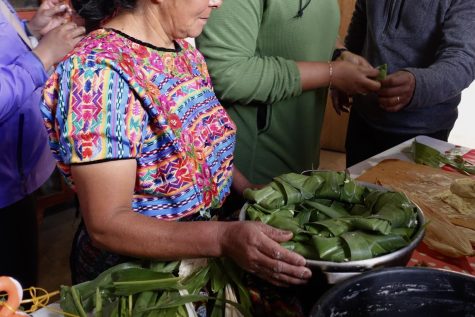 "We went to a farm, and we made tamales. We were all really bad at it," said Ha. "Basically, we had the leaves, and she made the corn filling. Then we would make it and put it into a bowl. Then she took them all out of the bowl, remade them, and put them back into the bowl."
"At this point, I had taken a photo because I had given up," they recalled. "We had ones she made before for lunch. We also made corn tortillas, and she made us roasted corn kernels. She roasted poppy seeds for us, and we were all in the kitchen. It was super fun."
Best in candids: Isabella Holsinger '23 (Guatemala)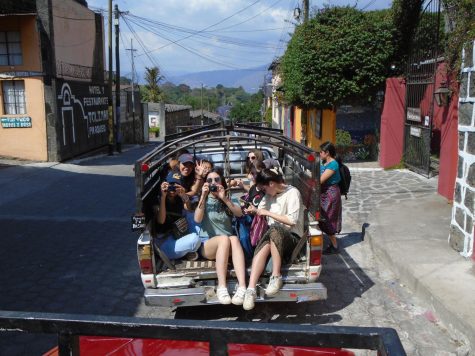 The seniors in Guatemala were "at a very bonding lunch," and Holsinger "saw that camaraderie come through on the trucks." Earlier that day, they had to drive for three hours at 3 a.m. to avoid police blockades, and their instructors treated them to a ride in open-air trucks. Holsinger said, "We all jump[ed] in, and we were all taking videos and waving to the passerby during the ride… we were having the time of our lives."
Embracing ambiguity: Ava Elkin '23 (Bolivia)
"This was taken when our group passed through a huge parade taking place in Cochabamba on the last day of Carnival," said Elkin.
"While we waited for a large portion of our group to squeeze through the parade between performances, people walked by us and sprayed us with foam and water. We didn't know how clean the water was or whether the foam would stain our clothes, but we embraced the experience with open arms."
Pain is temporary; GIT is forever: Annika Burks '23 (Indonesia)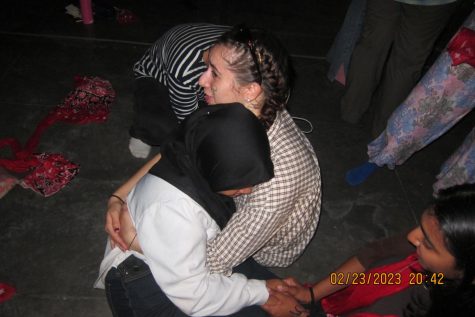 The seniors in Indonesia "spent several days doing projects with local students—the project was a presentation—and they had come with us to all of our visits to the temples, all the art, and everything that we did for the whole trip." Burks took the photo on "our last night after we presented our projects to everybody."
"They turned the lights off and turned the music on and everyone was dancing, and a lot of people were crying," she said. "That was the last night that we would see the students, so everyone was just very sad."
Women learning, women leading: Hannah Rucker '23(Santa Fe)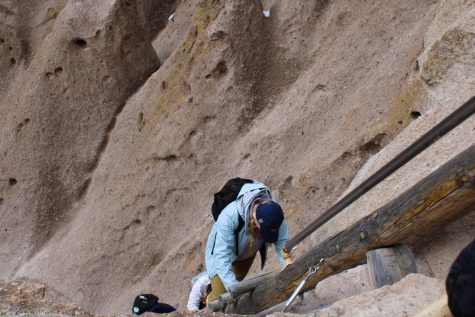 Rucker took the photo in Bandelier, a Native American holy site. "It's at the foot of a bunch of mountains, so we did a long hike through the paths below, and they have these huge ladders that go about 140 feet up the mountainside," she said.
"The paths were really narrow, so you had to wait for a group to go down for the next group to come up because you can't really pass. We were waiting for the next round of people to come up, and I decided to take a photo."
I'll never forGIT when…: Baylee Ha '23 (Guatemala)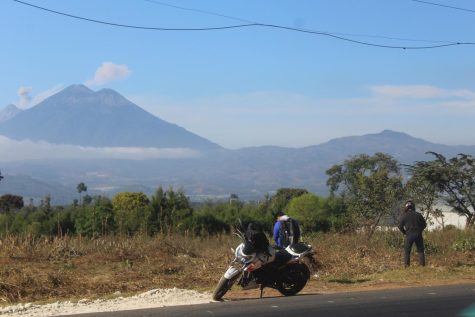 Ha took the photo on the first day of the trip, when the seniors in Guatemala had "woken up at 6 a.m after going to bed at 3 a.m." She said that "we were all super tired, but we woke up early so we could avoid traffic and get to our destination at 9 a.m. But then, there was a political demonstration, so traffic hit, and we were stuck in standstill traffic for 2 hours. Nobody moved."
"On our left, there were a bunch of mountains, and one of them was actually an active volcano," explained Ha. "I was trying to take a picture of the volcano like everyone else, and while I was taking the picture, someone stopped on the motorcycle, and I was like, 'Oh that's so cool, I love motorcycles!' And then they got out to pee."
Open caption: Annika Burks '23 (Indonesia)
"How we entertained ourselves without phones"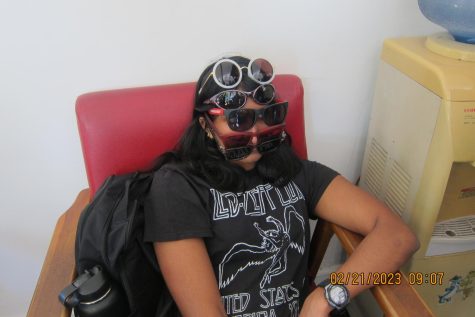 The seniors in Indonesia were in the hotel reception area when "Pallavi was wearing sunglasses, and then she asked me for my sunglasses and doubled up," said Burks. "Arya also gave her sunglasses, and everyone just started donating their sunglasses. That's how we killed like ten minutes of our morning."
Whether it be wearing five sunglasses, getting sprayed for Carnival, or hugging a new friend goodbye, GIT was filled with unforgettable memories. Thank you to all the photographers who shared those special moments by participating in the 2023 Counterpoint GIT photo contest. Sophomores, get excited for next year!
Leave a Comment
About the Contributor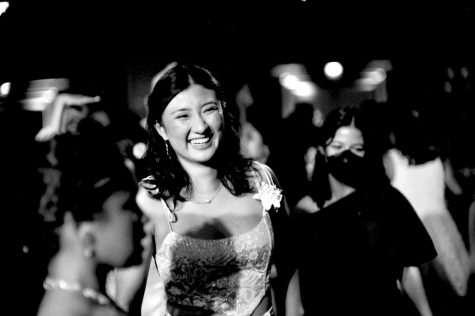 Thea Dai, Managing Editor
Thea Dai '24 is a Managing Editor and the Editor of Photography for Counterpoint. She is an avid podcast listener, avocado toast enthusiast, and one of...