The class of 2025's complicated feelings about moving to CSM
The class of 2025 believes in three universal truths: they won't be able to tie their little sisters' ties, experience graduation on the Circle, or take part of Castilleja's traditions on the original campus.
The current sophomores hypothesize that for the Tie Ceremony of the 2024-2025 school year, they will have to run across the parking lot of the new campus Castilleja may call home for the next two years. As is the case every year, shoes will fly off, people will fall during the run, but sadly, Castilleja's signature turf will not be there to catch them.
Priscilla Chan '25 realized how "real" this shift was becoming: "the actual presence of the Circle will be gone. I know it might sound silly, but the Circle really is a sign of the community we have. I know it is the people that make Casti what it is, but I will definitely miss the turfy and bright Circle."
Claire Sun '25 shared another sorrowful hit: "We won't be able to use the [Castilleja] gym… for senior night."
Saying goodbye to the structures that hold years of memory is an enormous feat, so many students hope to uplift themselves by looking on the flipside.
Michelle Maydan '25 finds solace in being able to engage with new facilities unavailable at Castilleja, like "a nicer stage" and "the planetarium" at the College of San Mateo (CSM). She talked enthusiastically about the prospect of "having more activities with other schools in that area" and "engaging in all the new opportunities that being in a different location will bring."
Sharing her giddy sentiment, Caitlyn Lee '25 is also curious about her class' unknown future: "I'm looking forward to a change of environment [to] a new campus."
Similarly, Chan is curious about potentially "being in college-level courses taught by professors." A recent survey asking students to choose which courses they would be most interested in taking at CSM has instilled hope of learning "in-depth, specific subjects and topic areas that [one] might not experience at a high school level."
Unfortunately, though there are great benefits of this new, temporary campus, there are some disadvantages that the class cannot deny.
Transportation is one of many topics of discussion. Those who are native to San Mateo, like Katherine (Poppy) Lye '25, are relieved about Castilleja's move to the CSM and South Hall because they can "sleep more," but Lee, a Los Gatos resident, isn't quite as excited: "I'm still trying to figure out the commute since CSM is even farther from my house than Casti."
Maydan expressed some similar concerns regarding the location of the new campus: "I'm coming down from San Jose [to Palo Alto] most mornings, so it's already about 40 minutes. It's going to be even longer [getting] to San Mateo."
Sun, however, reveals that she is satisfied with the commute, expressing her desire to "practice driving."
Tradition is the next hot topic amongst the sophomores. With the absence of the Circle comes the absences of various activities in which many Castillejans have loved participating over the years.
Chan remarks that the "class of 2025 won't get to run across the Circle as seniors or be in the Chapel Theatre for senior speeches. The traditions will look different on the new campus."
Additionally, Maydan wonders if South Hall could be decorated for rivalry and how "accommodating CSM would be [for revelry]… At CSM, who knows if [it] would allow us to [decorate its campus]?"
In a unanimous consensus, the class of 2025 hopes for communication with Castilleja's administration. Chan summarizes, "I think transparency and information is important; if there's information we should know, then Casti should share that with us."
A step that Castilleja has taken towards transparency between admin and students is the creation of the Temporary Space Committee, a committee of two students per grade to represent all student voices in the decision making process. Unfortunately, however, after electing the student representatives, the sophomores felt left in the dark about any new developments.
As Sun puts it, they feel as though the admin is "say[ing] that they're giving us a voice and not actually giv[ing] us a voice." The only thing the sophomores have received from the committee is a survey asking them what issues or requests students had for the new campus. They have no way to know if their feedback is reaching anyone.
However, this is not to say that the administrators are to blame. The Board of Trustees and Leadership Team have several times expressed "possibilities" and "the prospect of an even better solution," showing that they have been working hard to ensure that "students [will] have access to an even wider range of opportunities." One possible solution for the unclear situation with South Hall is "pursuing" more opportunities to attend school on CSM campus, or even remaining on Castilleja's beloved Circle.
No matter what campus Castilleja will move, or not move, to, the class of 2025 treasures the traditions and memories the Circle holds, and will take on the future one step at a time. As with life, with every bittersweet goodbye comes a hopeful smile.
Leave a Comment
About the Contributor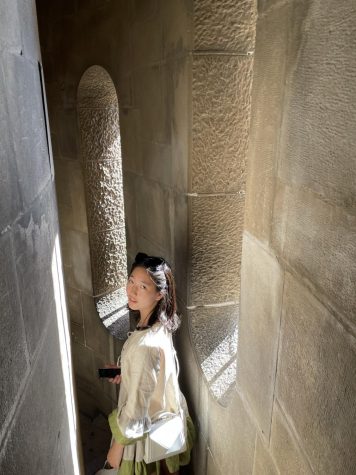 Abigail Kim, Editor of Features
Abigail Kim '25 is the Editor of Features for Counterpoint. In addition to writing, Abigail loves to read, dance, paint, and watch k-dramas when she should...