Faculty Alums: What made them come back?
Finding out that the teacher lecturing you from the front of the room or handing out loads of homework was once a Castilleja student can often come as a shock. But after you get over the fact that they were once in your shoes, you probably start wondering: "Why would they choose to come back?" Perhaps it's the unrelinquishing hold of the turf, or the desire to eat pasta shapes every week for the rest of their life. But more than that, it's the lasting love and impact Casti leaves on all those who journey through, which is evidently strong enough to bring some back.
The quirks of Casti's culture and traditions that make up this community were behind English teacher Laura Hansen '08's return. She remarked, "Things like time clock, things like rivalry, things like that were part of what made me feel belonging at Castilleja. I liked being back in that environment." Additionally, she saw this as a chance to impact our lives the same way hers was affected by her teachers during Casti: "I also remember, especially my history and English teachers, really loving them and getting to have really good conversations…just to be able to give other people that and continue that chain just felt really good." From guiding students through insightful book discussions to editing this very article, there's no doubt that Hansen is spreading her wisdom to the next generation. With this opportunity, being the malleable youth that we are, Hansen also draws from her own time here to teach us the things she wishes she knew. "It's gonna be okay," she says. "It's never gonna look like what you think it's gonna look like, but you are going to have an amazing life."
Angelica Ortiz Anguiano, class of 2011, credits her love of the arts as a driving force for her decision to come back: "More than teaching, it was being able to teach art, specifically, and coming back here, I was reminded of what the art room meant to me in my time here." Like Hansen, Ortiz Anguiano also wanted to pass on her passion and give back to Casti, saying, "I was hoping that I could bring the importance of the art room to other students as well." After becoming a teacher, Ortiz Anguiano also realized how many things students often overlook about Casti's inner workings: "There's a lot of people who make every day happen…I don't know, as a student, how aware I was of everything that was going on behind the scenes." After becoming a member of the faculty herself, Ortiz Anguiano said it was "quite jarring, because I was like, 'Oh, I know what goes on behind the scenes,' but no, I did not." As students, it's obvious that we interact with our teachers every day, but especially at a school like Casti, there are so many other adults we often forget to consider, from "the admissions office to the kitchen and maintenance staff…Don't overlook how everyone has to work together," she says.
Elke Teichmann '09 is a perfect example of how Casti alums have come back to contribute to the administration as well. She credits one of her old classmates for finding this opportunity: "In 2018, one of my classmates saw there was a job opening that seemed like it could be a good fit for me, and she encouraged me to check it out. So I guess I have her to thank!" But she adds that "there was always a piece of me that wondered what it would be like to come back to work at Casti." The lasting impact of a Castilleja education truly becomes a part of its alums, much like the irremovable turf on our clothes. At her previous job before Casti, where she needed to stay up to date with the news cycle, Teichmann already found herself "gravitating towards articles about gender, inequality, and women." She realized that the opportunity to return to Casti "could bring me much more happiness and fulfillment. I wanted to spend my time making more of a tangible positive impact for an institution I really believed in."
So before you complain about your next homework assignment, take the time right now to look at Casti from a new perspective – those of your teachers who were once in your shoes. Whether you also become a faculty alum or want to leave Casti and never look back, treasure your experiences now, because there's no telling where they'll lead you.
Leave a Comment
About the Contributor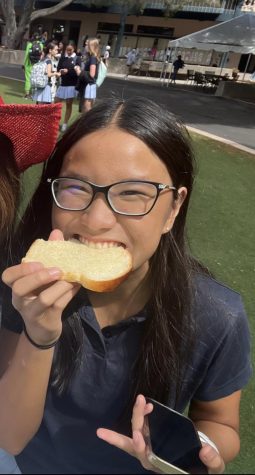 Amelia Yuan, Staff Writer
Amelia Yuan '26 is a staff writer for Counterpoint. She loves reading, sleeping, reading when she should be sleeping, and making toast. If you can't find...