Bruna Lee is a new English teacher coming to Castilleja from teaching in San Francisco. She teaches English I and English II. Talking to her taste in books about technology—second only to her music taste— reminded me to read about the field I'm hoping to go into before jumping headfirst. 
Who was your favorite of your teachers when you were a student? What impact did they have on you? 
My 11th grade Honors American Literature teacher. She just did the best job creating a community of readers and writers and creating an environment that made it so that every student felt comfortable to take risks in their writing, to really clearly articulate what they felt like they needed to work on in their reading. And that year, 11th grade, was the year that I finally identified as a reader. 
What books are on your nightstand and/or coffee table right now?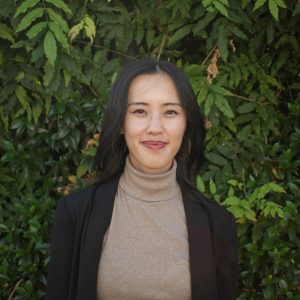 Way too many. I am reading the "Alignment Problem" by Brian Christian to help me learn more about the ethical issues coming up in AI. I'm interested in seeing how that's going to change, not only the workforce but also how we learn how we interact with each other. I'm also waiting for my copy of Walter Isaacson's Elon Musk biography to come in. One of my favorite genres recently has been reading biographies about people who work in tech, because it's such a juicy drama that is interesting and also relevant to where we live in Silicon Valley. 
What is the most impactful interaction you've had with a student?
In [the] spring of 2021, when there were lots of news articles about attacks on Asian elders all over the country, there were some specific incidents that happened in San Francisco, which is where I used to work. The students of the AAPI affinity group, which I advised, wanted to put together a healing circle for the entire school community. As their advisor and as someone who has facilitated circles before I helped them come up with the goals and the structure and think through how we wanted to set up the space. That was a really powerful experience for me to see how these student leaders stepped up to facilitate really difficult but important and also healing conversations for the entire school community. 
What is a "fan-favorite" part of your teaching style? In other words, what is it about your classes that students love? 
I think students really like the different creative projects that we have and the ways that they can take ownership of their learning. They can make a zine to showcase learning or create a presentation where they become the experts on a topic and teach us. I try to make my class a really relaxed environment.
When you were a little kid what did you want to be when you grew up?  
I wanted to be a fashion designer. Not because I was into fashion, I just really liked drawing. It was a short phase in my youth. At age 16, I decided that I wanted to pursue teaching.
What is your favorite piece of media (books are quite apt but also movies, tv shows, whatever is fine) and why? What impact did it have on you? 
I would say "Master Chef," but only the Brazilian version. I'm from Brazil, and I don't have many opportunities to practice my Portuguese on a day-to-day basis.
What is one thing you are obsessed with right now? 
The album "Columbo" by Bruno Major. I love Bruno Major's music, and it means a lot to me and my partner so that has been on replay.
—
This story is part of the series "Q&Avery" by Counterpoint on new teachers around the circle this school year.