Castilleja celebrated its first Mid-Autumn Festival Friday, kicking off a flurry of cultural celebrations around campus as affinity groups began meeting this month.
Variations of the Mid-Autumn Festival, also known as "Chuseok" in Korea, are observed across East and Southeast Asia.
The festivities were a collaboration between the Chinese+ affinity group and the Korean American Student Association (KASA). At break, members of Chinese+ handed out mooncakes to a throng of students, and KASA collaborated with Castilleja's food service team to design a special lunch menu.
"We've been trying to get this to happen on campus for several years. Maybe five," KASA co-lead Abigail Kim '25 said.
"Because it happens so soon into the school year, we've never been able to have the proper amount of time to plan," Samantha Kim '24, a co-lead of the group, added. "So we started really early."
Because of the timeline, "our first official affinity group meeting was just last week," Chinese+ co-lead Thea Dai '24 said. "We [the leads] really just planned it ourselves," co-lead Lila Cole '25 said.
The lack of member involvement was "a bummer" for Chinese+ co-lead Norah Yang '25. "Going forward, for Lunar New Year and AAPI month, which are two big things we celebrate at this school, we're definitely going to ask [our members] for ideas and have them help us plan it more," Yang said.
The Chinese+ and KASA leads said they chose not to petition for traditional wear. "It's not really an occasion for traditional dress," Cole said.
New guidelines for affinity groups also presented difficulties. "We're not catering food this time because I'm pretty sure that's not allowed anymore," Samantha Kim said. "There's a lot of things that were brought up with regards to equity." Both KASA leads agreed they didn't "fully understand" the new policy.
"We [communicated] with the Kitchen about changing the menu," Samantha Kim added. However, the original menu KASA proposed to Chef Lloyd Higgins was "too labor intensive," Abigail Kim said.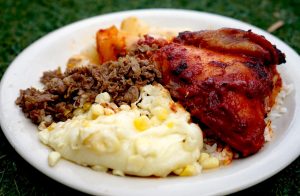 "He did end up changing drastically a lot of the things that we requested," she added. "It's like fusion. I appreciate his work and trying to incorporate everything, but it would have been nice to collaborate more through the process of creating the menu."
"We always liked catering too because we liked bringing the authentic food to the campus," Samantha Kim said.
Chinese+ was able to bring outside food to share with the Upper School, but said they struggled to predict how much was necessary. "We don't have our budget yet," Cole said. "It was hard to plan around that."
Despite these challenges, the leads said the collaboration between Chinese+ and KASA was a success. "We all have a really similar vision," Samantha Kim said.
"It's definitely cool to be able to celebrate with them and see how Mid-Autumn Festival is celebrated in Korean culture," Cole said.
The scope of this year's Mid-Autumn Festival is still limited, featuring only Korean and Chinese celebrations. Abigail Kim said groups like the Southeast Asian/Pacific Islander affinity group (SEA/PI) "didn't mention wanting to collaborate with us."
And it was difficult to represent students of other ethnicities without dedicated affinity groups. "There is no structured Japanese affinity group, so we didn't have a point person to communicate with," Dai said. "That was similar to what happened last year with the AAPI heritage month when we did East Asian week."
"Even having KASA involved with Mid-Autumn Festival is a little bit newer," Samantha Kim added. "Hopefully, we can expand more going forward."