Election activities at Castilleja
2020 has already been a year full of unprecedented events, but the outcome of the upcoming election may prove to have lasting effects on the country for years to come. Castilleja students, many of whom are eligible to vote this November, have been engaging with the election in a variety of ways. From working at poll booths to hearing from experts (including faculty members!), Castilleja students are excited and enthusiastic to learn about voting processes and the unique circumstances surrounding the 2020 election.
Since most students are not eligible to vote yet, Castilleja has instead ensured that every community member is well-informed regarding government processes and the electoral college. The United States' unique voting system has been the topic of many recent social science class discussions, so learners have the opportunity to ask questions and ensure that they know America's government inside and out! Sixth graders are curious about how electoral college votes are allotted, tenth graders explore primaries and caucuses in-depth, and seniors who are eligible to vote learn how to submit a mail-in ballot. One popular question  among middle schoolers was "Who makes up the electoral college and how do the parties choose people?", while Upper Schoolers were more curious about the deeper implications behind the electoral college: "Why do people say the electoral college is racist?" Clearly, each grade and individual is able to engage and explore new topics that suit their interests and learning needs,  generating many unique conversations on campus.
Castilleja continues to emphasize the importance of engaging with our country's democratic processes, despite the many students who are not citizens of America. These learners are excited by the opportunity to compare and contrast American government systems with their country of citizenship, and they appreciate Castilleja's inclusivity of non-citizens. Laura Schusser (Class of 2022), a German citizen who grew up in the  United Kingdom, says the election has helped her "gain information to inform [herself] about the election system and understand how it varies from that of the U.K."
Even on Election Day, students remained involved in the election processes, with a few students working at polls and learning about the democratic process in a hands-on way. Radha Ramanathan '22  shared, "poll working made me appreciate all the systems in place in San Mateo County to ensure that everyone was able to vote. We had people come in from Fresno, others who hadn't registered, and others who came in after the polls closed. All of them were able to vote, which made me appreciate all the ways the county was able to ensure equitable voting." Radha, along with Ayanna Gandhi '22, also hosted Mr. Hari Sreenivasan as a Zoom speaker at Upper School Meeting. Mr. Sreenivasan is an Emmy nominated journalist and is currently the anchor of PBS Newshour Weekend, a Senior Correspondent at the PBS Newshour nightly broadcast, and a host of the national public television series SciTech Now. He spoke with Castilleja Upper Schoolers about voter disenfranchisement, the accusations of voter fraud, and the validity of polling prior to the election. Adult expertise was also offered from Castilleja faculty members Ms. Lane and Ms. Grossman, who shared reflections and action statements post-election. Ms. Lane encouraged students to consider the unique circumstances of this election, and Ms. Grossman offered resources for students to remain involved in the democratic process.
Clearly, the 2020 presidential election has sparked much political and democratic engagement around the Circle. The Castilleja community remains informed, engaged, and responsible ahead of November 3rd, supporting students as they make important decisions about our country.
Leave a Comment
About the Contributor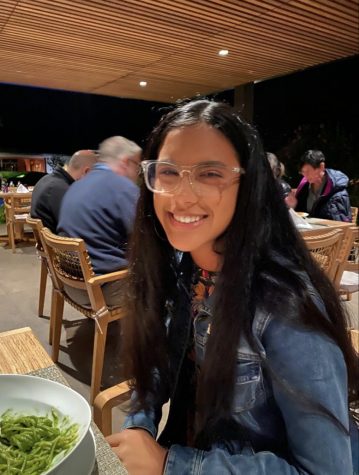 Anushka Srinivasan, Managing Editor
Anushka Srinivasan '22 is a Managing Editor for Counterpoint. In her spare time, she loves to listen to music and read. During quarantine, she's started...