"Stay home, keep it small": How Castilleja students celebrated Halloween 2020
Halloween is a hallmark event of the fall. People of all ages look forward to Halloween as a chance to connect with each other by donning creative costumes, eating sweet treats, and telling spooky stories. However, this Halloween was unlike any other before. Due to important social distancing constraints, communities all over the country were challenged to find inventive ways of celebrating Halloween safely.
Based on similar recommendations from Santa Clara County, the City of Palo Alto recommended that residents avoid "[p]articipating in traditional trick-or-treating where treats are handed out to children who go door-to-door" as this venture brings multiple people from different households together, thus making it a high-risk activity in terms of spreading the coronavirus. The City also prohibited "[a]ttending a crowded party held indoors or outdoors." Parties have already been associated with many cases throughout the Bay Area because COVID-19 spreads easily at large gatherings.
"Stay home, keep it small" was the City's motto for Halloween 2020. Casti students abided by this phrase in a number of ways. Overall, this year's Halloween festivities revolved around family more than they had in previous years. A freshman said, "I stayed home with my family and watched a scary movie this year." One sophomore also spent Halloween with her family and "carved pumpkins," and another dressed up her family's dog in "a ton of sick costumes."
Many Casti students did not dress up this year because they thought buying or making a costume would be too much effort for a Halloween spent at home. However, a notable number of students planned on "having a Ghost Photoshoot outside." This trend involves people dressing up in white bedsheets as ghosts and going to viewpoints to take cool pictures. Since these photos uniquely contrast an aesthetic background with a silly ghost, the Ghost Photoshoot appealed to many. This activity was popularized through TikTok and demonstrates how teenagers all over the country have collaborated and innovated to find fun ways of safely celebrating Halloween. As the pandemic stretches on and the holiday season approaches, time will tell how else we will adapt to commemorating traditions in our new normal.
Leave a Comment
About the Contributor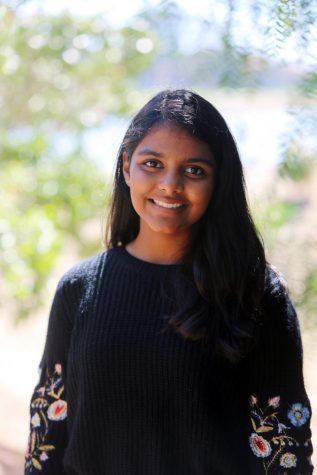 Sonia Cherian, Managing Editor
Sonia Cherian '23 is a Managing Editor for Counterpoint. Aside from writing articles, she loves to play with her dog, get way too wrapped up in whatever...