"We all thought it wasn't going to happen": Ringing during COVID-19
If you were to ask Castilleja students to share their favorite school tradition, most of them would say ringing. This tradition typically involves a junior being paired with a senior friend, to whom they will then anonymously give gifts on campus until "reveals" on the last day of school before Thanksgiving break. However, due to the pandemic, the current safety precautions have altered this process.
The junior class has been very creative in coming up with ways to frequently connect with their ringers without being able to give them small gifts in between classes while on campus. In addition to the tradition of creating Instagram accounts, Ashni Sheth '22 shared some new ideas: "I think a lot of it is making use of the opportunity we have to send [seniors] things virtually. For example, we can send them a nice message every morning and a meme or a TikTok." The greatest difference while ringing during COVID-19 is what giving gifts to seniors looks like. While this is typically done by leaving a coffee in their locker or asking a friend to give them a bag of candy in between classes, not being able to give gifts while on campus has posed a challenge to keeping this ringing season as "normal" as possible. After an abundance of brainstorming from the junior class government, they determined that the best method of sending gifts to seniors would be by dropping off presents at their houses. Tobey Solomon '21 said, "[My gift] was delivered to my door when [my ringees] knew I was gone. I was not expecting anything. This was such a surprise."
When asked what the strangest part about ringing this year is, Solomon said, "Probably not being able to give [our ringees] a hug at the reveals because obviously, we love [them] so much… I feel like it will be kind of awkward when we're on the circle, and they're like 'Tobey will you ring me?' and I'm like 'Yeah!' from six feet away." However, the seniors are all very grateful that they are able to experience this tradition as ringers, despite how unorthodox ringing has been this year, according to Solomon. She said, "We all thought it wasn't going to happen."
Many juniors shared the seniors' presumption, and in order to continue this Casti tradition, the junior class government had to brainstorm ideas for how to deliver gifts and execute reveals. Sheth, who is the Junior Class President, said, "A lot of brainstorming of the ringing season involved talking with our class: listening to their ideas and ensuring that everyone has an equitable opportunity to get gifts to their seniors, so sending out forms to see if they need help with that. As for reveals, not only did we have to think about making them fun but also about making them safe." Sheth attributes this year's ringing, specifically the socially distanced yet exciting reveals, to the hard work and creativity of the junior class government and the junior class dean, Ms. Shanks.
Sheth and Solomon both continuously reiterated how excited they were to reveal and to see their ringer or ringee in person, proving that this beloved tradition has retained the connection between juniors and seniors and the excitement that comes with it, even during a pandemic.
View Comments (1)
About the Contributor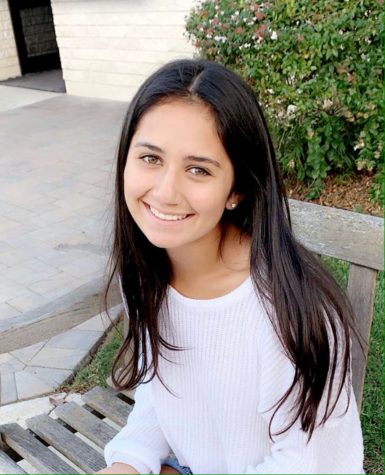 Carolina Pavlik, Managing Editor
Carolina Pavlik '22 is a Managing Editor for Counterpoint. Her favorite sections to write for are News and Opinions. In her spare time, she loves to...