Applying to college during a pandemic?
No more 9 p.m. sunsets, daily ice cream runs, long beach drives, and hazardous TikTok drafts—summer is out, and fall semester is in, meaning that, for our seniors, it's time for college applications. University, college, la fac, la universidad, or "scary planet of impending doom," is considered by many of paramount importance to achieving success and happiness in life, and so, 3.7 million Americans (excluding foreign seniors) compete in a rigorous race towards the college of their choice. As you can see, applying to college is not an easy task. As if college applications weren't already difficult enough, the unleashing of a brutal pandemic shattered all means of normalcy from human life, including the college application process. Nevertheless, our seniors, as resilient as they are, have found a way to accommodate this change. In the pleated blue skirts of three Castilleja seniors, we take a sneak-peek into the strange world of the Class of 2021's college admission process and their journey to their future.
Though there are multiple ways to apply to college, the two most popular ones (as well as the most conventional) at Castilleja are through the "typical" admissions process—writing essays, doing interviews, and submitting test scores—and athletic recruitment, a process that sometimes even begins in late sophomore year. For interviewee discretion, our three seniors will be referred to as Senior 1, Senior 2, and Senior 3 (typical, typical, and athlete, respectively).
Regular Admission
Putting aside our previous knowledge about the college admissions process from "How I Got into College!" YouTube videos, the application process has more to it than what they say. As the leaders of our high school, our seniors have a lot on their plate, stretching from managing personal affairs, running major clubs, and, of course, applying to college. As Senior 1 puts it, the first two months of senior year were "the hardest two months I've spent at Castilleja," much to the credit of the COVID-19 pandemic. Its entrance has prompted a series of alterations in the college admissions process, starting with standardized testing. In the early months of the coronavirus pandemic, multiple schools, such as Brown University, Cornell University, Duke University, and more, made the decision to change their policy to test-optional since test dates were being continuously canceled and delayed.
Despite this huge shift, our seniors have found light amidst the darkness. Because college tours have been canceled everywhere, virtual conferences have replaced in-person tours, and more online resources have been added on college websites for applicants' convenience. Senior 2 exclaims, "with the virtual info sessions and virtual tours, I've been able to look at a wider range of schools than I think that I would have been able to [if not for the pandemic]." Moreover, Senior 1 says that, because she cannot physically visit the colleges of her choice, she has had to think more rationally in terms of selecting which colleges she prioritizes in applying. All in all, the college admissions process is still challenging; however, as both seniors have put it, "It's not about whether you're good enough for that college—it's about whether that college is good enough for you."
Athletic Recruitment
"The end of sophomore year was when I started to really think about [getting recruited]," said a Castilleja athlete. "In the beginning, it was really just emailing coaches, setting up phone calls, and creating YouTube videos of my dives, and that was a long process!" In addition to her rigorous athletic training, Senior 3 underwent four to five pre-reads—a system where colleges can review the applicant's academic performance, such as SAT scores, transcripts, and classes in order to see if the applicant is a strong enough match for the school. After years of preparation, "this past August was when I verbally committed to UPenn," said the recruited athlete. "However—it depends on the league of your college—but for me, I still had to get in academically, meaning that I did have to write my essays and submit my SAT scores," she notes. "I applied for Early Decision and received a likely letter, but in order to stay recruited, I have to keep up with my grades and not get arrested!"
As smooth as a transition this process may sound, Senior 3's recruitment journey was frustrating at moments: "The first was when the NCAA issued a dead period, which means that there can be no face-to-face contact between the recruiter and the athlete, so I've never met my new coach or any coach for that matter!" she exclaims. "One of the most important things in the recruiting process is towards the end when you're narrowing down which schools you want to go to and when the coaches are doing the same. The schools invite you on official visits that they pay for you to fly out and to come to visit their school." Senior 3 further elaborates on the significance of these trips which serve as the ultimate guides to finding the "best school for you." But because of the pandemic, Senior 3's trips were continuously postponed month after month, a "real bummer," as she puts it. Despite the lack of connection with her coaches and permanence of her schedule compared to that of her original plans, our recruited senior prevailed to complete her long-awaited journey.
Final Thoughts
As a parting note, our three seniors left some valuable tips for their fellow underclassmen: "Take your time with your four years because not everything is important as it feels. Trust the process," says Senior 2. Senior 1 says, "The best college application is by the people who are able to really express themselves most authentically and show who they are because that's what makes you unique." As for our athletes-in-training, Senior 3 recommends to "be organized. Stay on top of things, but take one step at a time. It's going to be stressful at times, but in the long run, you won't regret it."
Leave a Comment
About the Contributor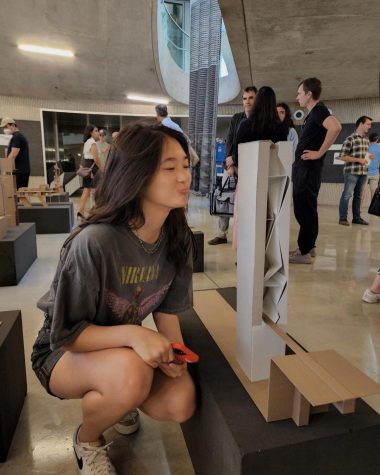 Yonu Oh, Editor-in-Chief
Yonu Oh '23 is the co-Editor-in-Chief of Counterpoint! Her current passion in life is to eat overnight oats and semi-patiently wait for the next season...