Athletic recruitment in the middle of a global pandemic?
Every year, the most elite athletes from all over the world compete for the handful of spots available on the top sports teams at American universities. Although the formal recruiting process does not occur until mid-high school, these dedicated high school athletes spend years practicing and perfecting their sport. And, when these students aren't on the field or court, they are studying and working to maintain the high GPA required to be qualified for a spot on a collegiate sports team. For most high school athletes, the path to recruitment is difficult but straightforward: work hard and successfully compete at a high level in your sport, receive top grades all through high school, get good test scores, reach out to coaches starting sophomore or junior year, visit the schools you are interested in and are interested in you, and commit by fall of senior year. But what happens when your sport's season is completely canceled? When grades become pass/fail? When college coaches can't watch you play? When you can't go on school visits? When you can't communicate with schools? When a global pandemic hits.
In March of 2020, everyone and everything was affected by the global pandemic. For weeks the United States was inside in a lockdown. Schools and workplaces alike had to switch to an online platform, and all sports were canceled. For athletes Amanda Khu, Yohann Verma, and Madeleine Parker, COVID-19 meant a halt in their junior year sports season and a new and unpredictable hurdle in getting recruited for college. For most high school athletes, the junior year fall and spring seasons are pivotal seasons for college recruiting, and the coronavirus had obliterated any chances for an in-person spring competition season to occur.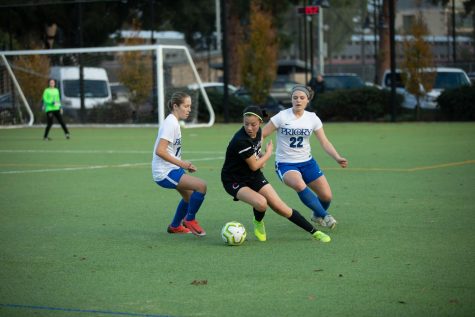 Amanda Khu, a current senior at Castilleja, had been hoping to play collegiate level soccer since 5th grade. Academics were always the priority in her family, and, by freshman year, Amanda was sure she wanted to continue her soccer career through college, so she decided that getting recruited for a DIII school would be the sweet spot for her. Fortunately, Amanda had been able to do an unofficial visit to her favorite college, Pomona College, to see the campus with her family before the travel restrictions from COVID-19. Also, for soccer recruiting, universities will hold I.D. camps (a weekend for prospective student-athletes to practice and play with each other for the coaches of the respective school to watch and observe their skills) on campus that athletes can attend as early as freshman year. But still, Amanda had been counting on her junior year season to truly play her best before college recruiters.
Also, travel was hindered by the pandemic. As a result, coaches and recruiters requested recorded game footage of players. Normally, there are multiple showcase tournaments for the most competitive soccer teams which college coaches attend. Coaches watch the athletes who have reached out to them or players who have piqued their interest. Instead, Amanda spent the end of her junior year and beginning of the summer scrambling to piece together what limited and dated game footage she had. In the end, "[Amanda's] college coaches were anticipating watching [her] at another showcase…but they had already seen [her] play so many times that they didn't need to see [her] one more time to know that they wanted to support [her] through the admissions process." Amanda verbally committed to Pomona in the early fall of 2020. Although Amanda wishes she had been able to expand her scope of schools and explore the East Coast a little more, especially Amherst, she is incredibly excited to attend and play on the women's soccer team at Pomona in the fall of 2021.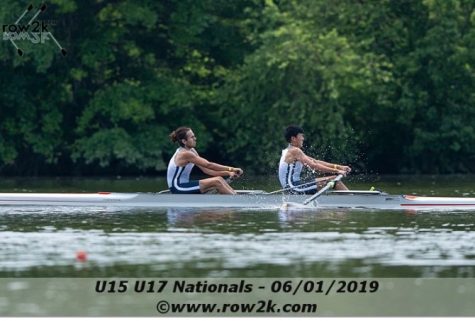 Yohann Verma, a current senior at Bellarmine College Prep in San Jose, had his world of rowing turned upside down. Normally, rowing is an especially competitive sport for college recruitment, as it is not a money-making sport for colleges. Unlike football or basketball, making money off of game tickets and jersey sales is not a part of the collegiate sport. So, colleges cannot allow for athletic talent to compensate for lower grades and test scores because these athletes are more than anything like all the other students at the university and must have competitive transcripts and applications for the school of their choice. In addition, collegiate rowing is the highest level of competition for the sport before Olympic rowing, so if you are serious about rowing, your recruitment to a team solidifies four more years of competitive rowing or leaves you in the dust without a place to row in the future. Lastly, the top schools for rowing are the Ivy League, so your academics can't just be above average— they must be impeccable. Not only that, but all the top rowers are therefore looking at the same eight schools to be recruited to. Needless to say, the stakes are high.
There are two key elements to being a competitive rowing candidate: your performance on race day and your record times on the rowing machine. Usually, these two things are weighted equally by college recruiters, but without the ability to hold races during the pandemic, your times on the rowing machines and past race performance were all the recruiters could look at. Stuck in lockdown, rowers across the country, including Yohann, worked non-stop on improving their rowing machine times. Because all these athletes spent all their time focusing on their performance on the rowing machine, high schoolers, especially on the West Coast, began breaking their own records by large margins. Unlike in California, East Coast rowers have 3-4 months of the year dedicated to indoor training including weights, but more importantly time on the rowing machine because the water is frozen over. These circumstances mean that East Coast rowers get 3-4 more months to focus on dropping their rowing machine time than West Coast athletes. According to Yohann, "this was the first time West Coast kids got to get an ERG (indoor rowing machine) training season." Yohann was able to drop almost 15 seconds off of his previous record for the 2000m during quarantine. In addition to the on-land training on the rowing machine, recruiters unable to watch competitions turned their attention to grades. Athletes had to maintain their high grades throughout junior year and there was no room for one bad test grade here or there. Every detail of your junior year academics mattered––even more than ever.
Spots on collegiate teams started disappearing as well. High school graduates from the class of 2020 decided to take gap years, and so at schools like Princeton, eight spots for the incoming class of the fall of 2021 became only two spots for the class of 2021 since the other six were given to the previous year's gap year athletes.
Fortunately for the athletes, none of this meant college recruitment had to come to a halt. Yes, you had to work harder than ever before both in the sport and academically, but if you were able to drop your rowing machine times and keep top grades, it became simply a matching game for which school wanted you. Yohann was able to drop his time, and as he posted those scores, coaches from various colleges became more and more interested. In the late summer before senior year, Yohann submitted his transcript, test grades, and a short essay for an academic pre-read to be judged on the Ivy League academic index scaling through a low, medium, or high. Yohann elaborated, "Rowing can only recruit mediums and highs, with a high percentage of the team being highs." Collegiate rowing teams must have a high GPA average of the recruiting class, while also maintaining a high GPA average of the whole team. This pre-read is one of the most pivotal steps for a prospective college athlete because "you could be the fastest rower in the country, but if you don't make it past a school's pre-read, there's nothing they can do for you." After the early admissions college application season to which he still had to submit his application to schools, Yohann was offered a spot to row at his top school, Columbia University. Having parents who grew up in NYC and a strong connection to that part of the country, Yohann knew that this was the right place for him without any further visits.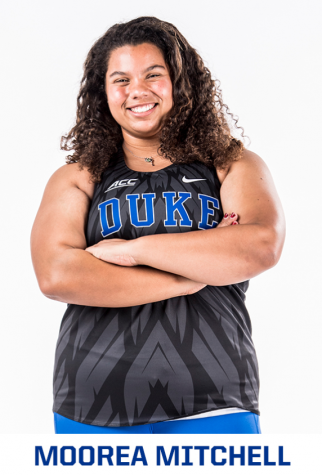 For most high school students though, all the different college campuses, cultures, and environments are completely unfamiliar and foreign. According to Moorea Mitchell, a Castilleja alumni who is a DI thrower at Duke, she wouldn't be at the school where she is now if she hadn't visited. Moorea had been leaning towards attending Notre Dame towards the end of her recruiting process. The school had great academics and she would be able to compete as a thrower. Duke had been her other option, but the college counselors thought Notre Dame might have been the better fit. Moorea was invited to do an official visit at Duke where she would stay the weekend with the athletes and attend practices as if she were part of the team. At first, Moorea was hesitant as Notre Dame seemed to be the clear option at that point, but her parents and current coaches pushed her to go. On her visit, she fell in love with Duke. Reflecting back, Moorea found that "walking around campus, there [was] such a campus community feel at Duke that was different from the other schools [she] had visited", and after attending a Duke basketball game, she also was astounded by the school spirit. Moorea was able to commit in early November of her senior year and has loved her first year at Duke so far.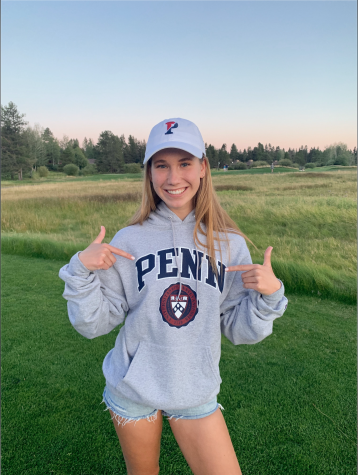 But, with COVID, this vital aspect of the recruitment process was eliminated, leaving athletes like Madeleine Parker, a senior at Castilleja, with many uncertainties still up in the air. Madeleine had been a competitive diver for years and always knew she wanted to continue through college. In the summer before senior year, Madeleine got her official offers, and her choice for where to commit came down to two schools. Unsure of how to make this difficult decision, she talked to the other people on her diving team who were already in college, but "literally every person said that they went on their official visit and just knew." Madeleine and her family decided that they had to go visit the two schools because she "really wanted to know and have been to where [she was] going to spend the next four years of [her] life…it was a really major decision to make without having even seen the school." The schools both ended up being completely different than she had imagined, and her visit solidified her decision to commit to the University of Pennsylvania. While she could go visit the schools, the NCAA had many rules for the coaches and prospective athletes to ensure equal opportunity for all high school students looking to get recruited, including one that established a "dead period" for all schools in the NCAA league until the pandemic ends. This meant that Madeleine was not allowed to meet her potential future coach or teammates in person. Still, she verbally committed to the diving team in August and submitted her application for UPenn. Madeleine received a "likely letter" in October implying she will most likely gain admission into the school for next fall, the outcome she had always hoped for.
For everyone lockdown was sudden and left all of us uncertain of the implications. Because of the lack of travel, the ability to explore a wider range of schools was unexpectedly barred, the competitive landscape shifted and heightened, and important personal connections to coaches and teams remained unrequited.
At the same time, hardship brought new perspectives on the process and outcomes from the changes. As in the example of Yohann and his rowing, athletes were able to push themselves harder and farther than ever before, reaching new heights of achievement. The average time for the ERG machine for crew has dropped nationwide setting a new precedent for future rowers. The constraints on travel forced athletes to build stronger relationships with their future coaches over the phone or Zoom. And if you were able to travel, you traveled less but prioritized your choices with a more thoughtful process.
This cohort of collegiate athletic recruits has broadened our view of the recruitment process and the impact of the pandemic. Most of all, the constraints of the pandemic revealed the most important thing that we can all take away from this: one event, no matter how life-changing it can feel in the moment, doesn't undermine all the years of investment you have put into your future. Although each athlete's path to recruitment looked wildly different than they could have ever imagined, they all ended up exactly where they were meant to be, in some of the best educational institutions in the world.
Leave a Comment
About the Contributor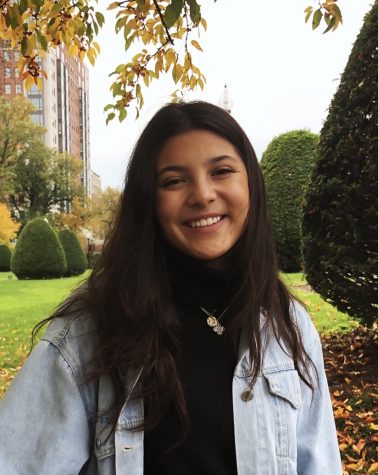 Anja Peterson, Editor of Arts and Entertainment
Anja Peterson '22 is the Editor of Arts and Entertainment. Besides writing for Counterpoint, she loves playing soccer and loves musical theatre. Anja would...