The new nines' experience during distance learning
Although the transition to high school is always difficult, the global pandemic has added challenges that no one could've predicted. In addition to constant online classes and many long hours on Zoom, New 9s have to find their footing in a completely new community. Castilleja has tackled this adversity by planning various events to engage the new students (some favorites include baking mug cakes with former New 9s and a group meeting with Ms. McCracken). These online gatherings have helped the new students to ease into the Casti community; however, the general consensus is that it's not enough.
Despite Castilleja's clear efforts, New 9s still feel the disconnect created by distance learning. Ruby Flath, a New 9 at Castilleja this year, describes the feeling as lonely. "Although the girls at Castilleja are very nice," Ruby says, "the barrier that the pandemic has created still causes a divide. I feel that we have to figure things out all on our own. Even though I know an entire community is behind us and supporting us, it doesn't feel like it in a remote format." Without the light conversation between classes, and the jokes and laughter during lunch, it's clear that New 9s don't feel connected with the rest of the school.
In my personal experience, this sense of loneliness became overwhelming. I began to dislike school because I felt as if I didn't belong, and it was hard for me to participate in class discussions at first. Because of this, I felt insignificant–not seen or heard–and relied heavily on my parents and the support of our wellness department.
"One of the hardest things to do is asking for help," Ruby adds. "When we [New 9s] have a question, we don't know where to turn. Should we ask the classmate we spent two minutes in a breakout room with? Surely they already have friends to ask about their questions." Students only know their new peers as a name and face on a computer screen, and likewise, New 9s feel the same way about the other students. Because of this, New 9s were thrilled for what seemed like a golden opportunity to create deeper relationships with their peers: the 9th grade social. However, many of the opinions voiced afterward were negative.
Many of the New 9s agree that it was difficult to meet the new students, even through an in-person setting. Liv Nickel, another New 9, says, "Most of the other students just talked in their friend groups, while the New 9s moved between groups or stood on the outskirts. It felt as if we were interrupting something." Although the social was not as helpful as expected, it was definitely a step in the right direction. "I think this could've been solved if we had more time to create those deeper connections," Liv adds. "I'm excited about our hybrid learning model. I think being on campus will create those connections faster. The small actions that usually help engage new students, such as [someone] waiting outside class for you, or waving to you across the hall, are lost over Zoom."
While it's incredibly difficult to be a new student during these times, it's important to note that many Castilleja students and faculty have gone out of their way to ease the transition. Many New 9s, including Ruby and Liv, were amazed with the amount of support they received. Their inboxes were flooded with kind Instagram DMs, inquisitive text messages, and check-ins from teachers reaching out.
Although readers love articles that end on with a bold call-to-action or a bright, optimistic note, in this situation, not many actions can create large-scale change. However, New 9s agree that small acts of kindness, such as the ones that Liv mentioned, brighten their day and make them feel more connected to the Casti community. The next time you see someone new, I encourage you to give them a wave and a smile, and maybe even a compliment; these little actions may matter to New 9s more than you think and help ease their transition to a new school.
View Comments(1)
About the Contributor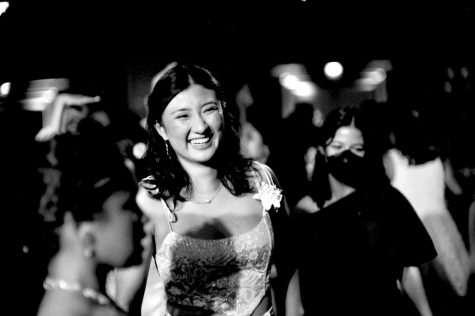 Thea Dai, Managing Editor
Thea Dai '24 is a Managing Editor and the Editor of Photography for Counterpoint. She is an avid podcast listener, avocado toast enthusiast, and one of...