Profit over people?: Big Ten football season resumes
On August 11, 2020, the Big Ten, arguably the best power five conference, shocked fans across the nation by postponing fall sports, more specifically, football. Quickly, the Big Ten players, led by Justin Fields (the quarterback for Ohio State) put together a petition to reinstate the 2020 football season. Within 24 hours, the media had already scheduled a press conference with the potential Heisman Trophy candidate, and the petition had reached 230,000 signatures. On September 16, exactly one month from when Justin Fields released his petition, the Big Ten held a press conference where the league unanimously voted to resume football.
That night at the dinner table, to say the discussion was lively would be an understatement. As avid college football watchers, my dad and I were nothing short of ecstatic to have our team, The Ohio State Buckeyes, return to the field. But as always, looking at the broader picture, my mom was more than skeptical. Please, pull up a seat, and join the Rohrbach family's dinner debate, and then maybe you, too, can decide whether or not the Big Ten Football's resuming is a dangerous idea or a way to bring back America's favorite past time.
First, let's address the comparison between the NFL and college football. While the NFL players were given the ability to make a choice that was best for them and their family, while still getting paid, college athletes weren't given that benefit. The players in the power five conferences have a lot more at stake than those in the pros, specifically because, for many, this season determines if they're making it to the NFL. Then there are the safety concerns. When the Big Ten released their new guidelines in order to ensure the safety of the coaches and players, a major factor in their decision was the immediate access athletes would have to world-class hospitals, like the Cleveland clinic. With detailed protocols in place, it has become much easier for my dad and me to start getting excited about our game-day traditions. We continued to argue that this season was a crucial year for Ohio State, as per their revenge tour, coming off the Fiesta Bowl loss.
Football is a home for so many, and for me, waking up early Saturday morning to cheer on Ohio State, and learn the rules of the game from the couch with my dad was my happy place – and it still is. Not only does football provide an escape from the work week for fans, but it also provides a sanction for players and an opportunity for them to go to college. With the coronavirus taking its toll on many communities, the daily testing will provide the league's student-athletes with more opportunities to be safe than the average person receives. In addition, there is an added incentive for the 7,150 college football players to social distance in an effort to keep their teammates safe. Similarly, when social distancing is enforced so that players can build a future for themselves, it allows for more players to abide by the guidelines. Ohio State develops some of the best players in the country and has one of the highest colleges to NFL percentages of any college. So, when you have players like Shaun Wade turn down money to provide for their families so they can return to campus to get a national championship, it means everything to them. Then, there are the players who have been waiting for their senior year to become breakout stars. For many, this season determines whether or not they're going to the NFL if they're going to receive an invitation to the NFL combine if playing football is going to be part of their lives past this season.
As the COVID-19 virus continues to spread through the bodies and minds of millions, it's safe to say that we're all looking for any sense of normalcy. And for sports fans, as the leaves start to fall and autumn approaches, so do football. At the beginning of this season, I had the opportunity to speak to Leo Kolomantagi, a center for the New York Jets, who quickly caught the attention of many as one of the first players to opt of the 2020-21 NFL season. For Leo the option to return was unsettling, to say the least: "There was a lot of uncertainty in the Jets organization, no one really knew anything. When I asked my coaches 'What would happen in the scenario that I contracted the virus?', the answer was always 'I don't know,' and it wasn't just the coaching staff, the Jets' president, and the NFL league itself, didn't have the answers. So, as my wife and I were watching our two family members' funerals on Facebook live, I knew I couldn't take that chance – especially with a baby girl on the way, I needed to be there for my wife in these uncertain times."
So, as much as I wanted to pull out my gear and put up the Ohio State flag in celebration of normalcy, I had to question: how normal is this season really going to be? And if it is just like usual, are COVID guidelines being followed? My mom brought up similar points to those that Mr. Kolomantangi and I discussed. For starters, how Coach Orgeron, the coach of the defending national champs, the LSU Tigers, had put out a statement saying the majority of his team had contracted the virus and were still out playing football. Or, when you look at Nick Saban, the head coach of the Alabama Crimson Tide, who tested positive for the COVID-19 virus, and still coached in the game against Georgia. It's saddening because when you hear about the care that's being facilitated, it's the best that these teams can get their hands on. Mr. Kolomantangi brought up a wonderful point when he mentioned that, "If I was a parent of an athlete I'd feel a lot better than if they were at some small-town school, because the truth is, that players at big-time schools have access to better healthcare." So what happens if you're not a big school like Ohio State, and don't have access to facilities like the Cleveland Clinic, the second-best medical center in the United States? What if your football team isn't well known and is a school in the B10 like Rutgers? Are you getting the same care? Or what if you simply just don't have the money, like LSU or Alabama, to afford proper healthcare for the players? This creates a scary narrative for many families and players. Mr. Kolomantangi told me that "I didn't start in my first college game until my senior year, and so that was the most crucial point in my college career in order to make it to the NFL, and so to see players having to choose between compromising their health and those around them in order to secure their future is really tough," and I agreed that players have to choose between possibly compromising your health and those around you impacts your future, but rather they should have the option.
Players deserve the option to opt-out and stay safe from this rather unknown virus that has impacted everyone's lives in some way or another and not feels like they're missing out on the season that is the key to the years to come – the key to their future. For anyone, it's a hard place to be in, and when the virus is often played down by the President of the United States, it's no wonder the players chose their futures over the extra precautions.
So look, at the end of the day, whether you're excited because you now have Saturday morning game days back, or you're disparaged by the fact that so many players have opted in at the high risk, we have to come to realize that it's always going to be the players choice — a tough choice, but a choice no less. Let's admire how players like Justin Fields and Trevor Lawerence were able to use their voices and social media platforms to advocate for players and their desires to return to football. and how the NCAA listened, which promotes athletes having a voice and their opinions being worth something.
Leave a Comment
About the Contributor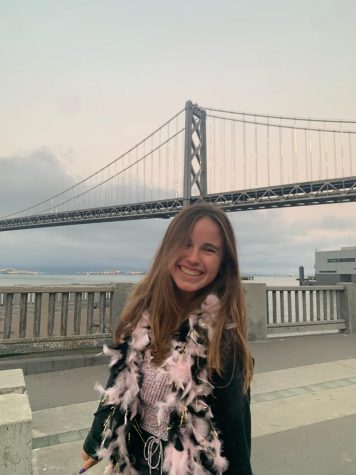 Loralei Rohrbach, Staff Writer
Loralei Rohrbach '24 is a staff writer for Counterpoint. In her free time, you'll always find her having a good time, cracking jokes, and chatting with...