Effects of California's vaccine rollout on the Castilleja community
Despite the grim reality of more than 500,000 American deaths caused by the Coronavirus pandemic, hope for a better end to this story is spreading across the nation as vaccine rollouts continue. According to the LA Times (2021), 7 million doses have already been administered in California with 13.4% of Californians receiving at least one dose of a coronavirus vaccine.
In December of 2020, the California government introduced the phases of their vaccine administration, limiting vaccine recipients to those deemed to have the most risk of a COVID-19 case. Phase 1 was split into three sub-tiers: Phase 1A designation, and the opportunity to get vaccinated first, was given to healthcare providers and long-term care residents. Phase 1B includes residents 65 and older, as well as essential workers in agriculture, education and child services, and emergency services.
Presently, individuals in Phases 1A and 1B are the only eligible vaccine recipients in California. Phase 1B of the vaccine rollout contains the entirety of the Castilleja employee population as essential workers in education. This translates to many potential vaccinations, which in turn increases the safety of the Castilleja community.
Vaccine administration will open to persons included in Phase 1C, such as individuals aged 16-64 with severe pre-existing conditions on March 15.
The Castilleja community is hopeful that the vaccine rollout will increase the chances of returning to normalcy around the Circle. I talked with Jessie Surface, the Co-Chair of the Safety Committee, and Anne Stewart, the newly hired school nurse heading coronavirus testing to dive into how California's vaccine rollout affects Castilleja's operations.
Many employees share Jessie Surface's excitement about their potential vaccinations and her drive for a vaccinated community, agreeing with Surface's statement that it is "absolutely crucial for people to get vaccinated in order to protect themselves and everyone else around them, and help us get back to a more normal way of life."
Jole Seroff, one of Castilleja's loving librarians, highlighted her elation caused by her first vaccine dose, and also noted her observation that the ongoing vaccination of Castilleja staff made "people feel safer and more confident about being in crowded and public places."
Joseph Mitchell, a revered Castilleja teacher of Psychology and American Government, echoed Seroff's conclusion, emphasizing that the vaccine rollout provides "a sense of security" among the Castilleja population. Mitchell also mentioned his enjoyment of the present hybrid model, saying that, "Even this little hybrid experience is electrifying. It's just fun to be together."
The vaccine rollout sadly cannot include individuals under the age of 16, due to the lack of clinical trials in minors. However, clinical trials testing the coronavirus vaccines are already underway which could permit vaccine use in minors, but they're "going to take some time," according to Castilleja nurse, Anne Stewart.
Vaccination is a big step to combat the coronavirus, but vaccinated individuals still need to take precautions to protect themselves and others around them. According to the California government's COVID-19 website (2021), a vaccinated individual has only reached full immunity against COVID-19 two weeks after the second dose in a two-dose vaccine, or two weeks after the initial vaccine in a single-dose vaccine.
However, full immunity does not guarantee a foolproof barrier against contracting COVID-19. Stewart compared the COVID-19 vaccine to a common flu shot. When vaccinated against the flu, one can still contract the virus, but the infection will be less harmful and less life-threatening. The coronavirus vaccine operates the same way.
Moreover, a fully vaccinated individual still has the potential to contract and transmit the coronavirus, so safety precautions still need to be adamantly enforced. This means that when visiting fully vaccinated family members, masks and social distancing are still highly recommended.
While uncertain about the true future of the pandemic, Surface shared her optimism for Castilleja's return to normalcy saying, "We are very hopeful that, with the increased rollout of vaccines, we will reach a level of immunity allowing next school year to look more like pre-pandemic conditions." Stewart shared this hope, but wished to remind the Castilleja community that normalcy will not be possible without cooperation and adherence to safety protocols.
Due to Santa Clara County's sheer volume of willing vaccine recipients, its vaccine rollout ranks well among other California counties with over 433,000 vaccines administered, according to California government's COVID-19 website (2021). Although, as Stewart points out, the Santa Clara County community hosts a large population, and the vaccine rollout "is such a big undertaking."
As with all high-scale government programs such as California's vaccine rollout, there are many flaws in the system. Jessie Surface remarked on her wish for a larger volume of vaccinations available to the public, so the rollout is more efficient and reaches as many high-risk individuals as possible. Stewart described her dashed hopes for a nationalized and united vaccination program that is not present in the United States.
The ongoing vaccination rollout sparks optimism for the end of the coronavirus pandemic, even with its administration flaws and multi-tiered program. As Anne Stewart professed about the urgency of this rollout, "We all need to get vaccinated, and we need to get vaccinated together."
Leave a Comment
About the Contributor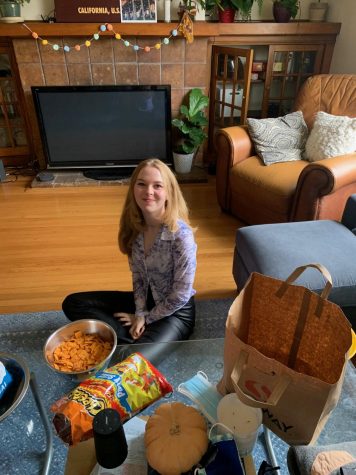 Ella Holsinger, Editor of News
Ella Holsinger '23 is the Editor of News for Counterpoint. Her favorite boba shop is Pop Tea Bar, and she loves pretzel goldfish. In her free time, she...