Behind the scenes: What goes into making the Castilleja athletics playlists?
Have you ever been struggling through a workout, but then a song comes on, and suddenly, it feels like you are flying? It has to be the right song, but you go from nearly collapsing to the powerful main character of a music video? Well, me too, and for a lot of these mid-workout breakthroughs, I have the Casti athletics department playlists to thank.
If you have ever been inside the gym, fitness center, or stepped onto the circle, chances are you have heard at least snippets of the Casti athletics playlists. What you might not have heard is the care that goes into making them. While some additions to Casti athletics playlists are taken from top charts or added by students, the athletics department puts their own time and thought into their playlists, especially during more structured workouts.
"When I run my [high-intensity interval training] classes, I definitely don't choose music that's super high intensity right out of the gate because I one, want people to start loosening up their body, but I also want to find a song I feel most people can maybe get into or relate to," Ms. Pruitt mentioned.
Similarly, Ms. Heler noted, "If I'm teaching a specific class (spin or something more cardio-intensive) I'm pretty intentional about playing a playlist in order where it will start slow in the warm-ups and hit beats when we're supposed to be going hard. Same with yoga, I have three playlists for different yoga practices, and a few songs I'll use for Shavasana."
Music has the power to set the tone for a workout, so intentional music choice is important. "When you don't like the music in [a] class, it really affects the zone you're in," Ms. Pruitt explained.
Some of Ms. Pruitt's favorites are "Let's Get Loud" by J.Lo and "Dirrty" by Christina Aguilera while Ms. Heler is currently enjoying "Body" by Megan Thee Stallion and "2001" by Snoop Dogg. Both recommend "Roses," (Imanbek remix) by SAINt JHN and like to sneak in older music ranging from old school hip-hop to 80s music. "I try to throw in a couple of old school tracks that fit the vibe of the playlist just [to] teach a little 'music history,'" Ms. Heler said with a smile.
Along with variety, both messaging and melody can be important. No matter the beat of a song, if the messaging does not sit well with those working out to it, the song could have a negative impact. "You just don't know who's in [the room and] how [the messaging of a song] makes anyone feel," Ms. Pruitt said. "You really have to be cognizant of who's in your group and what music you're putting on." Nevertheless, for some, melody and rhythm are just as important. Ms. Heler revealed, "I tend to hear melodies more so than lyrics, so I'm really more focused on the beats than what's being said."
Admittedly, music taste is subjective; everyone has their own idea of what makes an empowering workout playlist. This reality means personal preference inevitably shines through. Ms. Pruitt recalled, "I used to be a spin instructor, and I always laugh because you could always pick your instructor based on their music choice. For me, I felt like I had the reputation of hip-hop and pop." Ms. Heler, on the other hand, leans toward "really loud EDM or hip-hop (mostly when [she's] doing a cardio workout)," sometimes rock and country for lifting, or reggae for certain seasons.
Regardless of musical preference, Ms. Pruitt and Ms. Heler are onto something with their attention to workout playlists. According to a study published by the British Medical Journal, music can minimize stress and positively affect athletic performance. Music can both quicken and lower heart rate depending on tempo.
Additionally, music can help set a pace to keep during a workout. Stepping, pedaling, or moving on beat can drastically change the speed, intensity, and effectiveness of a workout, allowing the same level of performance with lower levels of fatigue (National Center for Health Research).
Not to mention, music can resonate with us emotionally and give us the ability to connect with others.
"I've had the coolest conversations with students that would admittedly 'hate fitness' about music, playlists, and songs on their radar," Ms. Heler commented. "Music reflects mood and energy. I might choose certain songs to amplify mood, or intentionally choose certain songs to influence energy. In either case, I'm happy (and lucky) to say that it is a loud and constant entity in pretty much all of my classes."
Leave a Comment
About the Contributor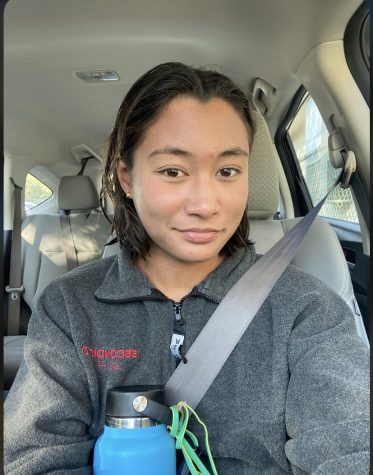 Serafina Cortez, Editor of Opinions
Serafina Cortez '23 is the Editor of Opinions for Counterpoint. When she's not writing, you can find her reading, playing water polo, or Duolingo-ing.