The change in ACE Orgs: A new direction
As of the 2022-2023 school year, the roster of Castilleja ACE Orgs appears to be different. BLAST, Counterpoint, StemX and Mock Trial have been regrouped as Academic Enrichment Activities, or AEAs. But why the change, and what greater changes will be set into motion?
Becca Winslow, Director of Leadership and Community Partnerships at Castilleja, said that this year, ACE Orgs were geared towards being "social action teams," impacting a wider community than the school. When Winslow, a new faculty member, arrived in July, she received a list of ACE Orgs approved by the board, which were all "groups that had a strong connection to a social issue or community partner." The purpose of the change was for ACE Orgs to "return to their original intention, meaning a focus on awareness, compassion, and engagement."
"Then, I got this list of these important groups to Castilleja [that] don't necessarily fit in this category of social impact teams," said Winslow. Instead, their focuses were "academic and really an extension of classroom learning." Even though they could not be defined as ACE Orgs, "there was never a conversation about eliminating them or not having these programs. It was just, 'how do we make them fit in?'"
The answer: AEAs. "It really felt like these were academic enrichment programs," said Winslow. "These were an opportunity for students to take what they're learning in the classroom, writing, for instance, and apply it…I looked at each of these programs that were just extensions of classroom learning, and it was really important to give them the proper time and respect in the school day."
"This year, we focused on approving groups with a clear social impact mission statement," said the email that notified groups that they would no longer be ACE Orgs in the 22-23 school year.
When Counterpoint, Castilleja's school newspaper, was notified that they would no longer be an ACE Org, the leadership was initially upset. They were worried that the newspaper would not be able to survive being bumped to an interest club. "I think our main concern was that if we'd get cut, we'd just be an interest club; no one [would] sign up, because they don't want to meet outside of school or put in the work," explained Kelly Yang '23, Co-Editor-in-Chief of Counterpoint.
Winslow also recognized this concern in other students. "I've really seen some fear at first that students may not sign up for these…enrichments that are no longer ACE Orgs, because they're not required," she said.
Seniors had more worries, unhappy about having been "involved in these [now] academic enrichments for four years and having to choose new required ACE Orgs in their senior year," said Yang. Many were concerned that because of the new change in the rosters, some students would be unable to attend multiple commitments.
According to Winslow, however, the numbers of students in AEAs have not significantly dropped. In fact, "all of our enrichment rosters are bigger than ever, because a lot of students felt like [they were] really passionate about [their] ACE Org, and now [they could] also join BLAST or StemX or Counterpoint or Yearbook, where in the past they weren't allowed to… It really is helping students kind of analyze what's on their plate and really focus their time. And we have allowed students to still join those programs outside of community time."
Other groups were also invited to become AEAs, which would bring them more access such as "the ability to do drives, fundraisers, [and funding]." These groups included AwaH, also having faced many changes this year, as well as Model UN, which has chosen not to meet during community time. When Winslow went to the advisors and student leads of each AEA, she offered "dedicated time during the school day if [they were] interested in it." Some groups declined, choosing to meet other times, while others accepted.
Furthermore, the former ACE Orgs all had a longstanding presence as integral parts of the Castilleja community; their leaders "were wondering how these ACE Orgs that…have a strong presence in the Castilleja community were not going to be ACE Orgs," said Yang. Although they "didn't fit in in the structure of a social impact team," said Winslow, they were "really important to the fabric of Castilleja."
After the usual ACE Org pitch meeting, explained Yang, the leaders had received an email "detailing the whole realignment of what ACE Orgs were going to look like this year, and it had a very heavy focus on social justice, so Counterpoint, Mock Trial, [StemX] and BLAST…had gotten cut…later, they explained what the Academic Enrichment organizations would be doing this year, which gave us more hopes, because we would still have time in the schedule."
At first, however, the former ACE Orgs were going to be only interest clubs. "I think Academic Enrichment was something they brought in later after we had the pushback," said Yang, because the leaderships "[didn't] think these clubs [could] function solely as interest clubs." After this pushback, the leaders received emails that their former ACE Orgs would now become Academic Enrichment Activities with time blocked out in the schedule for them to meet. However, they do not have the same amount of meeting time as they had as an ACE Org; AEAs this year have eight meetings this year, a drop down from last year's ACE Orgs' ten and this year's nine.
The decision to make the distinction between ACE Orgs and AEAs had a widespread impact. "I talked about it with Ms. Clark," said Winslow. "The ACE Center had a lot of conversations as well. We actually looped in Ms. Nguyen and DEIJ because we said, 'Well, Affinity Groups also are just as important as our enrichments and our ACE Orgs and need dedicated class time. So we also focused on creating a schedule that allowed for that as well."
In order to adapt to the change, Counterpoint has modified their plans. "We had to reconfigure the schedule based off of the new time meetings that we were receiving through the academic enrichment kind of situation, because we have less meetings," said Yang. However, the greatest concern was whether student writers would still want to join.
"I hope people will still want to join academic enrichments; they're a great opportunity to still remain involved in academic related activities outside of school," said Yang.
As for the line between the definitions of ACE Orgs and AEAs, "separating us as academic enrichments is fine, because we are academic enrichments; I don't think the nitty gritty of what defined an ACE Org was that important to us," said Yang.
A new ACE Org, Engineering for Equity, (E4E) looks to educate the Casti community through "speakers, newsletters and case studies," said Aashi Agarwal '24 and Aria Kapoor '24, so "everyone can be involved with this important cause." As aligned with the mission of ACE Orgs, their overarching focus is directed externally, to create an impact "by helping PadMan [Arunachalam Muruganantham] deploy the machine, fundraising for him, creating a website for him." They want to be "finding frugal, equitable solutions," said Agarwal. Asking "how engineering [can] be used to drive equity," they aim for "low cost, high impact."
Their "main goal is to create a lot of impact," including outside the Castilleja community, added Agarwal, which represents the main difference between ACE Orgs and AEAs: external community partners and social causes. She emphasized that "it is important for us to establish the difference between an academic enrichment and an ACE Org because one isn't superior to the other; they're just for different causes. One is Casti centered, one is Casti-plus centered."
Similarly, another new ACE Org, Bay Area Blanket Project, is looking to create an impact in an external community. Their mission is to "provide comfort for survivors of domestic abuse, more specifically the children who have experienced it," said Chloe Tan '24, one of the nonprofit's leaders. "We make a lot of handmade blankets, stuffed animals, and then we donate them to a shelter called CORA in San Mateo, and we also host workshops with them…The main focus is the partnership with CORA, an outside organization."
As for ACE Orgs and AEAs on a different campus, more changes may be in store. According to Winslow, "there may be ways that we could connect with partnerships, based on nearby offices where companies that are near might open up new internship opportunities…I'm really hoping that for these two years, we can embrace what's unique about the campus and open up some more experiential learning opportunities." As of now, Winslow would like to see "more collaborations and integrations with our classroom curriculum as well, so these [ACE Orgs and AEAs] aren't standalones or extracurriculars or even co-curriculars, they're just all curricular."
"What's wonderful about our enrichments as well as our ACE Orgs is that they're student led and student driven," said Winslow. In fact, more AEAs may come in the future, depending on student interests. "I had a student that talked to me about creating some sort of Castilleja podcast that could be an opportunity for another enrichment," she said. "I'm excited to see where the students want to take these and grow these programs, based on their desires and interests and passions."
What does the future hold for Castilleja's boundary-breaking activities? We may have to wait to find out, but with our ACE Orgs bringing change and AEAs enriching the campus, the future looks bright.
Leave a Comment
About the Contributor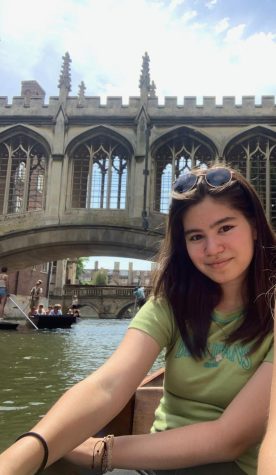 Naomi Rockower, Editor of Campus Development
Naomi Rockower '24 is Editor of Campus Development for Counterpoint. Aside from writing, articles or otherwise, she loves reading, art, and music. She...